Republican front-runner Donald Trump drew backlash from both sides of the political spectrum this week when he alleged that the federal judge presiding over the Trump University case has "an inherent conflict of interest" because he is "of Mexican heritage."
One of the more notable critiques Trump has received came from former House Speaker Newt Gingrich, who was quick to condemn the candidate's accusations.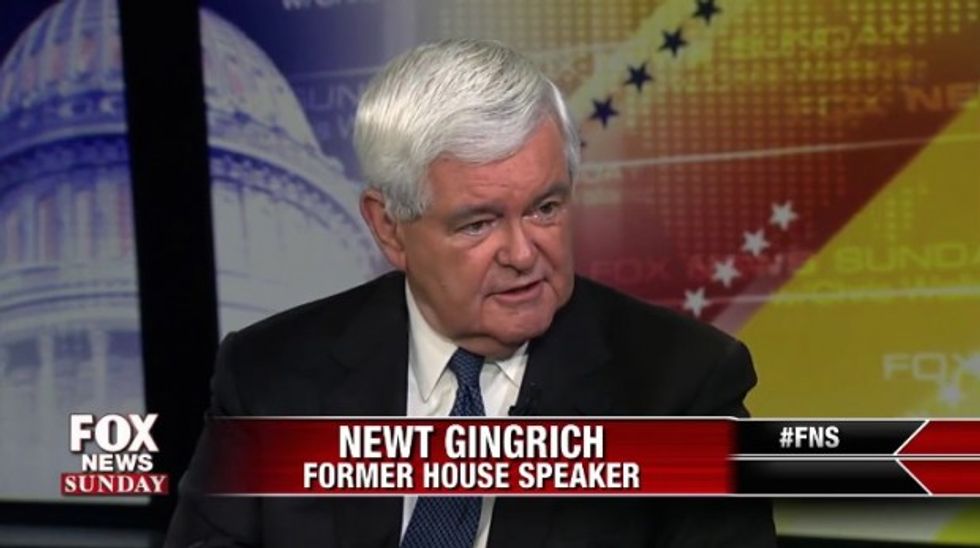 Image via Facebook/"Fox News Sunday"
"I don't know what Trump's reasoning was, and I don't care," Gingrich told the Washington Post in an email. "His description of the judge in terms of his parentage is completely unacceptable."
Gingrich discussed his views further in an interview with Chris Wallace on "Fox News Sunday."
"This is one of the worst mistakes Trump has made, and I think it's inexcusable," Gingrich said.
The former House speaker added that Trump "has every right to criticize a judge," but not for the reason the presumptive nominee gave.
"First of all, this judge was born in Indiana," he continued. "He is an American. Period." Gingrich added that Trump, whose grandparents immigrated to the United States, "should know this better than anybody."
Gingrich told Wallace he believes it's time for Trump to "move to a new level."
"This is no longer the primaries. He's no longer an interesting contender. He is now the potential leader of the United States, and he's got to move his game up to the level of being a potential leader," he said.
Trump told the Wall Street Journal in an interview published Friday that U.S. District Judge Gonzalo Curiel could be harboring bias toward him because of his plans to build a wall along the border between the U.S. and Mexico.
The Republican front-runner has brought up Curiel's ethnicity several times this year, including last week at a rally in San Diego. Curiel was born in Indiana and served as a federal prosecutor and a judge in the California state judicial system before being nominated to the federal bench by President Barack Obama in 2011.
In an interview that aired Sunday on CBS' "Face the Nation," Trump suggested that Muslim judges shouldn't be trusted either.
"My question is, if it were a Muslim judge, would you also feel like they wouldn`t be able to treat you fairly because of that policy of yours?" CBS' John Dickerson asked Trump.
"It`s possible, yes. Yes. That would be possible, absolutely," he replied.
Donald Trump smiles as 2012 Republican presidential candidate, Newt Gingrich talks to media after their meeting in New York, in this Dec. 5, 2011 file photo. (AP Photo/Seth Wenig, File)

Gingrich has said that he'd consider being Trump's running mate, a job that hasn't seemed to interest too many other GOP leaders.
"I don't think it's an automatic yes," Gingrich told Wallace last month on "Fox News Sunday." But, he said, "I'd be hard-pressed not to say yes," under the right circumstances.
Watch: