House Republicans unveiled the first plank of their "A Better Way" platform Tuesday aimed at fighting poverty.
During a press conference at House of Help City of Hope, an anti-poverty organization in Washington, D.C., House Speaker Paul Ryan (R-Wis.) said that policy should reflect the lessons taught by people who are "on the front lines fighting poverty successfully" such as House of Help's founder Bishop Shirley Holloway.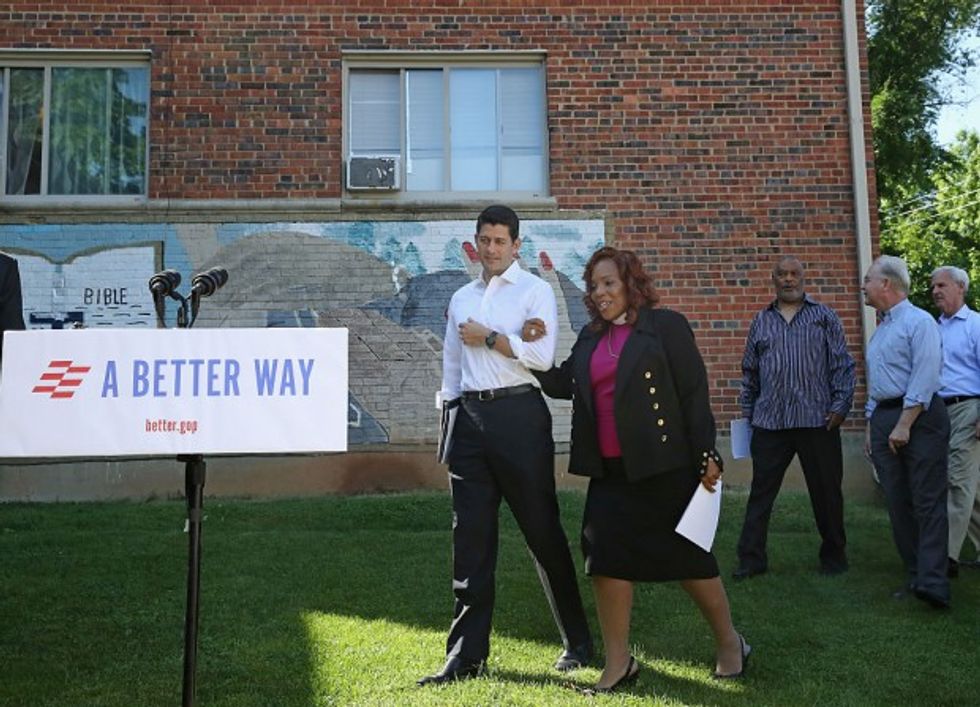 House Speaker Paul Ryan (R-Wis.) walks with Bishop Shirley Holloway at the Graceview Apartments on June 7 in Washington, D.C. Ryan spoke about his "A Better Way" agenda, as well as addressing his stance on presumptive GOP presidential nominee Donald Trump. (Mark Wilson/Getty Images)
"The problem we have had in government for too long is that we think the way to fight poverty is to treat its symptoms. And when we treat the symptoms of poverty, we perpetuate poverty. We need to go at the root causes of poverty to break the cycle of poverty," Ryan said, adding, "We should measure success based on results, outcomes, are our efforts working to actually get people out of poverty instead of measuring success based on input, on effort, are we spending enough money, do we have enough programs, do we have enough people on these programs?"
"So what you're getting here is a new approach at fighting poverty," he continued.
That "new approach" includes stronger work requirements under the Temporary Assistance for Needy Families program, more flexibility for housing assistance and promoting job training. The proposal also expands the authority of states to draft their own anti-poverty strategies.
Here are the proposals put forth in #BetterWay to fight poverty: pic.twitter.com/b0sZ3X5otu

— Kate Scanlon (@kgscanlon) June 7, 2016
The poverty plank of the "A Better Way" House GOP agenda was drafted by the Task Force on Poverty, Opportunity, and Upward Mobility, including Agriculture Committee Chairman Mike Conaway (Texas), Budget Committee Chairman Tom Price (Ga.), Education and the Workforce Committee Chairman John Kline (Minn.), Financial Services Committee Chairman Jeb Hensarling (Texas) and Ways and Means Committee Chairman Kevin Brady (Texas). And it is the first of six planks that House Republicans are planning to roll out in the coming days. The additional planks will be National Security, Innovation & Investment, The Constitution, Health Care and Tax Reform.
Speaker Ryan & cmte chairs meet at House of Help City of Hope to rollout House GOP poverty plan part of #betterway pic.twitter.com/MkEFBhbfxS

— Alex Moe (@AlexNBCNews) June 7, 2016
During remarks to reporters regarding Ryan's policy proposal Monday, White House press secretary Josh Earnest called himself "bemused" by the "process" the speaker used to roll out his proposal, comparing his method to someone "sitting around at a think tank."
"He's the speaker of the House," Earnest said. "He doesn't just have to make policy proposals, he runs the House of Representatives. Put it in a bill. Put it on the floor. Run it through a committee. Have a debate. That's the whole reason you presumably ran for the job in the first place. Let's have that debate."
During the press conference, Ryan also fielded questions about remarks made by presumptive Republican nominee Donald Trump, whom he recently endorsed.
In recent days, Trump has launched a series of personal attacks toward the federal judge hearing the Trump University lawsuit. Trump told the Wall Street Journal that U.S. District Judge Gonzalo Curiel has "an absolute conflict of interest" due to his Mexican heritage and Trump's position that a wall should be built on the Mexican border.
At the press conference, Ryan said Trump's remark was the "textbook definition of a racist comment."
"Claiming a person can't do their job because of their race is sort of like the textbook definition of a racist comment," Ryan said. "I think that should be absolutely disavowed. It's absolutely unacceptable."
—
Follow Kate Scanlon (@kgscanlon) on Twitter