Gawker Media has reportedly filed for Chapter 11 bankruptcy after former professional wrestler Hulk Hogan successfully sued the gossip website for $140 million over a tape it published of him having sex with his friend's wife.
Hogan won the defamation case in March when a Florida jury found that the website had violated his privacy by publishing the 90-second clip. Gawker argued that Hogan, whose real name is Terry Bollea, was a public figure who had been open about his sex life in the past.
Reality TV star and former pro wrestler Hulk Hogan was secretly taped six years ago having sex with the ex-wife of DJ Bubba "The Love Sponge" Clem. Portions of the video were posted on the online gossip site Gawker. (AP Photo/Chris O'Meara)
The jury ordered Gawker to pay Hogan $140 million for causing emotional distress and violating his privacy. Gawker founder Nick Denton, who told the New York Times last year that the company doesn't keep $100 million in the bank, said he planned to appeal the ruling.
On Friday, Recode reported that Gawker was preparing to file for Chapter 11 bankruptcy in order to avoid paying the penalty altogether. In the meantime, Gawker is reportedly planning to keep fighting the case, while still paying its employees and operating its high-traffic platform.
Denton is also reportedly considering a bid from publisher Ziff Davis to buy the company for less than $100 million. Before the Hogan case, Denton estimated his conglomerate was worth somewhere between $250 million and $300 million.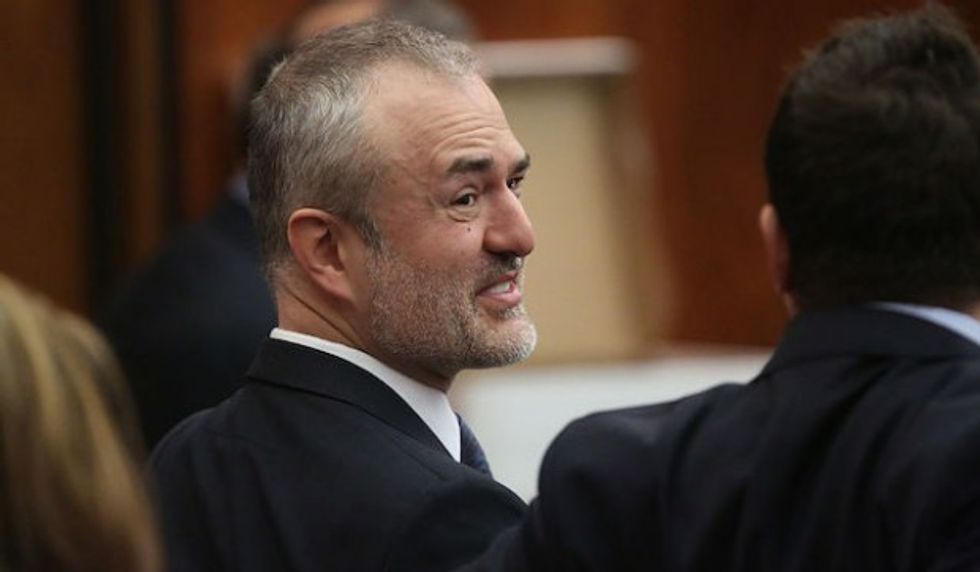 Nick Denton, founder of Gawker, talks with his legal team before Hulk Hogan testifies in court during his trial against Gawker Media at the Pinellas County Courthouse March 8 in St Petersburg, Florida. (John Pendygraft-Pool/Getty Images)
PayPal co-founder, Facebook board member and Donald Trump supporter Peter Thiel was said to have funded Hogan's lawsuit against the company, something about which Denton was not surprised to learn.
"If you're a billionaire and you don't like the coverage of you, and you don't particularly want to embroil yourself any further in a public scandal, it's a pretty smart, rational thing to fund other legal cases," Denton told the New York Times last month.
Thiel said that funding the lawsuit has been "one of my greater philanthropic things that I've done," citing Gawker's "incredibly damaging way of getting attention by bullying people even when there was no connection with the public interest."
—
Follow the author of this story on Twitter and Facebook: