© 2023 Blaze Media LLC. All rights reserved.
Former NBA Ref Claims There's a Conspiracy Behind Decision to Suspend Warriors Star for Game 5 of Finals
"It was always a situation where the team down in the series was going to benefit from those calls."
Forget what you've heard about Golden State Warriors forward Draymond Green's suspension. It's all part of a larger plan to stretch out the NBA Finals for as long as possible — at least, that's what former referee Tim Donaghy says.
Donaghy, who was forced out of the NBA in 2007 after league officials discovered that he had participated in a gambling scheme, recently asserted on Sports Illustrated's "SI Now" that the decision to suspend Green was simply an effort to increase entertainment value by giving the Cleveland Cavaliers a better chance to extend the championship series.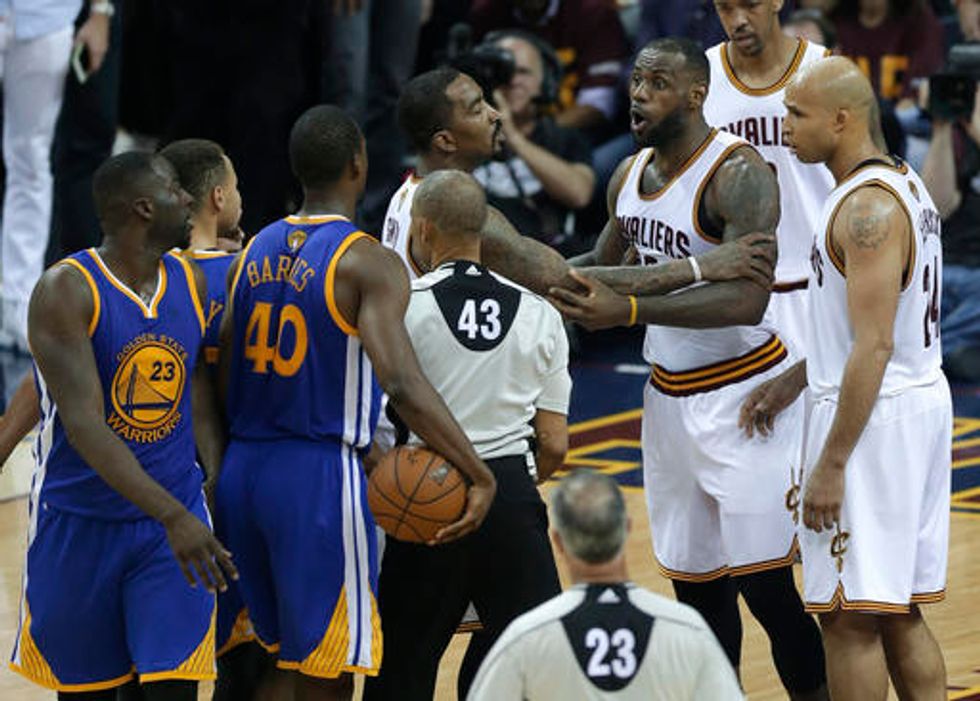 Cleveland Cavaliers forward LeBron James is held back as he argues with Golden State Warriors forward Draymond Green (23) during the second half of Game 4 of the NBA Finals in Cleveland, Friday. (AP Photo/Tony Dejak)

But others will likely argue that the suspension was imminent, given that Green is a notorious hothead on the court. Anticipating this reaction, Donaghy explained his theory further:
I think when you look at the overt acts that Green has committed before, they were definitely more severe than this act, and yet he's going to end up with a flagrant foul and suspension because of it. In the past, I believe it was disregarded because [the Warriors] were down in the series. Here, they're up in the series, so I think it's a situation where, with that, it gives Cleveland a better chance of prolonging the series.
Donaghy added that, during his time working for the league, it seemed to him that referees were instructed to favor the team that was down in a series. He claimed that "indirectly with the tape sessions that took place" officials would show referees "plays that they wanted you to concentrate on in the game."
"It was always a situation where the team down in the series was going to benefit from those calls," he said.
Green was given a mandatory one-game suspension Sunday after the league assessed a Flagrant 1 foul for hitting LeBron James in the groin while Cavaliers power forward attempted to step over him.
If Donghy's theory is true, the plan worked. The Warriors lost Game 5 without Green Monday night, but they're still leading the series 3–2. The Cavaliers will host Game 6 Thursday.
Want to leave a tip?
We answer to you. Help keep our content free of advertisers and big tech censorship by leaving a tip today.
more stories
Sign up for the Blaze newsletter
By signing up, you agree to our
Privacy Policy
and
Terms of Use
, and agree to receive content that may sometimes include advertisements. You may opt out at any time.