Orlando shooting survivor Angel Colon on Tuesday described the horrific scene at Pulse nightclub during the moments following the Sunday morning attack that killed 49 people and injured more than 50 others.
Colon, who is recovering at Orlando Regional Medical Center, thanked the hospital staff for their care and for the first time since the attack, publicly recounted the unthinkable scene that unfolded.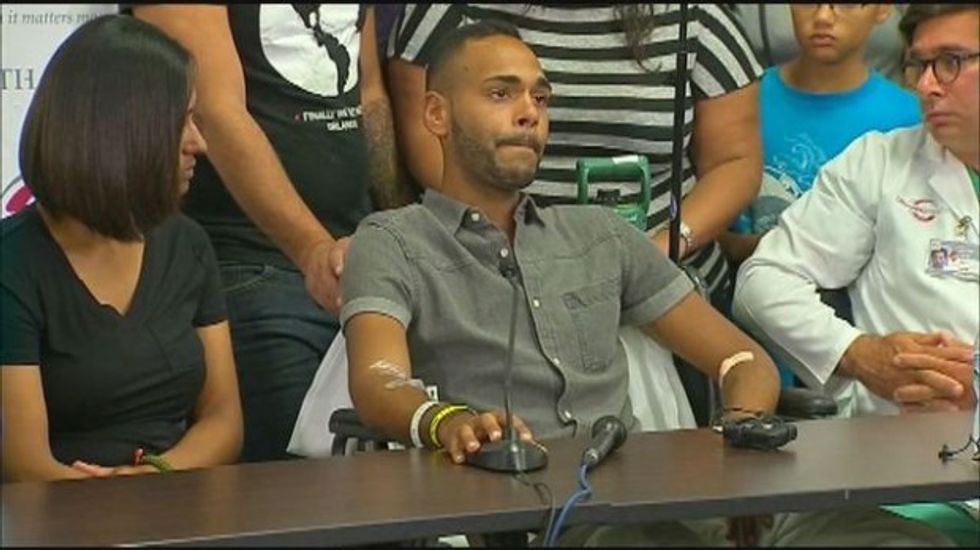 Angel Colon (Image source: WOFL-TV)
Colon said he was on the floor of the club playing dead when the gunman walked up to him. He said the gunman was going around shooting people who were already dead on the floor, "making sure they're dead."
"I'm just laying down thinking, 'I'm next, I'm dead,'" Colon said. "So I don't know how but by the glory of God, he shoots toward my head, but it hits my hand. He shoots again, and it hits the side of my hip."
"I was just prepared to just stay there laying down so that he won't know that I'm alive," he added.
Colon said the gunman later went up to the front where he began exchanging gunfire with police. It was around that time that he remembers looking up and seeing an officer who had come to his rescue.
"He's dragging me out while I'm just getting cut — my behind, my back, my legs," Colon said, describing the floor, which was covered in glass. "I don't feel pain but I just feel all this blood on my from myself, from other people. He just drops me off across the street, and there's just bodies everywhere."
Colon said he doesn't remember the name or face of the officer who dragged him to safety but is thankful to him for helping to save his life.
Colon was among the 53 people injured in the shooting. As of Tuesday afternoon, doctors at the Orlando-area hospital described six of the patients who were being treated as "critically ill" and listed five as in "guarded" condition, TheBlaze previously reported.
(H/T: CBS News)
—
Follow the author of this story on Twitter and Facebook: