LAKE BUENA VISTA, Fla. (TheBlaze/AP) — Orange County Sheriff Jerry Demings says searchers have recovered the body of a 2-year-old Nebraska boy dragged by an alligator into a lagoon at Walt Disney World.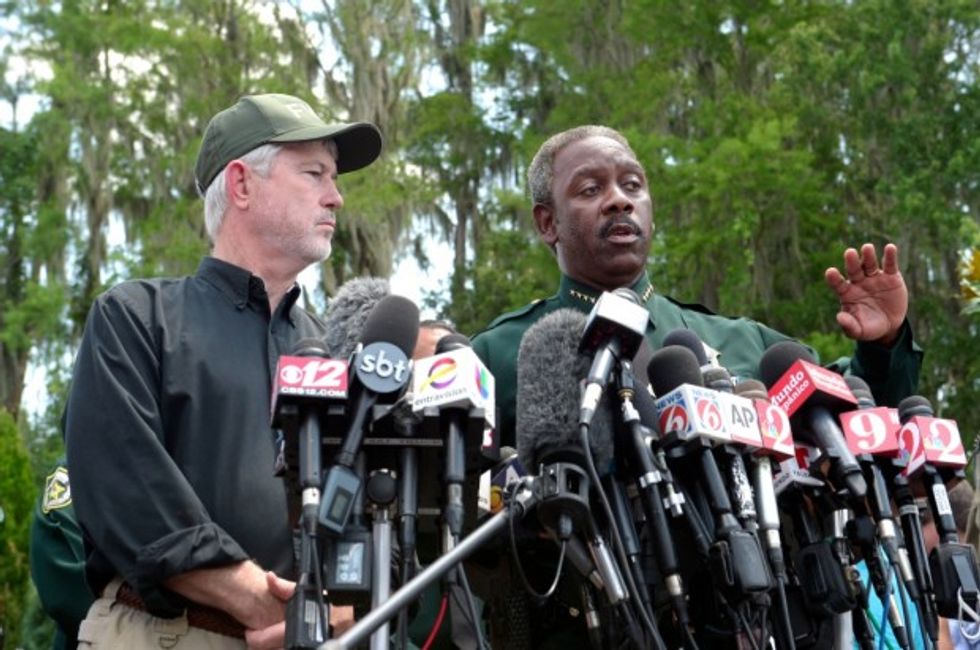 Nick Wiley, executive director of the Florida Fish & Wildlife Conservation Commission, left, and Orange County Sheriff Jerry Demings answer questions from reporters during a news conference Wednesday in Lake Buena Vista, Florida, after a toddler was dragged into the lake Tuesday evening by an alligator outside Disney's Grand Floridian Resort & Spa. (AP Photo/Phelan M. Ebenhack)
The boy was attacked Tuesday night as he waded in shallow water at the edge of the Seven Seas Lagoon at Disney's Grand Floridian resort.
Demings identified the boy as Lane Graves of Elkhorn, Nebraska.
The search team grew to 50 people Wednesday as trappers and divers searched Disney's network of man-made canals, ponds and lakes. At least five other alligators were caught and cut open before they found the killer.
Demings said earlier Wednesday the child was believed dead and a recovery operation was underway, CNN reported.
The child, on vacation from Nebraska with his parents and two siblings, was dragged into the Seven Seas Lagoon around 9:30 p.m., according to Rose Silva, spokeswoman for the Orange County Sheriff's Office.
The boy waded into about a foot of water in a lagoon, CNN reported, citing authorities. His father jumped in and tried to pry the gator's mouth open, the network reported, and his mother jumped in too — but to no avail as the child was dragged underwater.
This is breaking news; updates will be added.