The Clinton campaign released its latest attack ad on presumptive GOP nominee Donald Trump Sunday, slamming the Republican candidate for his response to Britain's historic decision to leave the European Union, also referred to as Brexit.
"Every president is tested by world events. But Donald Trump thinks about how his golf resort can profit from them," the 30-second ad begins.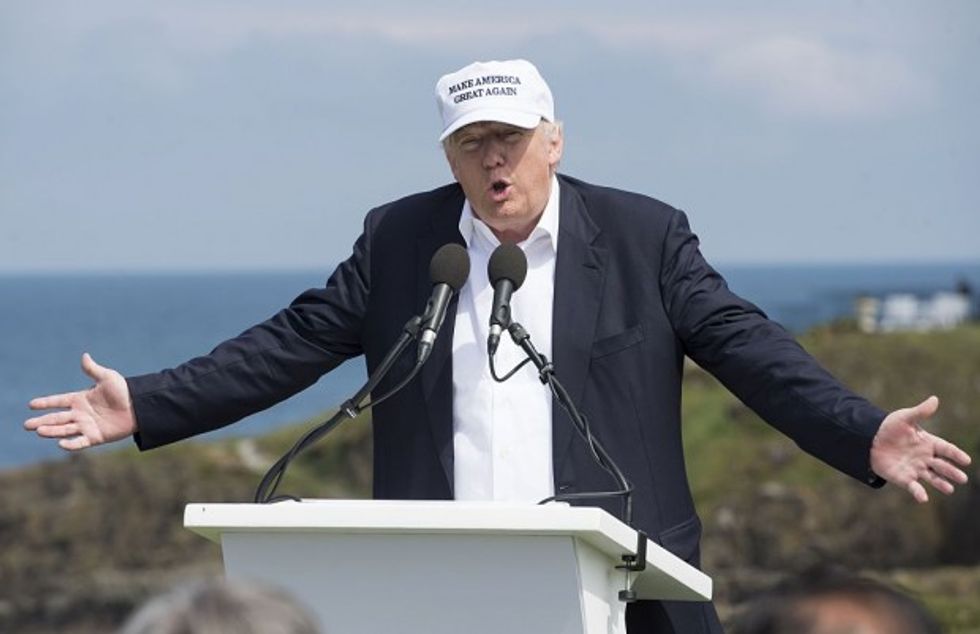 Donald Trump delivers a speech as he officially opens his Trump Turnberry hotel and golf resort in Turnberry, Scotland on June 24, 2016. (Oli Scarff/AFP/Getty Images)

The ad, titled, "Tested" perpetuate's the narrative that Trump is a greedy businessman who would be an incompetent and even dangerous commander in chief. It pulls footage recorded during the candidate's trip to his golf course in Scotland Friday. Trump told those present that Brexit wouldn't mean much for Americans.
"Well, Americans are very much different, this shouldn't even affect them," Trump said.
"The United States has real, real problems and a Brexit is not their problem," he added later.
Trump also released a statement Friday in which he praised the people of Britain for voting to leave the 28-nation European Union.
"The people of the United Kingdom have exercised the sacred right of all free peoples," he said.
The attack ad features a clip of Trump saying that the fall of the British pound could mean more people visit his golf resort there in Scotland.
"When the pound is down, people come to Turnberry," Trump said Friday, referring to his Scottish golf resort.
"In a volatile world, the last thing we need is a volatile president," the video concludes.
Watch: