Presumptive Democratic presidential nominee Hillary Clinton celebrated the Supreme Court's decision in Whole Woman's Health v. Hellerstedt as "a victory for women across America" in a statement Monday.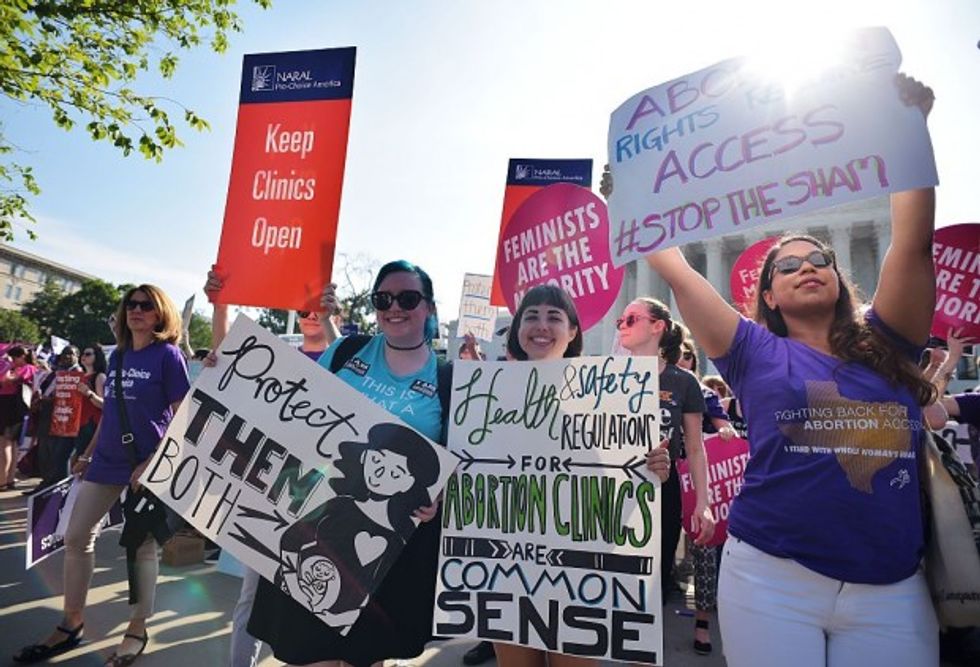 Protesters hold placards outside the Supreme Court in Washington, D.C. Monday. (Mandel Ngan/AFP/Getty Images)
"By striking down politically motivated restrictions that made it nearly impossible for Texans to exercise their full reproductive rights, the Court upheld every woman's right to safe, legal abortion, no matter where she lives," Clinton said.
In Whole Woman's Health v. Hellerstedt, the high court killed a Texas law requiring doctors performing abortions to have admitting privileges at a hospital within 30 miles of the abortion facility. Proponents of the law argued that the regulations were necessary to protect women's health and safety; opponents argued that the restrictions placed an undue burden on women seeking abortions.
Clinton said, "Our fight is far from over"
In Texas and across the country, a woman's constitutional right to make her own health decisions is under attack. In the first three months of 2016, states introduced more than 400 measures restricting access to abortion. We've seen a concerted, persistent attack on women's health and rights at the federal level. Meanwhile, Donald Trump has said women should be punished for having abortions. He also pledged to defund Planned Parenthood and appoint Supreme Court justices who would overturn Roe v. Wade.
"Today's decision is a reminder of how much is at stake in this election. We need a President who will defend women's health and rights and appoint Supreme Court justices who recognize Roe v. Wade as settled law," the statement continued. "We must continue to protect access to safe and legal abortion – not just on paper, but in reality."
A spokesperson for the Donald Trump campaign did not immediately return TheBlaze's request for comment on the ruling.
On the steps of the Supreme Court following the decision, pro-life activists slammed the decision as a win for the abortion lobby rather than women.
Kristin Hawkins, the president of Students for Life, told reporters, "Women all across America lost today."
"Women across America lost today." - @KristanHawkinspic.twitter.com/VDwKABgdTt

— Kate Scanlon (@kgscanlon) June 27, 2016
"Every time a woman goes to seek an abortion, she is now going to wonder if the Supreme Court has let her down," Hawkins said. "She's going to wonder if that abortion facility is clean. She will wonder if the abortionist has all the medical equipment to save her life."
"Women's health has been sacrificed on the altar of abortion." - @jeannemflpic.twitter.com/k2knS8lrAM

— Kate Scanlon (@kgscanlon) June 27, 2016
"They took the back alley and put it in the front door." - @JanetMoranapic.twitter.com/hlXLRIvRnO

— Kate Scanlon (@kgscanlon) June 27, 2016
"Women didn't win today, the abortion lobby won today." - @genevievewoodpic.twitter.com/O1YMBHvxpq

— Kate Scanlon (@kgscanlon) June 27, 2016
"This is a dark day for children and a dark day for their mothers." - @PYNancepic.twitter.com/oNgYh1Qjmh

— Kate Scanlon (@kgscanlon) June 27, 2016
In a statement, David Daleiden, founder of the Center for Medical Progress, criticized the ruling:
Today's nearly incoherent abortion ruling at the Supreme Court is little more than a naked power grab that calls into question the Court's continued adherence to the rule of law. So long as the people of the United States must live and litigate under one set of rules, while abortion doctors receive preferential treatment and may freely break them, corrupt and unaccountable organizations like Planned Parenthood will continue to put their profit margins ahead of women's lives, safety, and that of unborn children. The Center for Medical Progress maintains undercover footage that could shed significant light on the issues in today's Supreme Court case, yet we are prevented from releasing any of it by a gag-order from the federal court in San Francisco.
—
Follow the author of this story on Twitter and Facebook: