After a series of suicide bombings struck the predominantly Christian Lebanese village of Qaa Monday morning, several woman decided it was time to start packing — rifles, that is.
Photos released Tuesday by Al Arabya English show armed female Qaa residents holding their weapons, ready to defend their village.
Lebanese women in Christian village carry guns after suicide blasts https://t.co/SppGsHzjyRpic.twitter.com/4AIq8pRn7d

— Al Arabiya English (@AlArabiya_Eng) June 28, 2016
The first wave of bombings occurred Monday morning, killing five people and wounding 15 people, officials and witnesses told the Associated Press.
Later that evening, as friends and family of the victims mourned outside a church in the village, which borders war-torn Syria, two men on a motorcycle threw a grenade before blowing themselves up, wounding 13 people.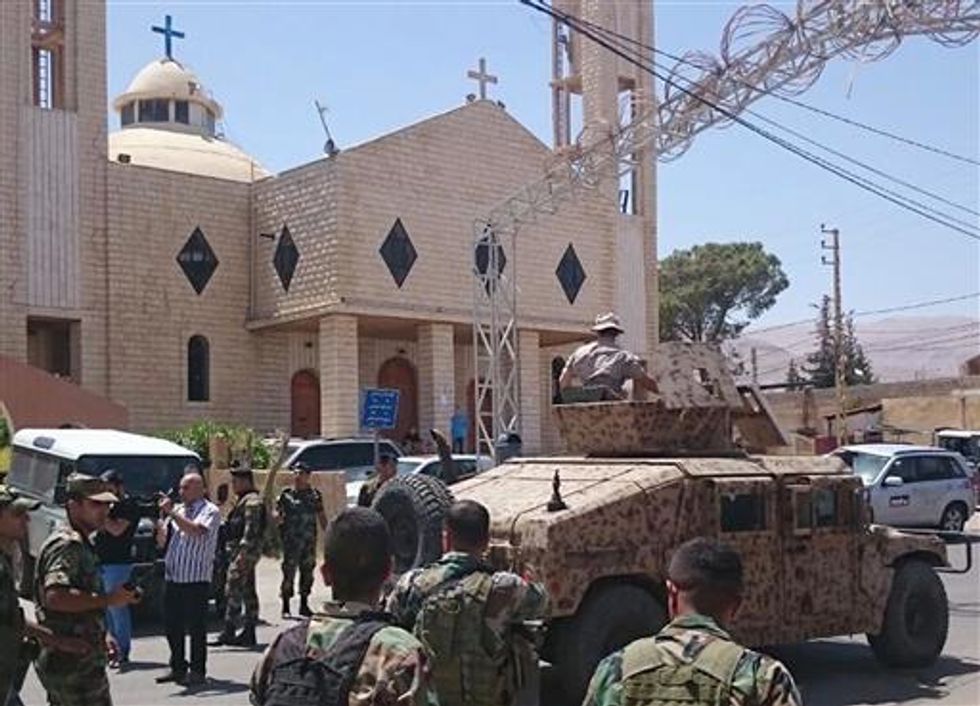 Lebanese army patrol in front a church in Qaa, a predominantly Lebanese Christian village in eastern Lebanon only few hundred yards from the Syrian border Monday. (AP Photo)
Many villagers shaken by Monday's events barricaded themselves indoors, according to the AP. The army issued a statement urging people to avoid congregating in groups and to cooperate with local law enforcement.
No group has yet claimed responsibility for the attacks, though many in Lebanon suspect the Islamic State ordered them, Al Arabya English reported.
On Tuesday, Lebanese troops conducted a security sweep, arresting 103 Syrians for entering the country illegally.
"The attack on the Lebanese national security and the unfamiliar manner in which it was executed usher in a new kind of phase in the state's confrontation with the dark forces of terrorism," a Cabinet statement said.
Tuesday was declared a national day of mourning and authorities postponed funerals for the five killed in Monday's bombings, citing security reasons. A major religious event scheduled in the capital, Beirut, by the militant Hezbollah group was also postponed.
Qaa and the nearby Ras Baalbek are the only two villages with a Christian majority in the predominantly Shiite Hermel region, where the Shiite Hezbollah group has a foothold.
The Associated Press contributed to this story.