Hillary Clinton believes it's time to put Benghazi in the past, now that the Republicans have released their report, but one victim's mother doesn't feel like she's received any answers from the former secretary of state.
"I'll leave it to others to characterize this report, but I think it's pretty clear it's time to move on," the presumptive Democratic nominee said Tuesday with a smirk.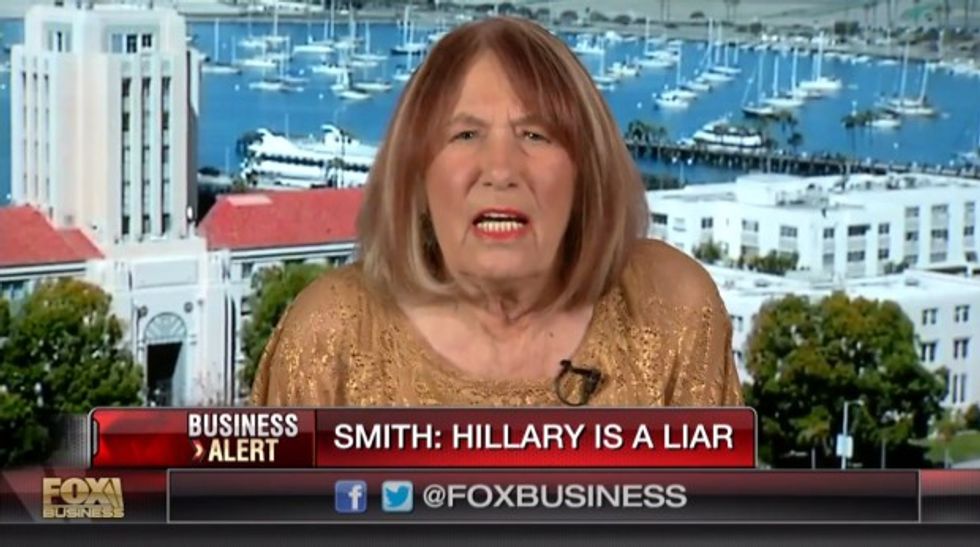 Image source: Fox Business screen grab
But, for Patricia Smith, mother of slain U.S. information management officer Sean Smith, "It is definitely not time to move on" because "it has not been dealt with."
Asked if there's anything that could provide her closure to the deadly Benghazi attack, Smith said to "see Hillary in stripes" is the only thing that would vindicate her son's untimely passing.
"I think she ought to be made to acknowledge what she did, and she has not," Smith told Fox Business host Deidre Bolton Tuesday. "So far, all she has done is lied and people are believing her."
Smith recounted her conversation with Clinton and State Department officials, who she claims told her she could not receive information regarding her son because she was "not part of the immediate family." The mother said she has still not heard anything more from the government.
"People of America, this is still what your country does to you," she said. "[Clinton] still has not spoken to me, or anybody in her group, telling me what happened."
Toward the end of her conversation with the Fox anchor, Smith pleaded for the media to "do something" and have Clinton "say something" that could provide her with answers about the Benghazi attack in September 2012 — even if that means a direct call from the politician.
"Have her call me!" Smith said emphatically. "I'm still waiting. Hillary, I'm waiting for what you promised me. All I heard was you getting on TV calling me a liar. That's not true, Hillary. I am not the liar. You are the liar."
—
Follow the author of this story on Twitter: