State Department officials filed a motion this week asking a federal court for a 27-month delay in releasing 14,000 pages of emails between former Secretary of State Hillary Clinton and four top aides and officials with the Clinton Foundation and Teneo Holdings, a global consulting firm with Clinton connections.
In a court filing released Wednesday, administration lawyers claimed the State Department, believing it was only collecting 6,000 emails, misjudged the amount of material necessary to process the many documents necessary as part of a lawsuit regarding conservative organization Citizens United.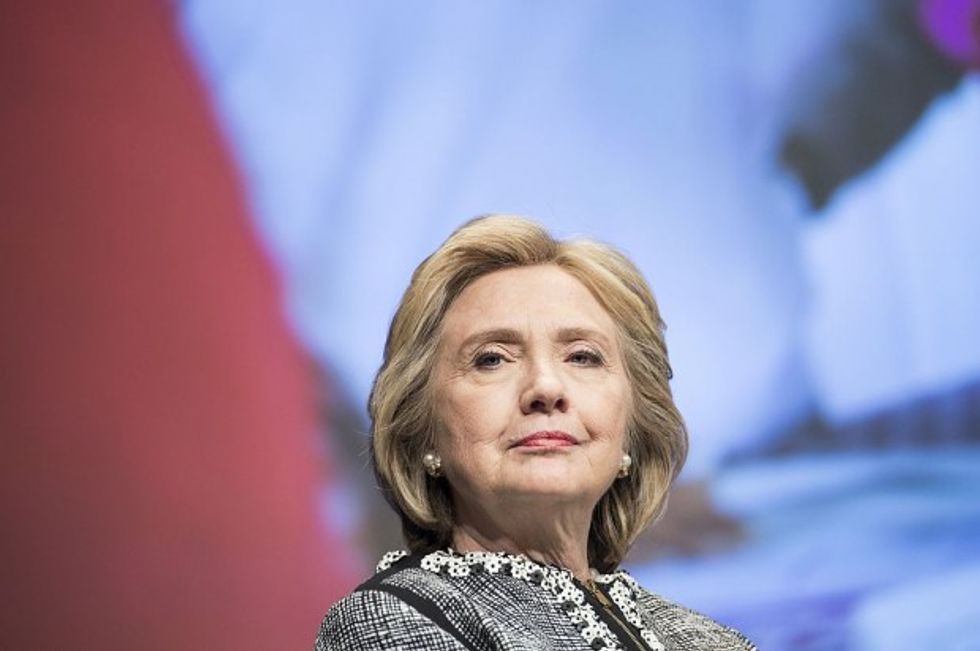 Photo by BRENDAN SMIALOWSKI/AFP/Getty Images
Instead of turning the correspondence over on July 21, the original due date, Justice Department officials are seeking to push that date back to October 2018, nearly halfway through the first term of a potential Hillary Clinton presidency, according to The Daily Caller, which first broke the story.
"The American people have a right to see these emails before the election," David Bossie, president of Citizens United, told The Daily Caller, adding that the delay is "totally unacceptable."
The motion was filed just two days after U.S. Attorney General Loretta Lynch held a coincidental 30-minute meeting with former President Bill Clinton on the tarmac of Phoenix's Sky Harbor International Airport. Lynch claimed the meeting was "primarily social," but both Democrats and Republicans have criticized the attorney general for the appearance the talk created, given she is overseeing an investigation into Hillary Clinton's time at the State Department.
Citizens United has sued for a series of emails between several State Department staffers, Clinton Foundation officials and people at Teneo Consulting. But the State Department has experienced a few hiccups in producing them.
Among the errors, officials said an initial test looking at just 300 emails, which was used to calculate the amount of time necessary to process all the emails, they did not include keyword searches in the messages. Rather, they only searched the "to" and "from" lines in messages, failing to retrieve many emails.
State Department officials also "inadvertently" labeled some of the email attachments as irrelevant to the request without actually making sure that truly was the case.
Speaking Thursday of the delay, department spokesman John Kirby cited a surge in Freedom of Information Act requests in explaining why the State desires an extension.
"The Department handles FOIA in an entirely nonpartisan manner," he ensured.
Hillary Clinton has come under fire in the time since she left the State Department over whether or not she used her high-profile position in the federal government to aid corporate and foreign government donors to the Clinton Foundation.
Complicating matters, Huma Abedin, one of Hillary Clinton's senior aides, worked as a Teneo employee while simultaneously being employed at the State Department. Additionally, Chief of Staff Cheryl Mills worked at the Clinton Foundation while also serving at the State Department.
You can see the court filing in its entirety below:
–
Follow the author of this story on Twitter: