Hillary Clinton on Friday rejected the FBI's accusation that she and her aides were "extremely careless" with classified data, the Hill reported.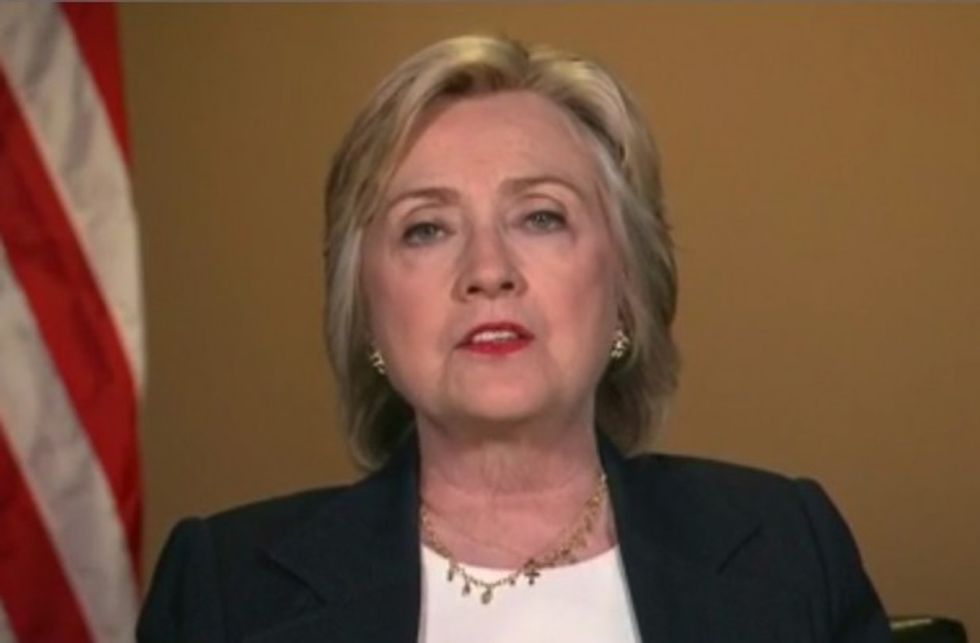 Image source: Twitter
The presumptive Democratic presidential nominee offered her first interviews since the Justice Department's controversial decision earlier this week to not indict her, adding that FBI Director James Comey had "clarified that comment, to some extent, pointing out that some of what was thought to be classified apparently was not."
"I think the professionals with whom I communicated were very careful about how they handled classified material, as I was over the course of those four years," Clinton said on CNN's "The Lead."
"I do not believe that all of the professionals that I dealt with in the State Department were careless in handling classified material," the former secretary of state said in a separate interview with Lester Holt on MSNBC.
More from the Hill:
The position is a striking rebuttal to Comey, who twice this week called her behavior "extremely careless," even while asserting it did not violate the law.

"Certainly, she should have known not to send classified information," Comey testified the House Oversight Committee on Thursday.

"I think she was extremely careless. I think she was negligent. That, I could establish," he added. "What we can't establish is that she acted with the necessary criminal intent."
Clinton referred in her interviews to "over 300 people" she communicated with via email, eh Hill said, including longtime diplomats and government officials.
"I do not believe that they did anything that they believed was in any way inappropriate," she told MSNBC. "Other agencies have said maybe they should have known at the time, but these are professionals … they were doing the best job they could. They were not careless. The material they sent to me they did not believe was classified."
More from the Hill:
According to Comey, at least 113 email messages Clinton sent or received while serving as secretary of State contained information that was classified at the time it was sent — including eight email threads with information at the highest level of top secret.

An additional 2,000 emails contained information that was later upgraded to classified after the fact.

Clinton may be staring down the barrel of a new criminal investigation for lying under oath to Congress. House Republicans have promised to refer questions about Clinton's truthfulness to the FBI, after comments she made during a congressional hearing last year appeared to conflict with the FBI's narrative.

Her repeated insistence on Friday that other officials believed the material was not classified suggest a defense strategy for Clinton following her escape from the legal gauntlet this week. If officials throughout the State Department believed that the information was not classified, Clinton can reasonably continue to insist that she didn't know, either.

None of the emails in Clinton's inbox were properly marked as classified.

However, the FBI has found at least three messages with partial markings suggesting that some of the material was sensitive. But those markings were incomplete, and Clinton may not have been "sophisticated" enough to properly interpret them, Comey said Thursday.

Earlier in the week, however, the FBI director said that someone of Clinton's stature nonetheless "should have known" not to have discussions about sensitive matters on an unclassified email system.
While Clinton told MSNBC there was "no evidence" hackers accessed her server, Comey said lack of evidence doesn't mean her system was never compromised.
"We assess it is possible that hostile actors gained access to Secretary Clinton's personal email account," Comey said at FBI headquarters Tuesday.
More from the Hill:
The FBI's decision not to recommend charges on Tuesday essentially cleared Clinton's path toward continuing as the presumptive Democratic presidential nominee.

Clinton addressed the matter for the first time on Friday on the heels of violence in Minnesota, Louisiana and Dallas that has dominated the news cycle and reignited tensions between police officers and African-Americans. Her late afternoon interviews were almost certain to let her response to be email fracas be buried by the fallout from the violence.
Hillary Clinton reacts to Comey calling her actions "extremely careless" in the email probe https://t.co/6OZtrfIwim https://t.co/DpAfTMTb14

— CNN Politics (@CNNPolitics) July 8, 2016