Retired Lt. Gen. Michael T. Flynn, a registered Democrat, is being considered by presumptive Republican nominee Donald Trump as a potential running mate, the Washington Post reported Saturday, citing sources familiar with the vetting process.
Flynn, a strong critic of President Barack Obama who previously ran the Defense Intelligence Agency, is seen as a favorable choice for projecting competence in the crucial arena of national security.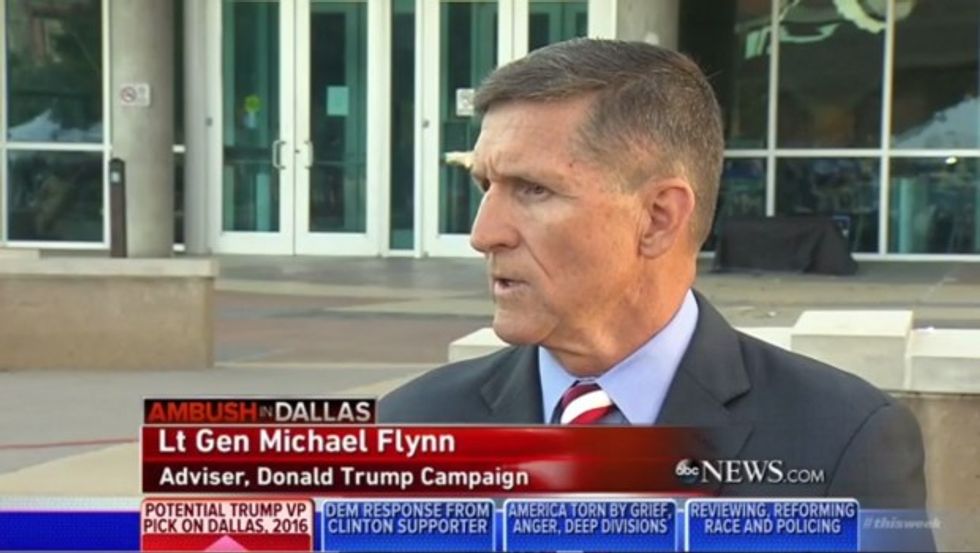 Image source: ABC/"This Week"
Gen. Flynn appeared on ABC's "This Week" Sunday to discuss the speculation.
The retired lieutenant general told ABC, "I grew up in a very strong Democratic family. But I will tell you that the Democratic Party that existed in this country is not the Democratic Party that I grew up around in my upbringing. Not at all."
He told ABC that he was unaware of the reports that he is being vetted for the position of vice president, but noted that the role appeals to him.
"I am honored to be even in this discussion," Flynn said. "For the kid from, you know, a little town in the smallest state in the Union, Rhode Island, it's a pretty big deal, and I take it very seriously. If people are serious about it, I have to be serious about it."
When asked about his views on abortion, a major topic that divides conservatives and liberals, Flynn shared an opinion that is not likely to go over well with Republicans should Trump appoint him as his running mate.
"I think women have to be able to choose what they ... you know, sort of a right of choice," he said, adding, "but I think that's a difficult legal decision, and I think that women are so important in that decision-making process. They are the ones that have to make the decision because they are the ones that are going to decide whether to bring up that child or not."
Watch:
Possible Trump VP pick Gen. Michael Flynn on abortion: "Woman have to be able to choose." #ThisWeek https://t.co/AXyRZiMDL1

— This Week (@ThisWeekABC) July 10, 2016