As the country mourned the deaths of the five police officers killed Thursday by a lone shooter in an ambush-style attack, the community of El Paso, Texas, rallied in solidarity with the city of Dallas. Leaders from the El Paso area held a news conference Friday evening to express their condolences and show support.
El Paso County Sheriff Richard Wiles joined state, county and city officials to discuss the attack and the lasting effects it would have on the country, Texas and El Paso. The city's police chief, Greg Allen, remained silent during the conference, the El Paso Times reported.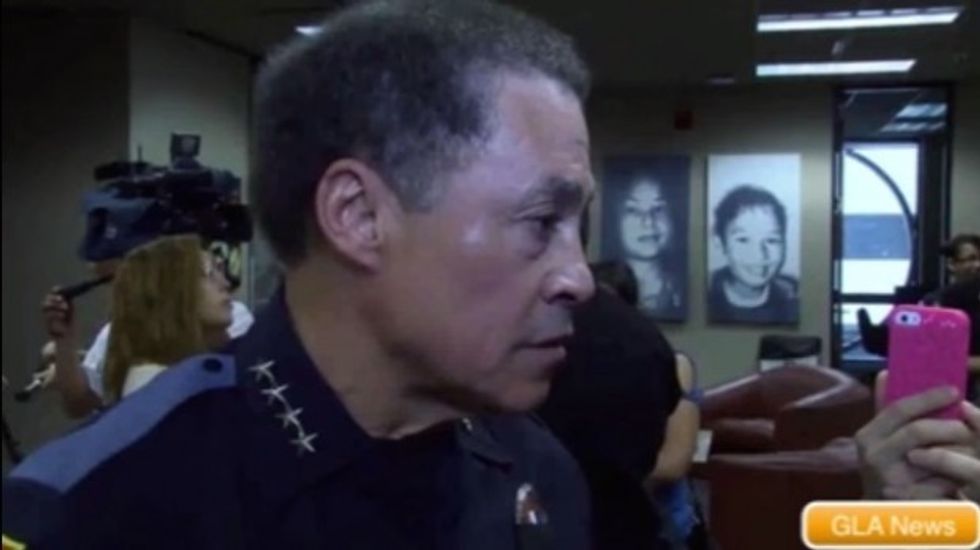 Image source: YouTube/GLA News
Allen did, however, end up sharing his true thoughts on the tragedy after the event when a reporter asked a question about the Black Lives Matter movement.
"Black Lives Matter, as far as I am concerned, is a radical hate group," Allen, who is African-American, told the Times. "And for that purpose alone, I think the leadership of this country needs to look a little bit harder at that particular group. The consequences of what we saw in Dallas is due to their efforts."
According to the Times, Allen is the first black police chief in the city's history. During his tenure, which began in 2007, the city has been consistently ranked as one of the safest large cities in the country.
Wiles disagreed with Allen's statement, insisting that communication between law enforcement and community organizations is key to preventing events like the one in Texas.
"That Black Lives Matter is a radical group? That is not my belief," Wiles told the Times when asked about Allen's comments. "I certainly understand that there are incidents occurring throughout the country that are bringing attention to things that are important to communities all across this nation, and I think we have to, and what has worked well, is that we have to sit down and communicate about our problems."
Wiles said he's not sure if poor communication between police and the wider community contributed to Thursday's attack.
"I think unfortunately there are evil people who will do terrible things, and clearly this person (the Dallas gunman) was an evil person," he said. "What was in his heart and mind, I don't know and I really don't care. What I do know is he assassinated five officers and injured people."
"As far as these other things that are occurring," Wiles added, "certainly those are issues that those communities have to deal with and I hope that law enforcement can work with the community and overcome these things that are happening."