Following the deadly ambush of Dallas police officers last week and the continued rise of Black Lives Matter, one Fox News personality said President Barack Obama "sees through the eyes of an aggrieved black activist."
Political analyst Brit Hume said Monday on "Special Report" that the commander in chief's "behavior has done much to aggravate" the racial unrest in the United States.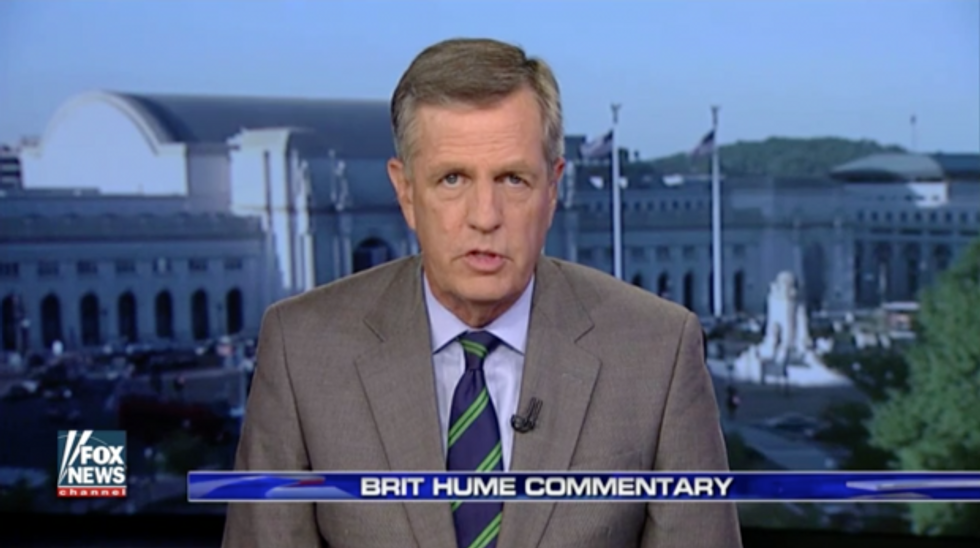 Image source: Fox News screen grab
"The president has consistently chosen to see things through the eyes of an aggrieved black activist rather than of a president of all the people," he told host Bret Baier. "He has not failed to speak out whenever a black is killed by a white police officer, but has said next to nothing about the continuing slaughter of blacks by other blacks in the streets of Chicago, Baltimore, and other cities."
Hume went on to say Obama has been sympathetic toward the Black Lives Matter movement, which the Fox News commentator said is built on a "fallacious" basis.
"No case has given the movement more impetus than the false claim that Michael Brown was shot down in cold blood while trying to surrender to a cop in Ferguson, Missouri two years ago," he said.
Hume was referring to the highly-publized death of Michael Brown, who was fatally shot by police officer Darren Wilson. A study by the Department of Justice later revealed that the popular "hands up, don't shoot" narrative that arose in the days after Brown's death was likely untrue.
The Fox News analyst also noted a recent study from Harvard University economics professor Roland G. Fryer, Jr. According to the report, while there may be racial bias when it comes to use of force, there is no racial bias when it comes to the use of lethal force.
Watch Hume's commentary below:
—
Follow the author of this story on Twitter: