An ally of former Republican presidential candidate John Kasich has a message for the Ohio governor's supporters: It's time to convince Kasich to offer himself as an alternative to Donald Trump at next week's Republican National Convention.
According to Cleveland.com, in an email sent Sunday night, former New Hampshire Sen. Gordon Humphrey (R) told Kasich supporters, "John needs encouragement to make the move. Please email John and offer him your encouragement and continued backing. ... The way is clear for John. It's not going to get better than this, but time is of the essence. Please take a moment to encourage him right now."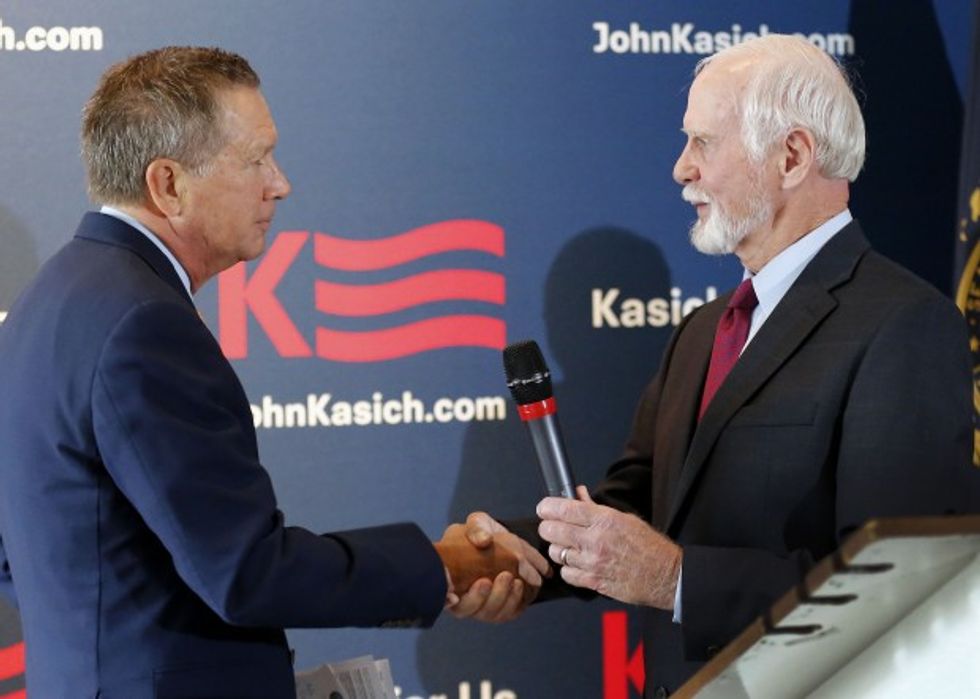 Republican presidential candidate Ohio Gov. John Kasich shakes hands with former New Hampshire Sen. Gordon Humphrey Oct. 2 in Concord, New Hampshire. (AP Photo/Jim Cole)
Humphrey "ruled out" former Massachusetts Gov. and 2012 GOP standard-bearer Mitt Romney in his email. He also dismissed two of Kasich's Republican primary rivals — Sens. Marco Rubio (Fla.) and Ted Cruz (Texas) — as the right alternative to Trump, Cleveland.com reported. He argued that Rubio isn't an option since the Florida senator is in the midst of a re-election bid and alleged that Cruz "has made a pact" with Trump, as evidenced by Texas senator's agreeing to speak at the convention.
Kasich is not currently scheduled to speak at the convention, although it will take place in his state, and he has refused to endorse Trump — but has said that he doesn't plan to interfere with the convention.
Humphrey told Cleveland.com that his email was a "private communication from me in my individual capacity" and was not authorized by Kasich. The email included a link to an op-ed by the Weekly Standard's Bill Kristol, a leader of the "Never Trump" effort, which floated Kasich as a viable alternative to Trump.
—
Follow the author of this story on Twitter and Facebook: