After telling House Speaker Paul Ryan (R) that he "cannot and will not" support Donald Trump for president, Zachary Marcone, a Republican, asked the Wisconsin lawmaker how he can "morally justify" backing the presumptive Republican nominee.
"It concerns me when the Republican leadership is supporting somebody who's openly racist, and has said Islamophobic statements, wants to shut down our borders," Marcone said during a CNN town hall event Tuesday night. "How can you morally justify your support for this kind of candidate, somebody who could be very destructive?"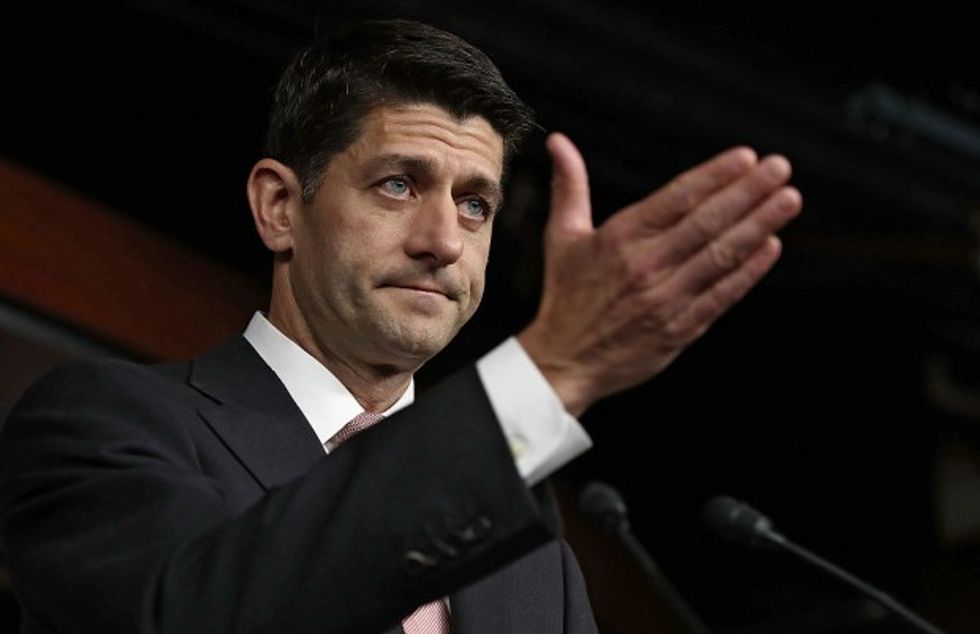 Photo by Win McNamee/Getty Images
In response, Ryan invoked reasoning he has used frequently in his explanation for supporting Trump, telling the young voter that the American electorate faces a "binary" choice between Trump and Hillary Clinton, the presumptive Democratic nominee for president.
"That basically means you're going to help elect Hillary Clinton," the House speaker said. "And I don't think Hillary Clinton is going to support any of the things you stand for, if you are a Republican."
While several of Trump's proposals have been "wrong" and "don't reflect the view of fellow conservatives and Republicans," Ryan suggested Trump remains an infinitely better choice than Clinton.
At that, Ryan pivoted to issues on which he and Trump agree, such as the Supreme Court and the necessity of passing the Republican Party's agenda.
"The next person on the Supreme Court will shape this court for probably a generation, almost 25 years," Ryan said. "That means are we going to be faithful to the Constitution or not for a generation?"
"Look at the agenda we're pursuing in conjunction with the nominee, our presumptive nominee," he continued. "I know that that agenda ... has a much better chance of going into law, because I know it won't go in there under Hillary Clinton."
The top Republican told Marcone that Clinton would be a third term of President Barack Obama's policies, which he described as the "wrong direction" for the country.
Watch the exchange below:
–
Follow the author of this story on Twitter: