A photo of a little boy in Massachusetts flipping off a police cruiser is going viral, and one officer is now responding to all of the buzz.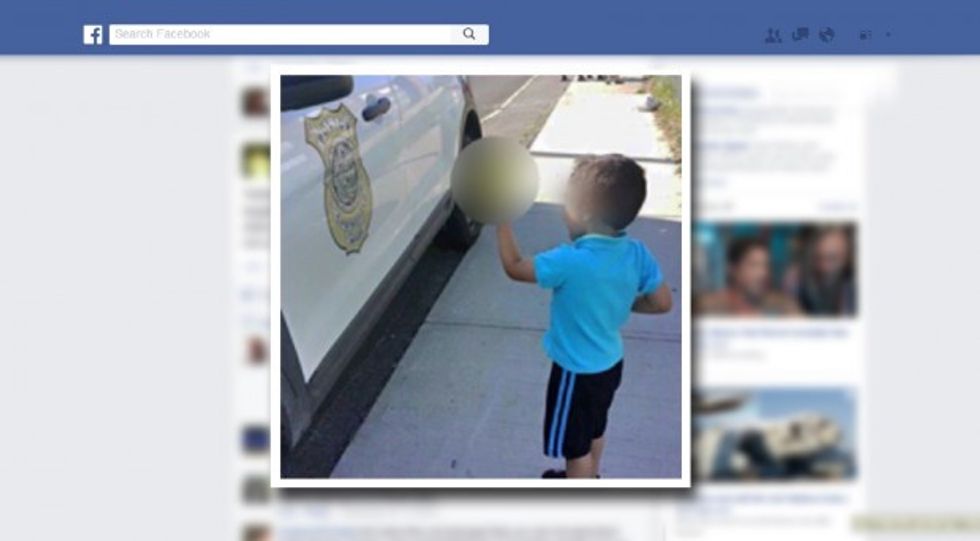 Image source: WFSB-TV
"My reaction was outrage," Sergeant John Delaney with the Springfield Police Department said. "Not as a police officer, but as a parent. The general public doesn't understand. They see the badge. They see the blue uniform."
"They don't see the person behind it," Delaney told WFSB-TV. "We laugh. We cry. We bleed. We die."
But Delaney said the vulgar image won't keep him from doing all he can to protect that same child.
"I would go and rescue that little boy if he was drowning. If he was in a car accident, if he was choking on something — and I would do that and not ask for thanks," Delaney said. "And there are 400 other police officers in the city of Springfield that would do the same."
The viral image was posted to the now-deleted Facebook page of the boy's father, according to WFSB.
The controversy comes just days after two black men in Baton Rouge, Louisiana, and Falcon Heights, Minnesota, were fatally shot by police, prompting a week of protests around the country. Hundreds were arrested as a result of the demonstrations, as TheBlaze previously reported. At a Thursday protest in Dallas, five police officers were fatally shot in an ambush.
(H/T: WFSB-TV)
—
Follow the author of this story on Twitter and Facebook: