NICE, France (TheBlaze/AP) -- Police have identified the attacker who killed at least 84 in Thursday's grisly Bastille Day massacre in Nice, France, as 31-year-old Mohamed Bouhlel (pronounced "boo-lel").
The first photo of the suspected attacker appeared to be from his ID card.
MORE: First image of what is believed to be an ID card of Nice, France attacker Mohamed Lahouaiej Bouhlel pic.twitter.com/x07G0kUBLM

— BNO News (@BNONews) July 15, 2016
Bouhlel, a resident of Nice and delivery driver, was a reportedly born in Tunisia.
As revelers celebrated Bastille Day, Bouhlel drove a truck through crowds along Nice's beachfront, killing at least 84 people, many of them children. He also reportedly shot out the vehicle's window. The slaughter ended only after police killed the armed attacker in a hail of bullets.
Chief prosecutor Francois Molins said police risked their own lives trying to stop the truck as it traveled 2 kilometers (1 ¼ miles) down the promenade. The truck's front windshield was riddled with bullets, Bouhlel's body slumped inside.
German tourist Richard Gutjahr filmed the moment when the unidentified motorcyclist sped alongside the truck, hopping a curb to try to grab hold of the driver's door as two police officers on foot nearby fired a single shot each at the driver. The motorcyclist fell to the ground, coming within inches of being struck by truck tires that partly crushed the motorcycle, but got up and briefly climbed aboard the side of the accelerating truck before jumping off again.
Citing "law enforcement sources," CBS News reported Bouhlel was on the radar of police for petty crimes, including a past bar fight.
Molins said Bouhlel's estranged wife was arrested in Nice on Friday, while Bouhlel narrowly avoided being put behind bars months before the attack. He said Bouhlel had received a six-month prison sentence in March for a conviction for assault with a weapon, but other legal officials said his sentence was suspended because it was his first conviction. The weapon used was a plank of wood against another driver after a traffic accident.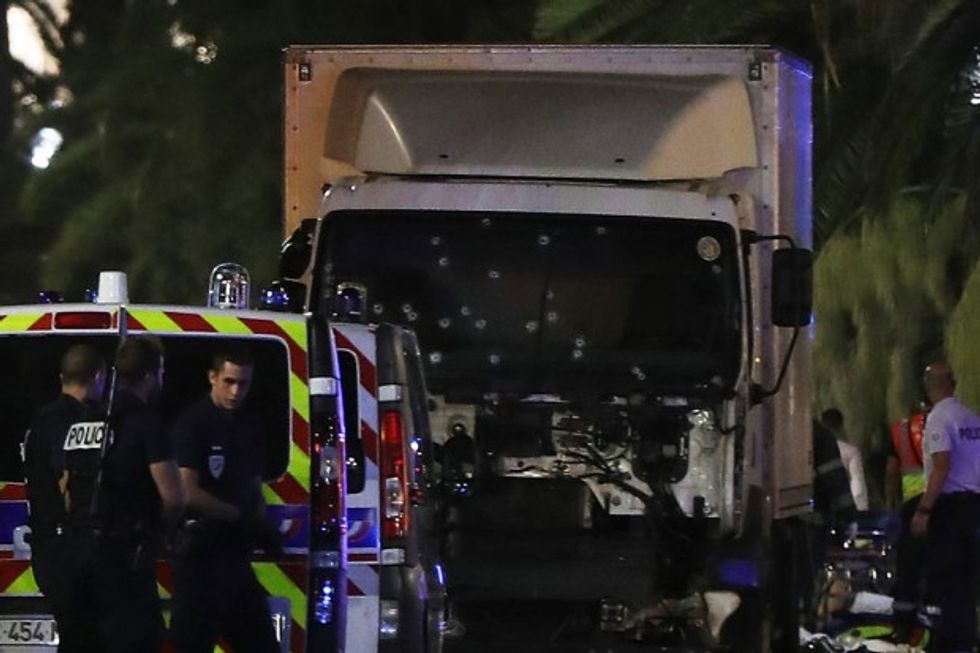 Police officers and rescued workers stand near a van that ploughed into a crowd leaving a fireworks display in the French Riviera town of Nice on July 14, 2016. The mayor of the French city of Nice said dozens of people were likely killed after a van rammed into a crowd marking Bastille Day in the French Riviera resort today and urged residents to stay indoors. (AFP / VALERY HACHE)
Two Americans, a father and son from Texas, were among the dead.
Authorities reportedly found a handgun, semi-automatic rifle and fake hand grenades inside the truck.
Chilling videos emerged Thursday night from the scene of the horrific attack.
No group has claimed responsibility for the carnage, but French officials called it an undeniable act of terror. The assault on revelers in the southern French city rocked a nation still dealing with the aftermath of two attacks in Paris last year that killed 147 people and were claimed by the Islamic State extremist group.
Video shot by terrified civilians shows crowds fleeing in panic, leaping off the elevated pavement onto the beach below, and police finally surrounding the stationary truck and fatally shooting its driver.
---