Rep. Keith Ellison, a Democrat from Minnesota, formally requested Friday the Department of Justice investigate whether a tweet from a former Republican congressman "constitutes a terroristic threat against" President Barack Obama.
In the hours following the deadly police ambush in Dallas last week, former Rep. Joe Walsh (Ill.) took to Twitter to voice his anger toward the Black Lives Matter movement and the commander in chief. According to Ellison, the language Walsh used could "incite violence."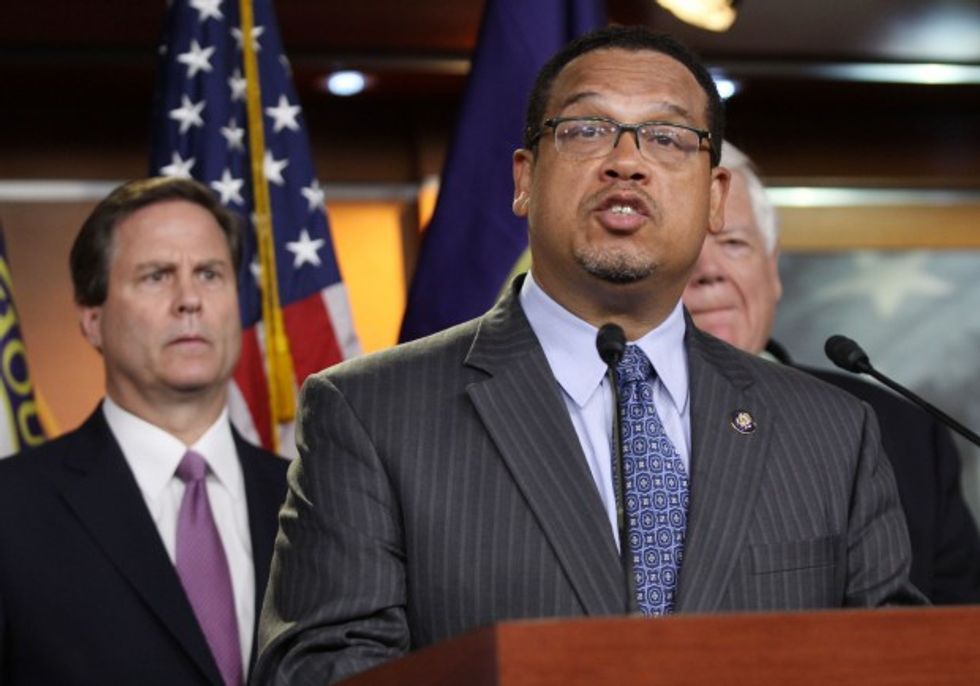 AP Photo/Lauren Victoria Burke
"Watch out Obama," Walsh wrote in the since-deleted post. "Watch out black lives matter punks. Real America is coming."
The gunman, Micah Xavier Johnson, was a black man who admitted to wanting to kill white people and police officers. At the end of his rampage, five officers were dead and nine others were wounded.
Walsh was heavily criticized by people on both sides of the aisle for the social media post and now Ellison has sent Attorney General Loretta Lynch a letter about the matter, calling for an investigation into the intentions behind the Republican's tweet.
"The tweet was subsequently deleted, but still went viral as members of the media and the public found and shared the statement," Ellison wrote. "While Mr. Walsh claims that he did not intend to incite violence, he continues to stand by his statement, citing that the President is anti-police."
According to a report from the Chicago Tribune, Walsh later tweeted that he "wasn't calling for violence, against Obama or anyone" but was just raising the concern that the president's words and the actions of the Black Lives Matter movement "have gotten cops killed."
Regardless, Ellison feels Walsh has violated a statute from the U.S. Code that he suggested "classifies terrorist threats against the President as a Class E felony offense."  He wrote that a threat from anyone is "unacceptable," but particularly from Walsh, given his position as a former congressman.
"This particular statement bears significant weight because of Walsh's position as a high-profile former Member of Congress," he wrote. "As such, Mr. Walsh's refusal to renege on the statement could result in real violence against the President or the Black Lives Matter movement."
See the full letter below:
My letter to @LorettaLynch asking her to investigate a tweet from @WalshFreedom potentially threatening @POTUS. https://t.co/0ty6g5j87L

— Keith Ellison (@Keith Ellison) 1468615957.0
—
Follow the author of this story on Twitter: