One of Hillary Clinton's prospective vice presidential picks violated federal law while giving a media interview earlier this year, a government watchdog report has found.
The U.S. Office of Special Counsel found that Department of Housing and Urban Development Secretary Julian Castro violated the Hatch Act during an April 4 interview with Yahoo News' Katie Couric.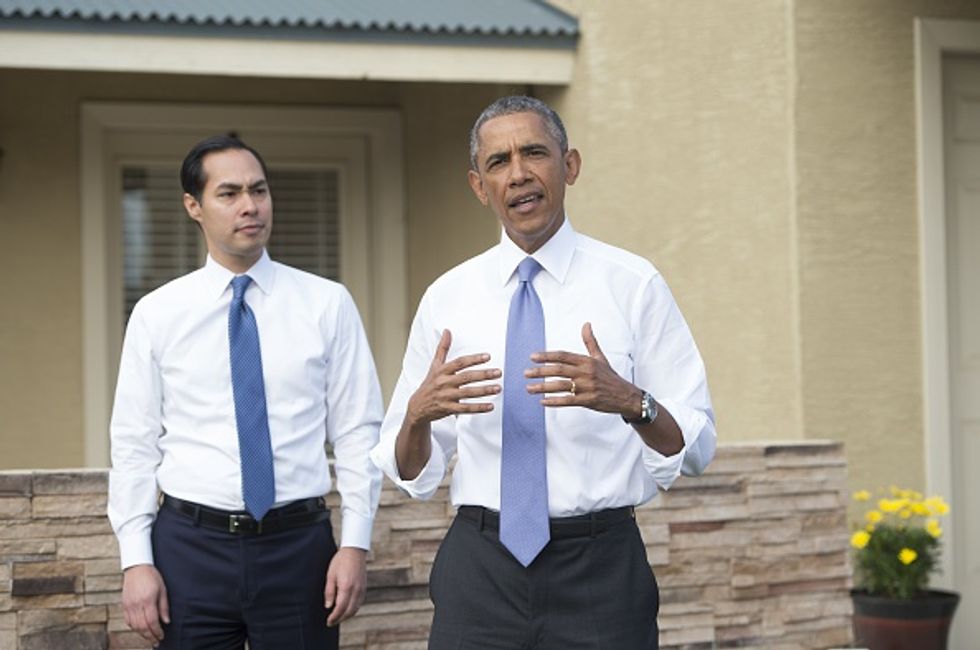 U.S. President Barack Obama speaks alongside Housing and Urban Development Secretary Julian Castro (L), during a neighborhood stop to highlight his administration's home purchase and refinancing policies in Phoenix, Arizona, January 8, 2015. (Credit: Saul Loeb/AFP/Getty Images)
"Secretary Castro's statements during the interview impermissibly mixed his personal political views with official agency business despite his efforts to clarify that some answers were being given in his personal capacity," the report, which was released on Monday, states.
The Hatch Act prohibits federal employees in the executive branch from giving their political opinions while in their official capacity. They are still allowed to state their personal views, but not while using their official titles. During the April 4 interview, Couric greeted Castro by referring to him as "Secretary Castro."
Couric later asked him about his support for presumptive Democratic nominee Hillary Clinton, whose campaign has listed Castro as a possible VP pick.
"Taking off my HUD hat and speaking individually, it's very clear that Hillary Clinton is the most experienced, thoughtful and most prepared candidate for president that we have this year," Castro said.
The report was sent to President Barack Obama "for appropriate action." Castro, for his part, has already said that he did not think he was breaking the law during the interview because he made clear that he was "speaking individually."
"In responding to a journalist's question about the 2016 election, I offered my opinion to the interviewer after making it clear that I was articulating my personal view and not an official position," Castro said, according to Fox News. "At the time, I believed that this disclaimer was what was required by the Hatch Act. However, your analysis provides that it was not sufficient."
Watch the full interview below; the relevant portion begins around the 7-minute mark:
(H/T: Fox News)
—
Follow the author of this story on Twitter and Facebook: