Conservative radio host and author Eric Metaxas is making a case for why Christians should vote for Donald Trump.
Metaxas, who is attending this week's Republican National Convention in Cleveland, recently appeared on The Church Boys podcast to discuss his new book, "If You Can Keep It: The Forgotten Promise of American Liberty," and the political challenges facing modern American Christians. The premise of "If You Can Keep It," he explained, is that America is "an idea" constructed by individuals, and in order to preserve American freedoms and privileges, citizens must understand and be prepared to defend America as an ideology.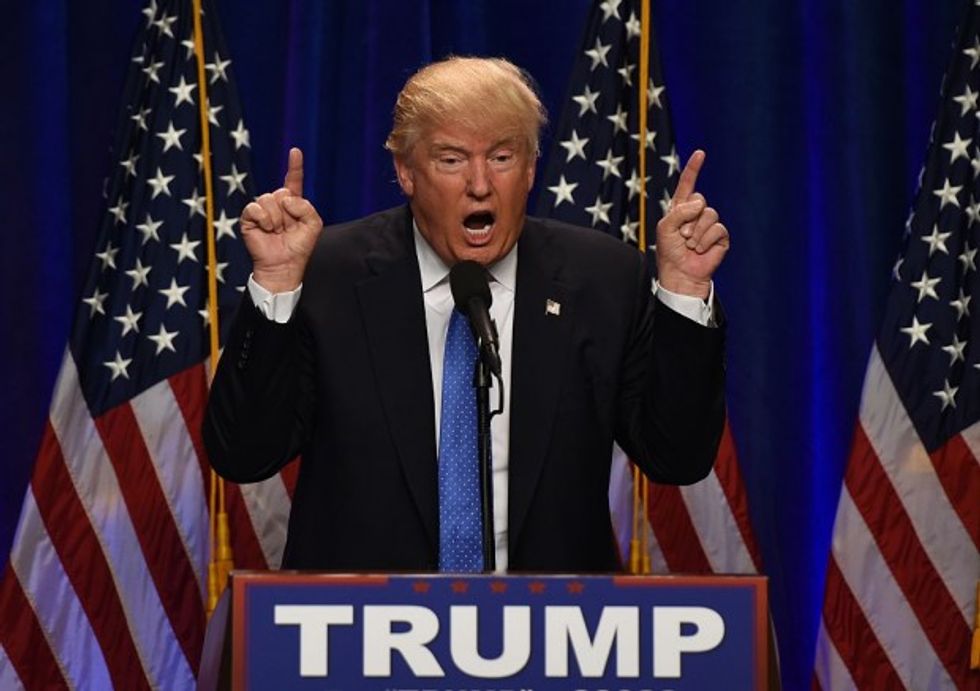 Timothy A. ClaryY/AFP/Getty Images
"If America does not continue to hold out its torch of liberty, of freedom, self-government, justice — nobody around the world is leading that charge," he asserted. "We have been privileged to lead that charge. With all of our flaws, we have to understand that this country was called by Abraham Lincoln 'the last best hope of earth.' In other words, he's saying that God, in His wisdom and in His grace, allowed America to be the conduit by which freedom of every kind can touch people around the world."
Now that Donald Trump is formally the presidential nominee of the Republican Party, conservative Christians across the country must decide whether to vote for the thrice-married, name-calling, bombastic businessman or align with the #NeverTrump movement and boycott the election. But according to Metaxas, the latter option is fundamentally un-Christian and could seriously jeopardize the country's future.
[sharequote align="center"] "Do you know who Stalin was, who Hilter was, who Pol Pot was, who Idi Amin was?"[/sharequote]
"Donald Trump, when people paint him as some immoral monster — Do you even know what an immoral monster is?" he charged. "Do you know who Stalin was, who Hilter was, who Pol Pot was, who Idi Amin was?"
"You may not like him," Metaxas continued, "but the idea that we kinda write him off as pure evil ... those folks are simply not thinking clearly."
He went on to say that Christian voters need to look at the 2016 election objectively — rather than from an emotional standpoint — and consider which candidate is more likely to defend the American project.
"The emotions have to go out of it," he said. "You have to understand that one of these two people is going to be the commander in chief, and you owe the young men and women who put their lives on the lines every day ... the best choice. And if the best choice is Stinko, and the other one is ... the Devil's sister, well, I'm gonna vote for Stinko and I'm gonna pray that God could use that."
He challenged Christians who see voting for Trump as dirtying their hands to consider the consequences on their inaction.
Metaxas, who wrote a biography on Dietrich Bonhoeffer, cited the Christian hero as someone who chose to engage in politics when the ethical options were gray. Bonhoeffer worked with a group of dissidents during World War II to dismantle the Third Reich from the inside and played a major role in crafting a plot to assassinate Adolf Hitler.
Metaxas added that many Christian voters were hesitant to vote for Ronald Reagan, who had been divorced twice and whose wife was liberal and "no kind of a believer."
The radio host concluded that though he doesn't believe Trump is a great American leader, Christians have an obligation to vote.
He also said that he does believe Trump cares about the country and will appoint Supreme Court justices who are constitutionalists.
[sharequote align="center"]"We can't pretend that we're too holy to be pragmatic."[/sharequote]
"When people say, 'Oh, we don't know who Trump's gonna vote for. He always changes his mind,' let me say this: Better to gamble with somebody who might pick the wrong person than to allow someone to get into the office who without any doubt will pick the wrong person," he said.
"Sometimes pragmatism is something we have to take seriously," he said. "We can't pretend that we're too holy to be pragmatic."