GQ's Nathaniel Friedman — who writes under the name Bethlehem Shoals — has apologized for a tweet saying he'd like to beat the mother of a Benghazi victim "to death."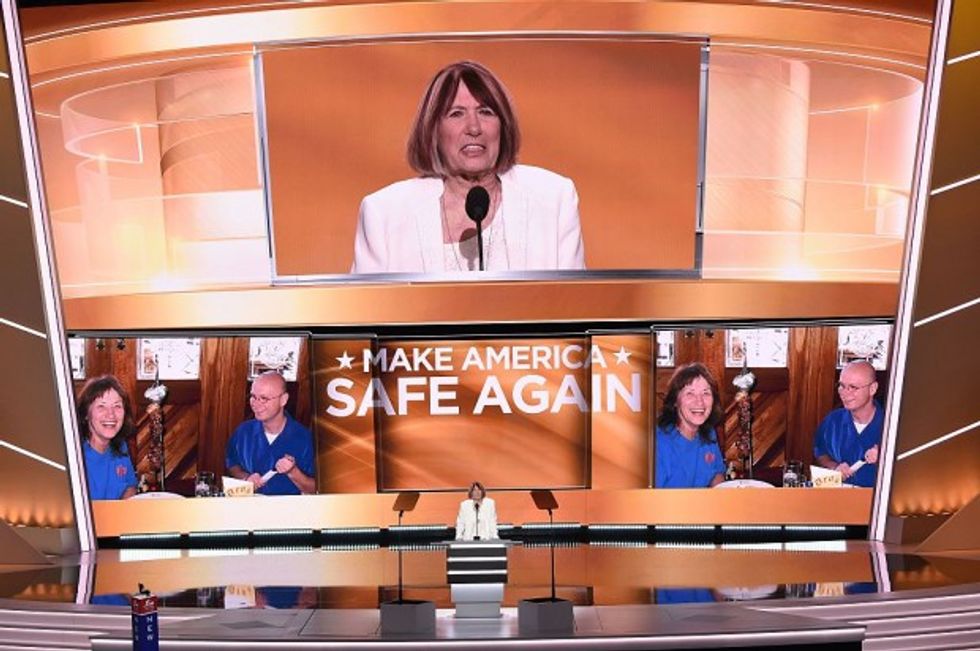 Patricia Smith, mother of Benghazi victim Sean Smith, addresses the Republican National Convention on July 18, 2016 at Quicken Loans Arena in Cleveland, Ohio. (Getty Images)
Pat Smith, who lost her son Sean Smith in the terrorist attack on the American consulate in Benghazi, Libya, on Sept. 11, 2012, spoke at the Republican National Convention earlier this week. She said that she holds former Secretary of State Hillary Clinton — now the presumptive Democratic presidential nominee — responsible for the death of her son.
"For all of this loss, for all of this grief, for all of the cynicism the tragedy in Benghazi has wrought upon America, I blame Hillary Clinton," she said. "I blame Hillary Clinton personally for the death of my son."
Newsbusters has a screenshot of Shoals' now-deleted tweet in reaction to Smith's speech, in which he wrote, "I don't care how many children Pat Smith lost I would like to beat her to death."
GQ writer @freedarko apologizes for tweet about wanting to beat Benghazi mom to death. https://t.co/Mp1obvYukk

— Tim Graham (@TimJGraham) July 19, 2016
The tweet quickly gained attention, and Shoals attempted to backtrack on Twitter, writing, "Guys I'm sorry if that was in poor taste of me but that Pat Smith speech made my blood boil and was frankly exploitative of tragedy."
He added, "Again, sorry to anyone I may have offended last night. Well, except for the right-wing mob that descended upon me while I slept."
Shoals later posted an apology on Medium.
"Last night, when Pat Smith was speaking onstage at the Republication National Convention, I tweeted that 'no matter how many children she's lost, I'd like to beat her to death.' That's what I said, and I accept full responsibility for my actions and their consequences," Shoals wrote.
Shoals wrote that the tweet "certainly wasn't intended as a literal threat on a woman's life" and was "an extremely ill-advised attempt at satirizing the overall climate of the RNC. But with that kind of hateful language, an explanation just turns into rationalization."
"Under no circumstances is it okay to invoke violence against women," Shoals added. "As outraged as I was by parts of Pat Smith's speech, to use this kind of language as a means of expressing that feeling was completely out of bounds. I also completely understand how, regardless of my intent, it was extremely triggering for a lot of people. And for that I am genuinely sorry."
(H/T: Newsbusters)
—
Follow the author of this story on Twitter and Facebook: