Comments by Republican presidential nominee Donald Trump raised international red flags when he implied that he would come to the defense of a NATO ally only "if they fulfill their obligations to us" during an interview with the New York Times published Wednesday evening.
If implemented, Trump's stated position would constitute a departure from the United States' commitment to the alliance.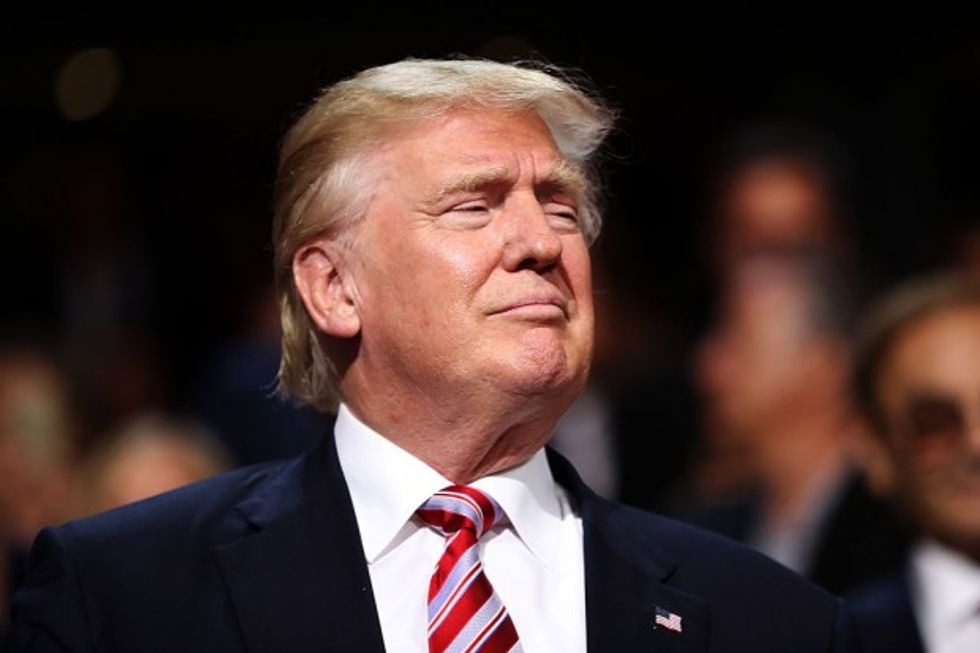 Republican presidential candidate Donald Trump attends the third day of the Republican National Convention Wednesday at the Quicken Loans Arena in Cleveland, Ohio. (Joe Raedle/Getty Images)
The NATO treaty's Article 5 states that an attack on one member state should be treated as an attack on all member states. According to NBC News, "Article 5 has only been invoked once — in wake of the 9/11 terror attacks on the U.S."
In the Times' transcript of the Trump interview, Trump was asked if he'd defend the Baltic States under NATO if they were invaded by Russia.
"I don't want to tell you what I'd do because I don't want Putin to know what I'd do," Trump said. "I have a serious chance of becoming president, and I'm not like Obama, that every time they send some troops into Iraq or anyplace else, he has a news conference to announce it."
When a Times reporter pointed out "we are treaty-obligated" to defend NATO allies, Trump replied, "We have many NATO members that aren't paying their bills."
"They have an obligation to make payments. Many NATO nations are not making payments, are not making what they're supposed to make. That's a big thing," Trump continued. "You can't say forget that."
A Times reporter pressed, "Can the members of NATO, including the new members in the Baltics, count on the United States to come to their military aid if they were attacked by Russia? And count on us fulfilling our obligations?"
Trump replied, "Have they fulfilled their obligations to us? If they fulfill their obligations to us, the answer is yes."
Trump said he'd like the alliance to continue, but he added, "This is not 40 years ago."
NATO Secretary General Jens Stoltenberg criticized Trump's remarks.
"Solidarity among allies is a key value for NATO. This is good for European security and good for US security," Stoltenberg told BuzzFeed News. "We defend one another."
The comments were immediately met with concern:
Put another way, Trump wouldn't honor a treaty our own allies invoked to come to our defense after 9/11. https://t.co/45Y3f69HFD

— Tom Nichols (@RadioFreeTom) July 21, 2016
I have no idea how to convey the enormity of Trump's NATO comments to readers. They literally make World War III more likely.

— Zack Beauchamp (@zackbeauchamp) July 21, 2016
Given Trump's views on NATO, and on America's promises to allies, his election would trigger an immediate global crisis.

— Jeffrey Goldberg (@JeffreyGoldberg) July 21, 2016
We have had decades of bipartisan commitment to NATO, which has made it the greatest alliance in history. Trump is now threatening that.

— Michael McFaul (@McFaul) July 21, 2016
Presumptive Democratic presidential nominee Hillary Clinton's senior policy adviser, Jake Sullivan, said in a statement, "Tonight, Mike Pence said Donald Trump would stand with our allies. Tonight, Donald Trump flatly contradicted him."
"For decades, the United States has given an ironclad guarantee to our NATO allies: we will come to their defense if they are attacked, just as they came to our defense after 9/11," Sullivan said. "Donald Trump was asked if he would honor that guarantee. He said... maybe, maybe not."
"Ronald Reagan would be ashamed," Sullivan continued. "Harry Truman would be ashamed. Republicans, Democrats and Independents who help build NATO into the most successful military alliance in history would all come to the same conclusion: Donald Trump is temperamentally unfit and fundamentally ill-prepared to be our Commander in Chief."
—
Follow the author of this story on Twitter and Facebook: