Stealing a phrase from the iconic Republican President Ronald Reagan Wednesday night, Indiana Gov. Mike Pence, Donald Trump's running mate, called for "another rendezvous with destiny" as he accepted the Republican Party's nomination for vice president.
"Mr. Chairman, delegates, friends, and my fellow Americans: Thank you from the bottom of my heart," Pence said at the start of his GOP convention speech. "I am deeply humbled by your confidence and on behalf of my family, here and gone, I accept your nomination to run and serve as vice president of the United States of America."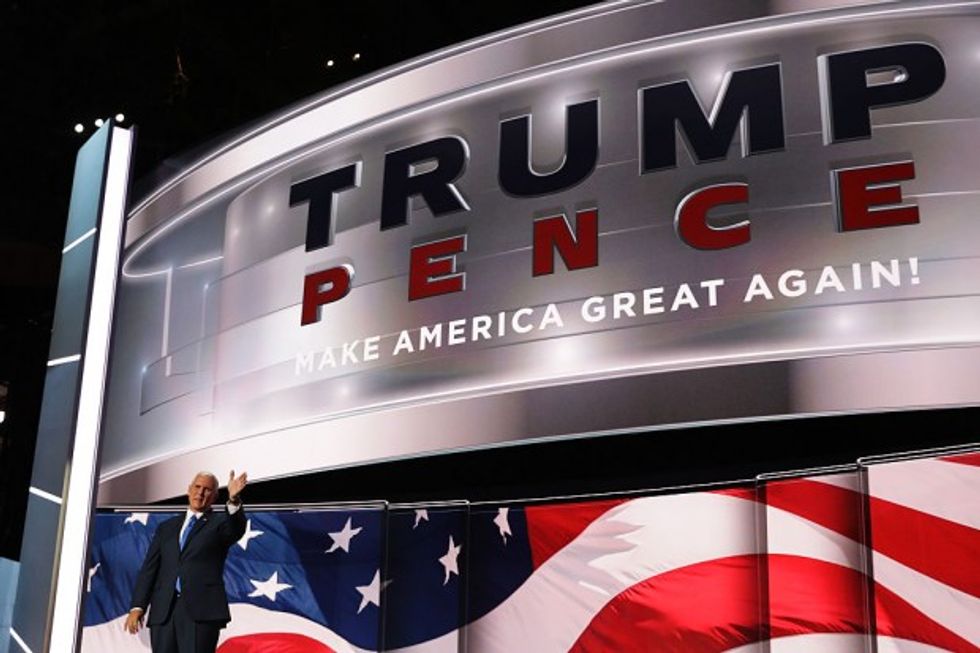 Republican Vice Presidential candidate Mike Pence acknowledges the crowd after delivering a speech on the third day of the Republican National Convention on July 20, 2016 at the Quicken Loans Arena in Cleveland, Ohio. Republican presidential candidate Donald Trump received the number of votes needed to secure the party's nomination. An estimated 50,000 people are expected in Cleveland, including hundreds of protesters and members of the media. The four-day Republican National Convention kicked off on July 18. (Photo by Chip Somodevilla/Getty Images)
Pence, a gentle yet confident social conservative, contrasts with the certainly boisterous Trump, the GOP nominee for president, as he boasts a staunchly conservative record as a member of the House of Representatives before succeeding to the governorship in Indiana. Regardless, he sought to bring party unity around the billionaire businessman in his remarks Wednesday night at the Quicken Loans Arena in Cleveland.
"He's a man known for a large personality, a colorful style and lots of charisma," Pence said of his running mate. "And so I guess he was just looking for some balance on the ticket."
Pence, who started his career as a Democrat, told the large crowd — who frequently interrupted his speech to chant, "We like Mike! We like Mike!" — he grew up admiring icons like Martin Luther King, Jr., and President John F. Kennedy, but said it was Reagan who ultimately attracted him to the conservative movement.
It wasn't difficult for Pence to assume the traditional role of a vice presidential nominee: making the case for the party's presidential candidate and acting as an attack dog. He quickly set his sights on Hillary Clinton, the Democratic nominee for president, who he referred to as "the secretary of status quo."
"Democrats are about to anoint someone who represents everything this country is tired of," Pence said.
He blasted Clinton for playing party to the push to withdrawal U.S. troops from Iraq, which he said led to the rise of the Islamic State, adding that the former secretary of state disqualified herself due to her controversial handling of the 2012 Benghazi terror attack, which left four U.S. officials dead.
"The American people are tired of being told this is as good as it gets," Pence remarked in his address. "They're tired of hearing politicians in both parties say we'll get to that tomorrow while we pile a mountain range of debt on our children and grandchildren."
He suggested that Trump is the right person for the presidency because he's an outsider who can clean up Washington, D.C.
"Donald Trump gets it - he's the genuine article," the governor said. "He's a doer in a game usually reserved for talkers. And when Donald Trump does his talking, he doesn't tiptoe around a thousand new rules of political correctness. He's his own man, distinctly American."
Wednesday's speech was Pence's first major address since being tapped as Trump's running mate only six days ago.
—