MUNICH (TheBlaze/AP) — Peter Beck, a Munich police spokesman, said officers were still collecting evidence at the scene of the crime Saturday morning.
"With regard to the suspect we have to examine everything, but we don't know yet what triggered the crime," Beck told The Associated Press.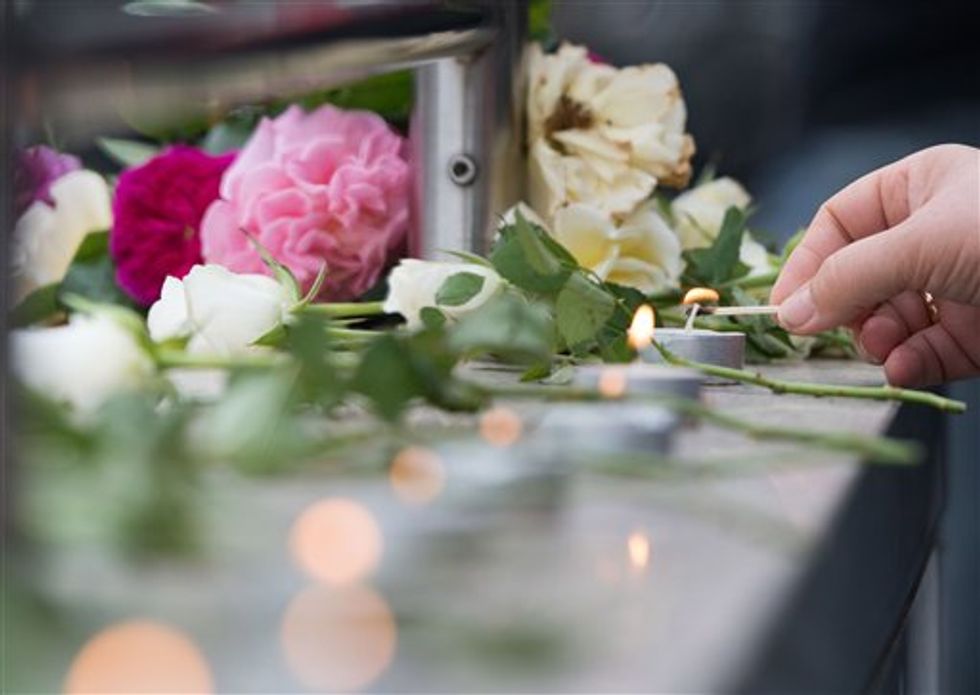 Candles are lit near a mall where a shooting took place leaving nine people dead the day before on Saturday, July 23, 2016 in Munich, Germany. (AP Photo/Sebastian Widmann)
The mayor of Munich has declared a day of mourning for the victims of Friday's deadly attack in the Bavarian capital.
Dieter Reiter says the city is "shocked and aghast at this terrible act."
In a statement Saturday on Facebook, Reiter expressed his condolences to the victims, their family and friends, and thanked security forces for their work.
Ten people, including the alleged shooter, an 18-year-old German-Iranian, were killed in the attack, and 16 were wounded.
Reiter said Saturday would be "a day of mourning, not of celebration" and that all public festivals in the city over the weekend had been canceled.
"These are difficult hours for Munich," he said, adding that the city's citizens had shown great solidarity toward each other. "Our city stands united."
Munich police chief Hubertus Andrae says suspect was born and raised in Munich. He told a news conference Saturday that "no evidence" of links to the Islamic State group has been found in the home and room of the Munich shooting suspect.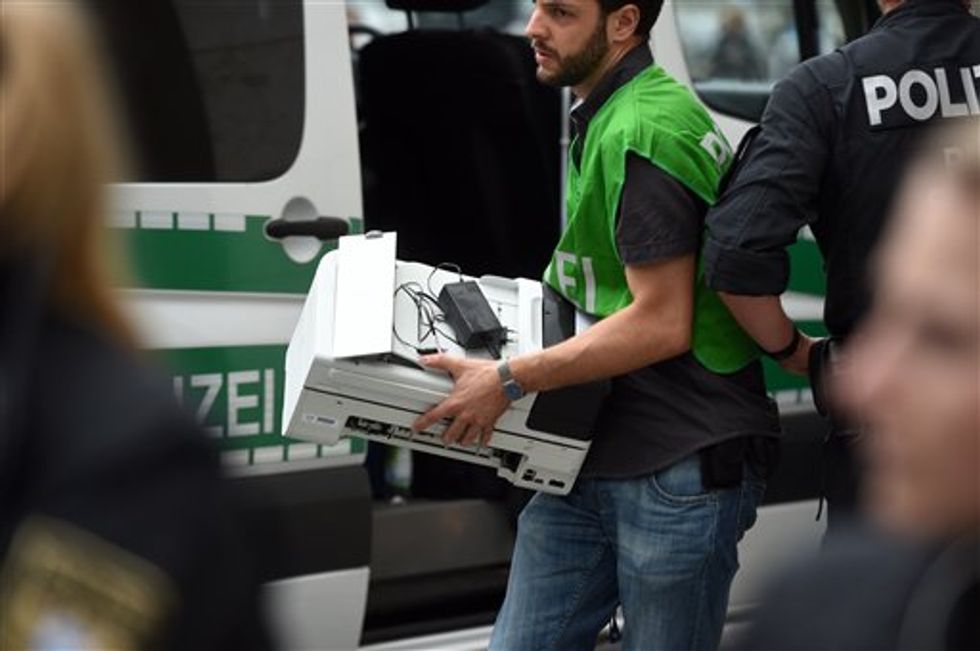 Police officers secure evidence from a flat in Dachauer Strasse after the Munich mall shooting. (Tobias Hase/dpa via AP)
Andrae also asserted that the crime and the perpetrator had "absolutely no" link to the issue of refugees. He added that police have found no indications that anyone other than one shooter was involved.
Police investigator Robert Heimberger says the shooter, whose name has yet to be released, was armed with 9mm Glock pistol and had 300 rounds.
Heimberger shared Saturday that it appears the shooter hacked a Facebook account and sent a message urging people to come to the mall for a free giveaway.
The posting, sent from a young woman's account, urged people to come to the mall at 4 p.m., saying: "I'll give you something if you want, but not too expensive."
Heimberger said, "It appears it was prepared by the suspect and then sent out."
The woman shortly after reported that her account had been hacked.
After searching the German-Iranian suspect's home overnight, investigators found a considerable amount of literature about mass killings, including one book titled, "Rampage in Head: Why Students Kill."
"(He) was obsessed with shooting rampages," Munich's police chief Hubertus Andrae told reporters.
Investigators also found evidence that the Munich-born suspect had suffered from psychological problems and received treatment, but details were still being confirmed, said Munich prosecutor Thomas Steinkraus-Koch.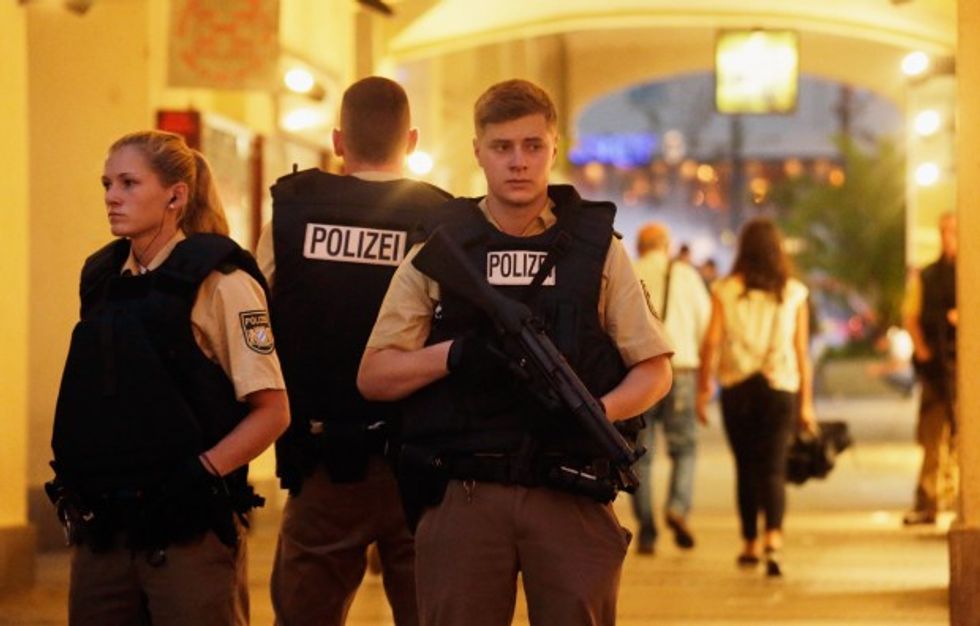 Armed police guard the downtown pedestrian zone near Marienplatz square following Friday's rampage shooting in Munich. (Johannes Simon/Getty Images)

The owner of a cafe below the suspect and his family's apartment told the Guardian Saturday how he remembered the alleged killer.
"I saw him every once in a while pass by, he was a very shy guy and tall, about 6' 2". He wasn't very sporty, rather a little chubby," said Stephan Baumanns, the 47-year-old owner of the Treemans bakery and coffee shop in the Maxvorstadt neighborhood. "He seemed like a lazy guy. He had a job distributing a free newspaper, Münchener Wochenblatt, but I often saw him rather than deliver them, throw them all away into the garbage bin."
Baumanns told the Guardian he did not know the family well, but was familiar enough with the suspect to be alarmed when he saw the first videos of the shooting outside the shopping center McDonald's.
"Yesterday when I saw the footage on TV, I thought, 'S**t, that might be my neighbor.' I was quite frightened and I think the situation feels very disconcerting," Baumanns said. "Munich has always felt safe, but now I feel a bit different if I see someone like him. An 18-year-old who never seemed very enterprising or active, can easily get a gun and shoot down people."
Baumanns said the suspected gunman, whose father drives a cab, was a nervous person but had never seemed violent. "He wasn't intimidating-looking but a little strange in character, always seemed a bit nervous."