Television network ABC pressured "Bachelor" star Ben Higgins to drop his bid for a state house seat in Colorado as a Republican, multiple sources close to the situation claimed Friday.
In a statement, Higgins announced he was withdrawing his candidacy for Colorado House District 4. Higgins filed the appropriate paperwork to run as a Republican just earlier last week, and the previous GOP candidate stepped aside.
However, sources familiar with the situation told TheBlaze that ABC was uncomfortable with Higgins running as a Republican. That detail never appeared in writing, but was only communicated over the phone, the sources said.
Caly Johnson, a spokesperson for Disney, which owns ABC, told TheBlaze Friday that there is "no truth" to the allegations that party played a role in the discussions.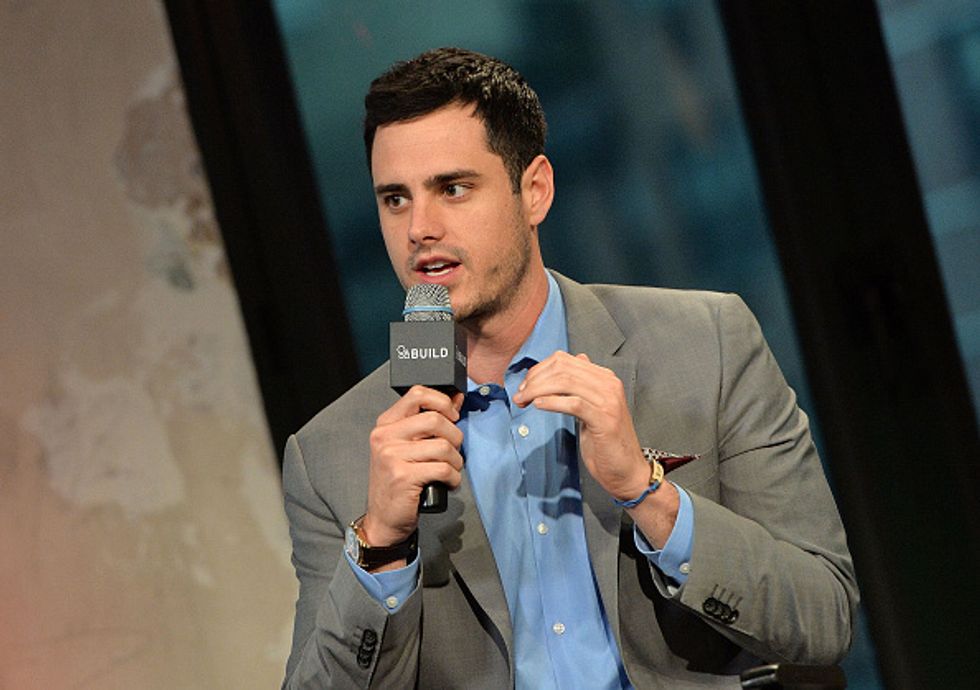 "Bachelor" Ben Higgins attends the AOL Build Speaker Series in New York City. (Getty Images/ Slaven Vlasic)
While executives were aware of Higgins' political aspirations, he signed a contract with ABC's Freeform channel for an upcoming spinoff show with his fiancé, "Ben and Lauren: Happily Ever After." ABC was well aware of Higgins' political aspirations before the announcement of the show, according to a press release from the network last month. Sources said that while the network knew about Higgins' race as early as April, the uncertainty about it came about around the same time as the GOP Convention last week.
ABC, in verbal discussions, threatened to pull the show — a primary source of income for Higgins — if he continued his campaign, sources said. ABC also owns the legal rights to Higgins' wedding for the next few years, which means that Higgins and his fiancé Lauren Bushnell could possibly forfeit the ability to have a wedding or accept gifts if he continued his campaign, the sources alleged.
"They didn't want the PR of someone who is a conservative, who is a Republican," one source told TheBlaze. "They've attacked his livelihood and affected his relationship."
ABC was also fearful of being sued for electioneering, another source alleged, as the broadcasting giant would be following Higgins' race on the reality show closely.
Colorado GOP chair Steve House told TheBlaze in a statement that "Disney and ABC's decision to reportedly threaten Ben Higgins' future with the network and even his wedding if he did not drop out of the HD 4 race is downright despicable."
"The reality is Ben would have entered this race as the front-runner. ABC's thuggish tactics send a message they care far more about suppressing the voice of conservatives and protecting a left-wing politician who displayed grossly unethical behavior during a recent DUI arrest than Ben's selfless interest in serving his community," House added. "It is hard to imagine ABC would have delivered a similar ultimatum to Ben if he were a Democrat, and that is shameful."
When asked about the allegations, Dustin Olson, a Colorado strategist and adviser to Higgins, said:
"Ben and the rest of us are incredibly and understandably disappointed. We had worked all summer with our friends in the Republican Party helping Ben line up financial support and develop a strong message with solutions that would have made a big difference to people in his community — addressing affordable housing with a strong plan, protecting the Taxpayer Bill of Rights and defending small businesses from out of control big government red tape, while also expanding personal liberty and freedom."
In his statement Friday, which was released by ABC, Higgins did not make any comment about the reasoning for dropping the bid.
"Despite my best efforts to pursue this opportunity in good faith, I recently received information that has made such a pursuit unworkable," Higgins said. "Due to circumstances beyond my control, I will not be able to move forward as a candidate. I find solace in knowing that our intentions and actions have been fair and sincere."
"I entered into this endeavor wanting to bring positive change to my community, and it is with that same spirit that I will move forward, albeit on a different path," he added.
Higgins had previously told TheBlaze that he was looking forward to running in Colorado, and his vision is to "empower individuals in our community by expanding personal freedom."
With Higgins withdrawing from the race, Democrat Speaker Pro Tem Dan Pabon is expected to have a clear path to reelection. Pabon was arrested in March on suspicion of drunken driving.
"Mostly we are disappointed because the people who live in House District 4 deserve much better representation," Olson said. "The abuse of power and rank hypocrisy demonstrated by Dan Pabon in the disturbing video of his arrest, clearly demonstrate Pabon lacks the sound judgment to continue serving in an office of public trust. We agree with the Denver Post that Pabon should do the honorable thing and resign. Sadly, his replacement can't be Ben Higgins."
UPDATE 3:14 p.m. Monday, July 25: Freeform, the station carrying 'Bachelor' Ben Higgins' upcoming reality show, denied allegations it strong-armed the Colorado state house candidate to drop his Republican campaign.
"These assertions are categorically and patently untrue," a Freeform spokesperson said Monday in a statement to TheBlaze. "Freeform simply shared with Mr. Higgins its concern that broadcasting and promoting a show featuring a campaign for Colorado state office could raise significant compliance issues under Colorado election laws."
Freeform is part of the Disney|ABC Television Group. The spokesperson cited portions of Colorado campaign finance law the network was concerned about potentially violating, including a law regulating "electioneering communications."
However, a source close to the situation told TheBlaze that election lawyers had assured the network that no campaign finance laws would be broken if Higgins ran for the state house seat during filming of the new reality show, "Ben and Lauren: Happily Ever After." The indecision to back Higgins' run as a GOP candidate came during the Republican National Convention, multiple sources alleged.
When announcing the new reality show, which also features Higgins' fiancee Lauren Bushnell, Disney noted Higgins' future political career.
"The new reality series will follow the happy couple as they prepare to walk down the aisle and begin their brand-new life together while navigating the real world after the splendor of 'The Bachelor's' exotic dates and fantasy suites has ended," a June press release stated. "All the while, Ben will explore getting involved in the political realm and Lauren will try and establish her identity post-'Bachelor.'"
This story has been updated.
—