"The Bachelor" star Ben Higgins is gearing up to run for a state House seat in Colorado, multiple sources have confirmed to TheBlaze.
Higgins, the star of ABC's hit reality show's 20th season, wants to run for Colorado House District 4 as a Republican and has been meeting with GOP operatives, sources with knowledge of the meetings told TheBlaze Thursday. The seat is currently held by Democratic Speaker Pro Tem Dan Pabon, who was arrested in March for drunk driving.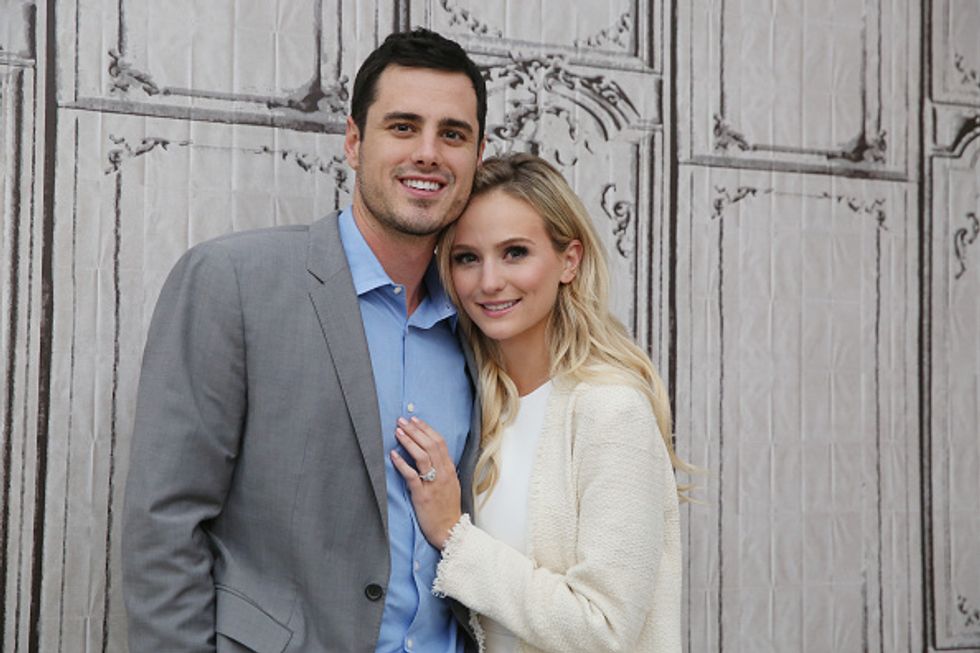 Ben Higgins and Lauren Bushnell discuss "The Bachelor" at AOL Studios in New York on March 15. (Getty Images/Mireya Acierto)
In a statement to TheBlaze, Higgins noted that he is "definitely not a politician" but said he believes that he has "a lot to offer through my years in the financial services industry and, more importantly, my work in charitable and humanitarian organizations." The reality star has worked with multiple charities within his community, including Humanity and Hope United Foundation and the Baker Youth Club as well as a local homeless shelter.
"Whatever lies ahead, love, grace, and hope are ideals that guide my life," Higgins said. "I will take them with me into my next adventure. Lauren and I aren't sure yet what that will be, but in terms of representing House District 4, [current GOP candidate] Willie Pinkston is an amazing person and any decision I make regarding entering the race will be based on what is best for Willie, his family, and for Lauren and me."
"My objective is sparking a movement to engage people in our community, working to find common ground and making a positive impact," Higgins said. "I know with the blessings God has given me, I can provide some of the leadership and support for such a movement."
Pinkston, a Colorado business consultant, told TheBlaze during a phone call Thursday that, while he is the current Republican candidate for the seat, he is prepared to step aside should Higgins officially throw his hat in the ring for the office.
"If Ben decides to move forward and wants to run, I would gladly withdraw and am more than happy to support him," Pinkston said.
Dustin Olson, a Colorado GOP strategist and advisor to Higgins, told TheBlaze that Higgins was still deciding what his next move in the public service arena would be.
"He is by far one of the most sincere, thoughtful, humble people I have ever dealt with," Olson said.
As a Christian, Higgins' "faith figures into a lot of his view on the world," Olson added. "He's a great candidate if he chooses to run."
Both Pinkston and Olson noted that nothing official has been decided on a potential Higgins run. Olson explained that Pinkston is running unopposed as the Republican candidate in the June 28 primary and that it is up to him to decide if and when he files the paperwork to withdraw his candidacy. Then there will be a 10-day settling period and after that a vacancy committee would decide whether or not Higgins can run.
A source with the Colorado GOP confirmed to TheBlaze that, though Higgins does appear to want to run for the office, "there are some technicalities that need to be ironed out in terms of the existing candidate stepping aside and the vacancy committee appointing Higgins as the replacement."
Higgins, 28, already appears to have a campaign website, which just encourages visitors to submit their email addresses for updates.
Olson told TheBlaze that Higgins has been in contact with many Colorado policy experts, such as former Colorado Senate President John Andrews and Independence Institute President Jon Caldara.
"Ben is exactly the kind of practical, principled young leader we need in state government," Andrews said in a statement provided to TheBlaze. "I look for him to do big things."
An insider in Colorado told TheBlaze that, due to Pabon's recent arrest, there is "definitely" an "opening to make this race competitive despite being a heavily Democrat district."
Higgins officially proposed to "Bachelor" contestant Lauren Bushnell on the show's season finale in March.
—
Follow Kaitlyn Schallhorn (@K_Schallhorn) on Twitter