In the wake of Roger Ailes' departure as chairman and CEO of Fox News, many have wondered if the media magnate could potentially help Donald Trump's presidential campaign.
In an interview with The Hollywood Reporter, the Republican presidential nominee didn't rule out the possibility, saying, "You know, Roger's been a friend of mine for a long time and he's done an incredible job ... but nobody has actually — Roger has never mentioned it to me at all."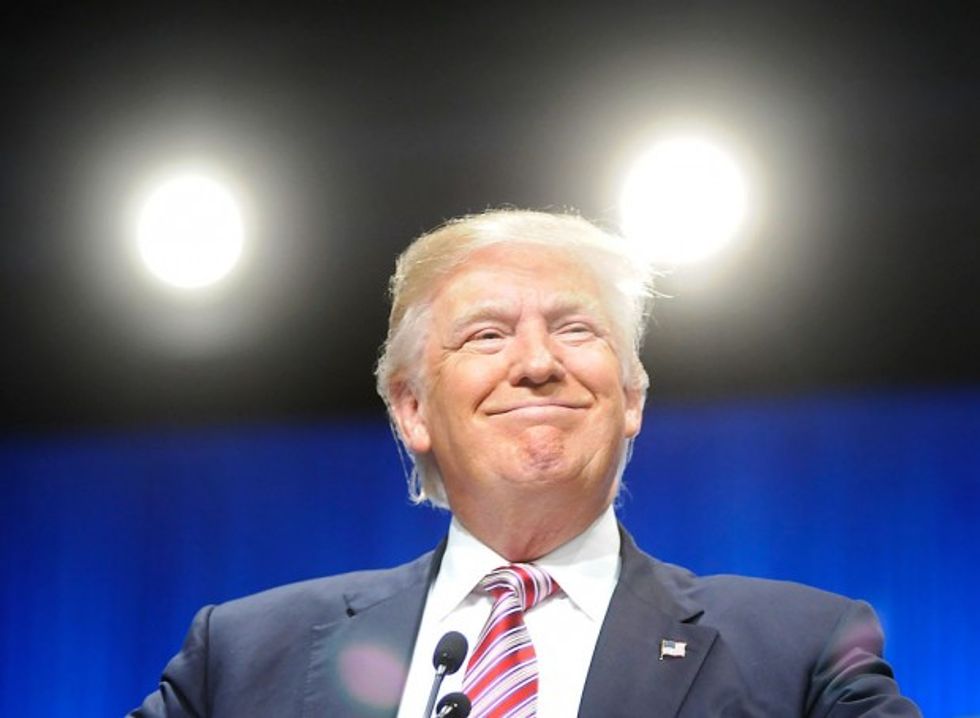 Republican presidential candidate Donald Trump addresses an audience at the 117th National Convention of the Veterans of Foreign Wars of the United States at the Charlotte Convention Center on July 26, 2016 in Charlotte, North Carolina. (Photo by Sara D. Davis/Getty Images)
"I would think about it," he continued. "We have a great team. We have a great campaign going. But Roger is a very capable guy and he's a friend of mine."
Prior to leading the creation of Fox News nearly 20 years ago, Ailes served as a media consultant for Presidents Richard Nixon, Ronald Reagan and George H.W. Bush. Ailes became the subject of sharp controversy a few weeks ago when ousted Fox News anchor Gretchen Carlson levied charges of sexual harassment against the former network chairman.
Following the controversy, Trump offered praise for Ailes.
"I can tell you that some of the women that are complaining, I know how much he's helped them. And even recently. And when they write books that are fairly recently released, and they say wonderful things about him," the billionaire businessman said in an interview Sunday on NBC's "Meet the Press."
Trump also addressed the criticism he has received for, according to some, not following through on his desire to bring "showbiz" to the Republican National Convention. The candidate said his acceptance speech was a "phenomenal night of television" and claimed the convention "had tremendous star power."
"But I wasn't looking for star power," Trump said. "I was looking for policy. I was looking for hope for people because people are not feeling good about where the country is and where it's going."
–
Follow the author of this story on Twitter: