The father of a deceased Muslim soldier tore into Donald Trump, the Republican nominee for president, Thursday night during an emotional speech in which he hoisted a copy of the U.S. Constitution, asking the billionaire businessman if he's ever read the document.
"As patriotic American Muslims with undivided loyalty to our country, like many immigrants," Khizr Khan said, "we came to this country empty-handed. We believed in American democracy — that with hard work and the goodness of this country, we could share in and contribute to its blessings."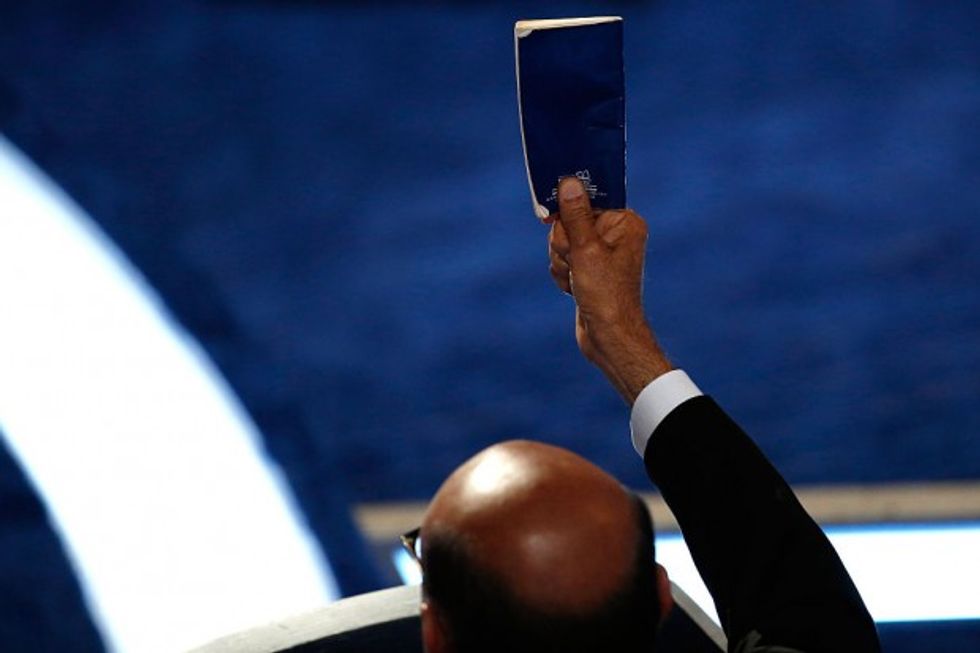 Khizr Khan, father of deceased Muslim U.S. Soldier Humayun S. M. Khan, holds up a booklet of the US Constitution as he delivers remarks on the fourth day of the Democratic National Convention at the Wells Fargo Center, July 28, 2016 in Philadelphia, Pennsylvania. Democratic presidential candidate Hillary Clinton received the number of votes needed to secure the party's nomination. (Photo by Win McNamee/Getty Images)
Before dying, Khan's son, Capt. Humayun Khan, dreamed of becoming a military lawyer. Instead, his son gave his life in service to the country. But in Khan's mind, if Trump was president, his son would have never made it to the United States.
"Donald Trump consistently smears the character of Muslims," Khan told the delegation gathered in Philadelphia's Wells Fargo Center. "He disrespects other minorities, women, judges, even his own party leadership. He vows to build walls and ban us from this country. Donald Trump, you're asking Americans to trust you with their future."
"Let me ask you: Have you even read the United States Constitution?" he added, holding up a copy of the document, which he pulled from the right pocket of his sport coat, telling the billionaire businessman he would "gladly lend" him his a copy.
Khan went on to ask Trump if he had ever been to Arlington National Cemetery, where the bodies of soldiers who lost their lives in battle lay.
"In this document, look for the words 'liberty' and 'equal protection of law,'" he said. "Have you ever been to Arlington Cemetery? Go look at the graves of the brave patriots who died defending America — you will see all faiths, genders, and ethnicities. You have sacrificed nothing and no one."
At the conclusion of his speech, he rebuked the GOP nominee for "sowing division."
Watch his speech below:
—
Follow the author of this story on Twitter: