Maurice "Mo" Crawley — a 52-year-old black man and well-known anti-violence advocate in Syracuse, New York — decided to live stream a traffic stop arrest on his Facebook page Thursday evening, Syracuse.com reported.
Crawley was across the street from the stop, recording two police officers — one black and one white — who were arresting a black man. Crawley said the live stream was happening to "see what's going on with these boys, make sure they're doing everything they're supposed to be doing."
Crawley's lens focused mostly on the black officer handcuffing the black man on the side of the road.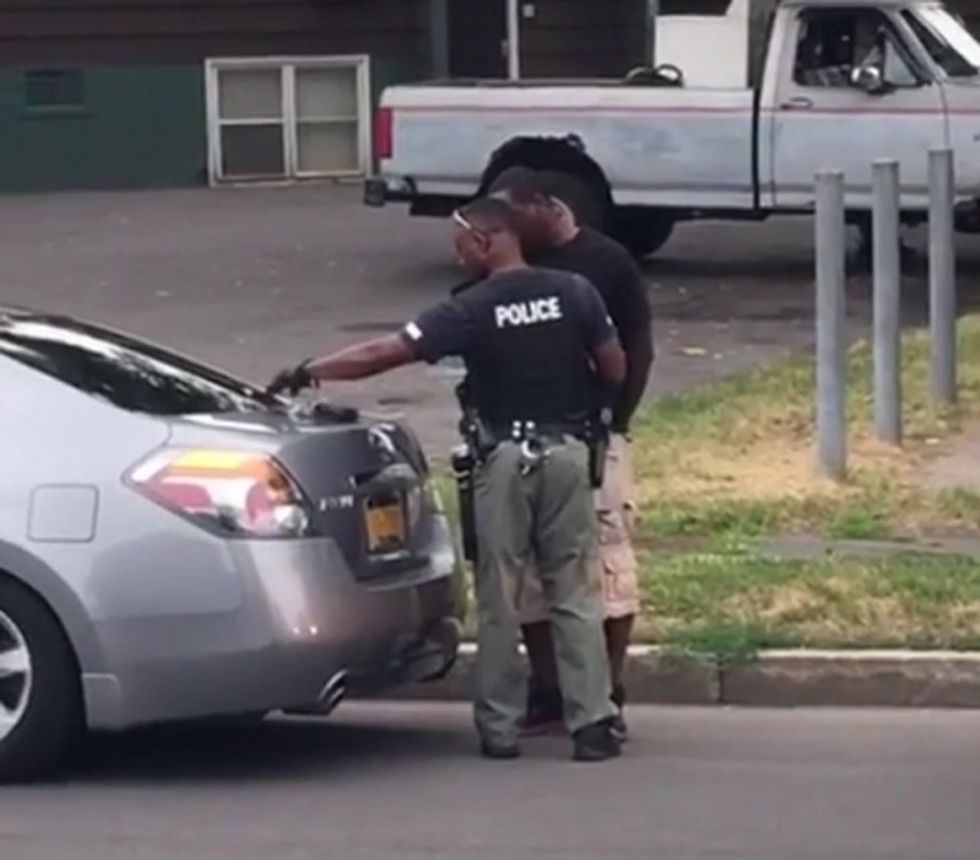 Image source: YouTube
"Look at the Uncle Tom," Crawley was heard remarking. "Yeah, Uncle Tom." It wasn't clear if the officer heard Crawley's comments.
All was calm for about another minute when the black officer spoke up to Crawley: "Hey! Say one word, your ass is going to jail, just so you know."
"I didn't hear you!" Crawley yelled back. "Say it again, officer. I'm sorry, I didn't hear you!"
At that point the black officer crossed the street.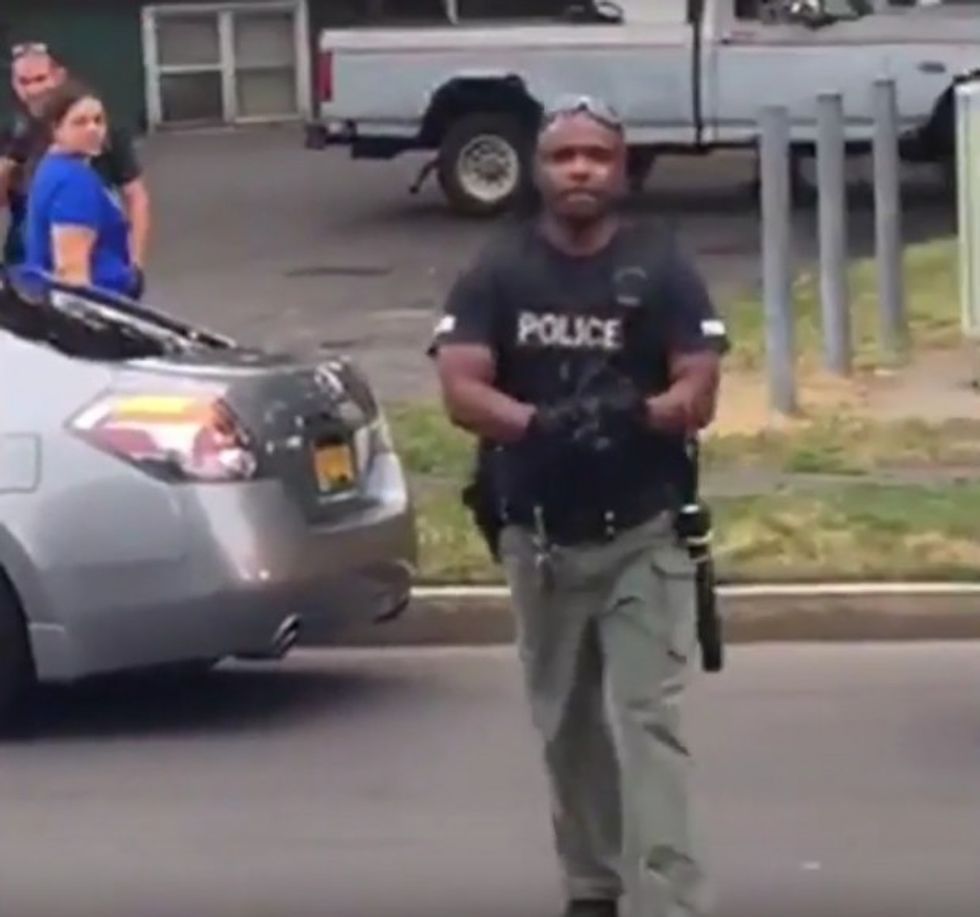 Image source: YouTube
He told Crawley to turn around and give him his hands.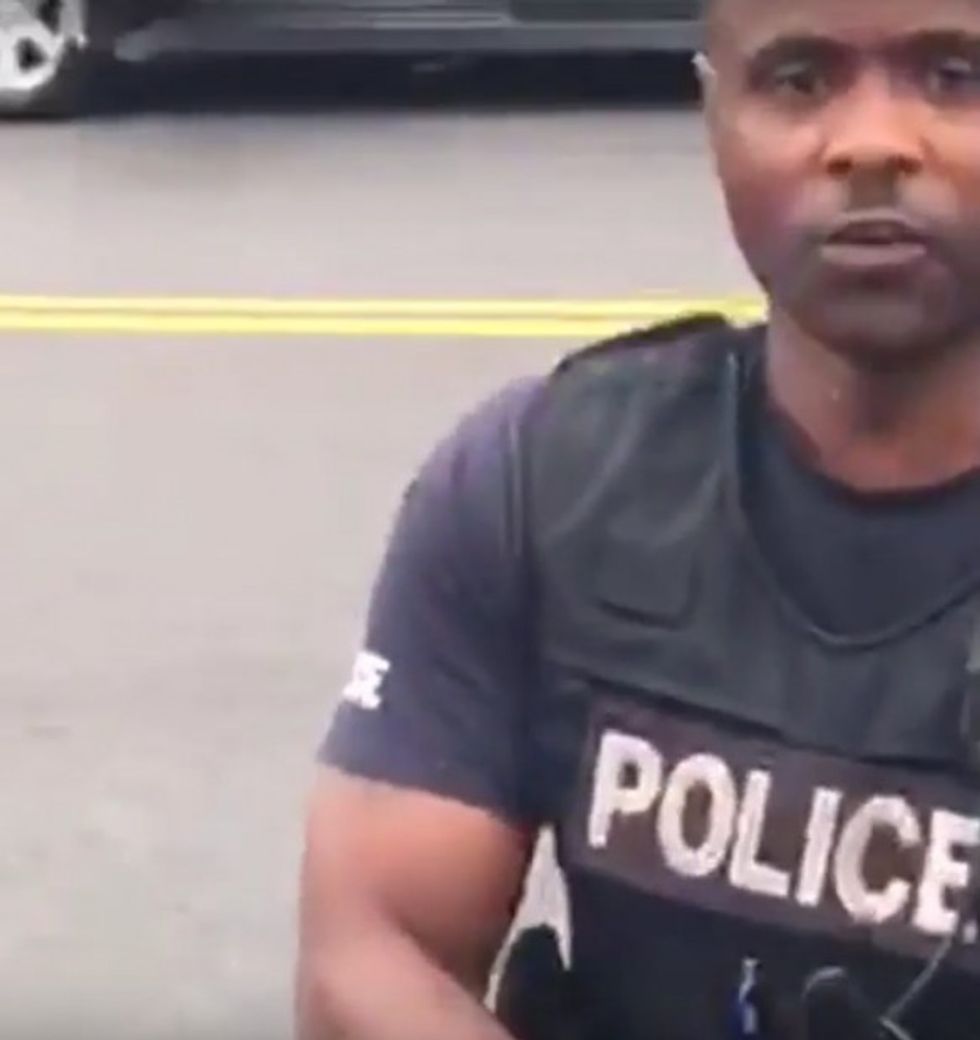 Image source: YouTube
The video became jumbled as Crawley presumably dropped it as he protested the officer's actions, but audio kept on recording.
"Don't f***in' move, you understand me?" an officer was heard saying. "Don't you f***in' move, I'm a f*** you up."
Crawley told the officer he had a defibrillator in his chest.
"I told you to stop f***in' comin' 'round here," an officer told Crawley.
In response to the incident, the Syracuse chapter of Black Lives Matter protested Friday morning outside of the Onodaga County Justice Center in Syracuse. After the protest, organizers who met with Syracuse Police Chief Frank Fowler said the chief told them he was "deeply troubled" by the video, Syracuse.com reported.
"He stated that he found the video problematic and would handle it," protest leader Clifford Ryans told the outlet.
Police wouldn't discuss the incident with Syracuse.com, only noting that "the department is conducting an internal investigation into this incident at this time."
Crawley pleaded not guilty Friday morning in Syracuse City Court to misdemeanor charges accusing him of resisting arrest and interfering with an investigation, the outlet reported. Crawley was released after spending a night in jail.
Here's the video. (Content warning: Strong language):
(H/T: New York Daily News)