Racy photographs of Melania Trump published by the New York Post have raised new questions about her immigration story, according to a report by Politico.
The Post reported that the images were shot for Max, a French men's magazine that has since gone out of business, in 1995 in New York City and were published in the magazine's January 1996 issue.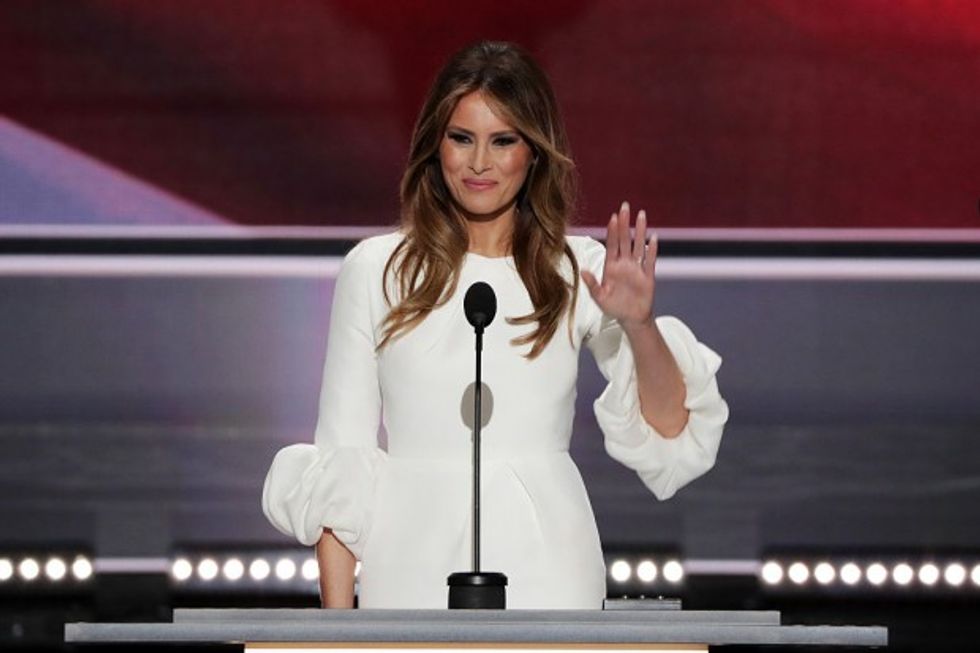 Melania Trump, wife of Republican presidential nominee Donald Trump, waves to the crowd after delivering a speech at the Republican National Convention in Cleveland July 18. (Alex Wong/Getty Images)
Analyzing Melania Trump's past statements about her journey to the United States, Politico noted that in 1995, she would have likely had either a B-1 Temporary Business Visitor or B-2 Tourist Visa — both short-term visas that would not have allowed her to legally work in the United States. The outlet also reported that working — including her modeling work — in the United States with one of these visas could constitute visa fraud.
In a statement posted on her Twitter account Thursday, Melania Trump disputed the report:
In recent days there has been a lot of inaccurate reporting and misinformation concerning my immigration status back in 1996. Let me set the record straight: I have at all times been in full compliance with the immigration laws of this country. Period. Any allegation to the contrary is simply untrue. In July 2006, I proudly became a U.S. citizen. Over the past 30 years, I have been fortunate to live, work and raise a family in this great nation and I share my husband's love for our country.
August 4, 2016
Politico's Ben Schreckinger wrote that Melania Trump's statement "sailed around the central questions raised by the story:"
By specifying the year 1996, Trump's statement conspicuously avoids addressing multiple reports and photographs that place her in the United States and working as a model in 1995, as well as a statement by Trump's Slovenian biographer to POLITICO that she was performing modeling work in the United States that was not "technically" legal during her first trips there in 1995.
Trump campaign spokeswoman Hope Hicks told Politico, "Melania followed all applicable laws and is now a proud citizen of the United States."
Multiple news outlets have noted inconsistencies in Melania Trump's account of her immigration status in light of the photoshoot. Melania Trump's husband, Republican presidential nominee Donald Trump, has made illegal immigration a cornerstone of his campaign.
—
Follow the author of this story on Twitter and Facebook: