While "low energy" Jeb Bush many not be on Donald Trump's side, his son, George P. Bush, is pledging to support the Republican presidential nominee in November.
"From Team Bush, it's a bitter pill to swallow, but you know what? You get back up and you help the man that won, and you make sure that we stop Hillary Clinton," George P. Bush, the Texas land commissioner, told GOP activists Saturday.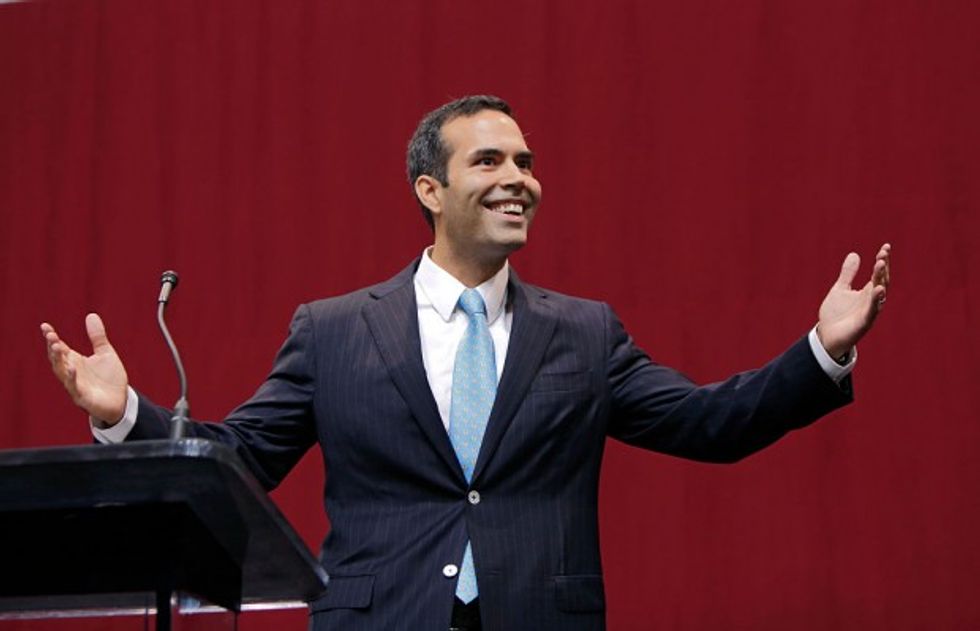 Photo by Erich Schlegel/Getty Images
But other members of his family, including his dad and former presidents George H.W. Bush and George W. Bush, aren't buying into the new Republican Party Trump is constructing. In George W. Bush's view, the billionaire's policies encourage "isolationism, nativism, and protectionism."
Jeb Bush has pledged he will not support Trump in November: "I will not vote for Donald Trump or Hillary Clinton," the former Florida governor wrote in May, "but I will support principled conservatives at the state and federal levels, just as I have done my entire life."
And during a February interview on CBS, Barbara Bush, George P. Bush's grandmother, said she doesn't know "how women can vote for someone who said what he said about Megyn Kelly," referring to Trump's heavily criticized attacks against the Fox News anchor.
However, for George P. Bush, there is more at stake than just this election. He is an active Republican and serves as the victory chair for Texas Republicans whose goal is to ensure GOP victories up and down the ballot in the fall. But his decision to offer a lukewarm endorsement of Trump has frustrated some Republicans.
"It's a very surprising decision, particularly in light of the father, the uncle and the grandfather making it abundantly clear they are not going to endorse Donald Trump for November," Tom Pauken, former GOP Texas chair and a Trump delegate, told the Austin-American Statesman when Bush was nominated.
According to GOP strategist Matt Mackowiak, who tweeted about the endorsement, George P. Bush's decision to back Trump is only because he is leading the victory effort in Texas and has a political future to worry about. Talking Points Memo editor Josh Marshall seemed to agree with that assessment.
4: At least in Texas, if you want a future in GOP politics you need to be pro-Trump. Jebs never going to run for office again. His son will.

— Josh Marshall (@Josh Marshall) 1470625124.0
Watch George P. Bush's endorsement below:
–
Follow the author of this story on Twitter: