A photo of Democratic presidential nominee Hillary Clinton being helped up a short flight of stairs by aides is making the rounds on conservative media along with headlines that raise questions about the former secretary of state's health — but there's just one problem.
The photo — showing Clinton in a green jacket being helped up the steps by at least two aides — isn't a recent image; it was taken in February as Clinton campaigned in South Carolina.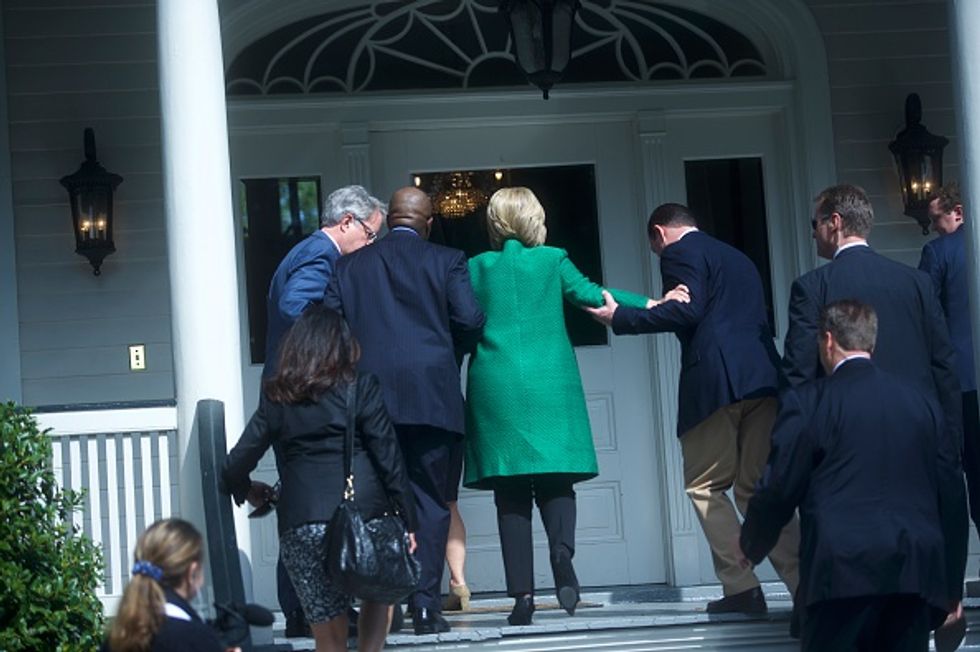 Democratic presidential candidate Hillary Clinton slips as she walks up the stairs into the non-profit SC Strong, a two year residential facility that helps former felons, substance abusers and homeless move into self-sufficiency on February 24, 2016 in North Charleston. (Getty Images/Mark Makela/)
The Getty photo's caption states that Clinton "slips as she walks up the stairs" into SC Strong, a nonprofit residential facility that helps former felons, addicts and homeless people reintegrate into self-sufficiency.
However, despite the photo's date, conservative outlets and blogs ran with the "shock photo" to showcase the "questionable health condition" of the former secretary of state in stories dated Sunday, Aug. 7.
The Drudge Report even bannered the images on its site Sunday night with links of years when Clinton has supposedly fallen. Mediaite reported that the other links on the Drudge Report homepage included a YouTube video of Clinton stumbling as she boarded Air Force One in 2011 and a New York Times story about her treatment for a blood clot in 2013.
HILLARY CONQUERS THE STAIRS... pic.twitter.com/iUjVjwtGOn

— MATT DRUDGE (@DRUDGE) August 7, 2016
CNN's Brian Stelter reported that Twitter accounts favoring GOP nominee Donald Trump also shared the photo in out-of-context manners.
Clinton is leading Trump 47.5 percent to 40.5 percent, according to Real Clear Politics' aggregated polling data.
—
Follow Kaitlyn Schallhorn (@K_Schallhorn) on Twitter