President Richard Nixon resigned the presidency Aug. 8, 1974 in the wake of the Watergate scandal.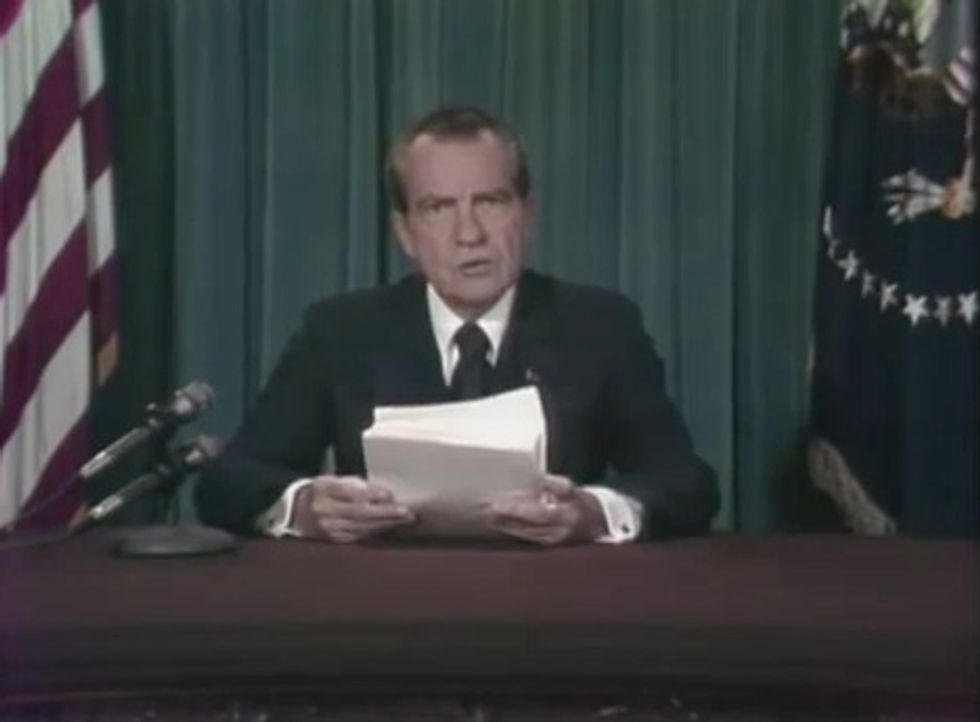 Image source: YouTube
In a televised address from the Oval Office, Nixon announced that Vice President Gerald Ford would be sworn in as president at noon the following day.
"I have never been a quitter," the president said in his address. "To leave office before my term is completed is abhorrent to every instinct in my body. But as president, I must put the interest of America first. America needs a full-time president and a full-time Congress, particularly at this time with problems we face at home and abroad."
The Watergate scandal began on June 17, 1972, when five men were arrested after breaking into the Democratic National Committee headquarters in the Washington, D.C., Watergate complex. Nixon administration officials initially denied involvement in the break-in, but Washington Post reporters Carl Bernstein and Bob Woodward discovered one of the burglars was on the payroll of Nixon's reelection committee, and soon layers of the scandal began unfolding.
In his resignation address, Nixon told the nation he had hoped to "persevere" through the scandal but realized that he no longer had "a strong enough political base in the Congress to justify continuing that effort."
"To have served in this office is to have felt a very personal sense of kinship with each and every American," Nixon concluded. "In leaving it, I do so with this prayer: May God's grace be with you in all the days ahead."
Watch Nixon's resignation address below:
—
Follow the author of this story on Twitter and Facebook: