A former CIA agent has charged that President Barack Obama displayed "deceptive behaviors" while addressing a secret $400 million cash payment to Iran.
Phil Houston, CEO of QVerity and a former CIA agent, and his colleague Don Tennant wrote in a piece published in Law Newz on Tuesday that "behavior exhibited" by Obama while he addressed the payment "suggests that it was almost certainly a precondition for the prisoners' release."
Houston and Tennant analyzed the president's statements and behaviors during the president's Aug. 4 press conference at the Pentagon in which he said that discussions with Iran about "a number of different issues" merely "converged."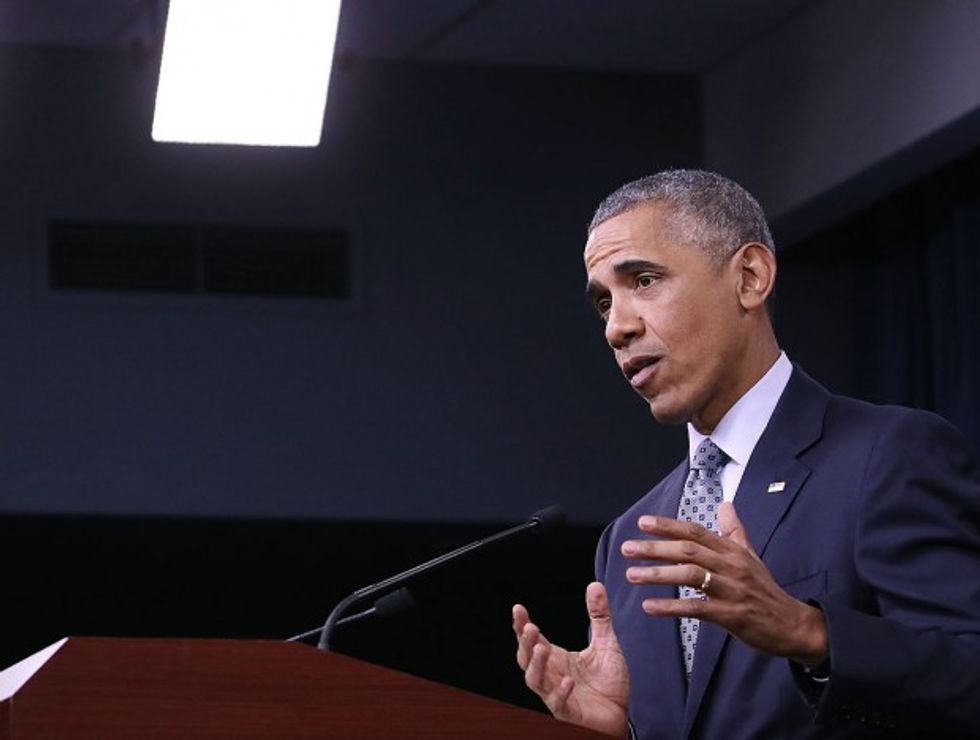 President Barack Obama speaks to the media after a meeting with Secretary of Defense Ashton Carter and members of the Joint Chiefs of Staff at the Pentagon Thursday. (Mark Wilson/Getty Images)
"What was never directly addressed was the key question as to whether the $400 million payment was a precondition for the release of the Americans," they wrote. "The high level of deceptive behaviors exhibited by President Obama during the press conference has left little doubt in our minds that it was."
The pair wrote that Obama displayed "evasion" when he discussed whether or not the payment was a precondition for the release of the prisoners, opting for statements such as "we do not pay ransom for hostages" rather than "we did not pay ransom."
"At one point the president did say, 'We do not pay ransom, we didn't here, and we don't, we won't in the future.' But the denial issue here is its isolated delivery, buried in the long narrative of his argument," they added. "These denial problems are classic deceptive indicators."
The two men also wrote that the president's statements "were amplified by the smiling and chuckling, another form of aggression behavior we often see when people are being deceptive in a matter that's extremely serious."
"The enormity of the ransom-for-hostages issue cannot be overstated, so when we see this inappropriate smiling or laughing, we attribute it to aggression in the form of dismissing an opposing position, and those who voice it, out of hand," they wrote.
Read the rest of their analysis at Law Newz.
—
Follow the author of this story on Twitter and Facebook: