Rep. Peter King, (R-N.Y.), appeared on MSNBC's "Morning Joe" Wednesday morning to discuss Donald Trump's controversial comments regarding Hillary Clinton and the Second Amendment.
"If [Clinton] gets to pick her judges, nothing you can do folks," Trump said Tuesday at a rally in Wilmington, North Carolina. "Although, the Second Amendment people, maybe there is, I don't know."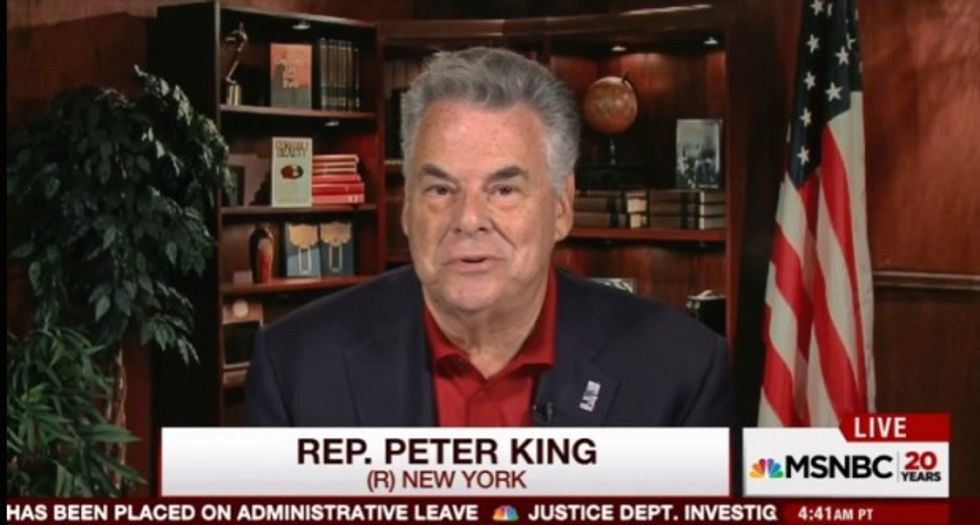 Image source: MSNBC/"Morning Joe"
King noted that Trump's remark was "dumb" and "wrong" and that he "shouldn't have said it" but added that it doesn't make the Manhattan billionaire an unfit leader.
"Morning Joe" co-hosts Mika Brzezinski and Joe Scarborough argued that it's dangerous to deny that the Republican nominee was not trying to incite, or at least suggest, violent actions against public leaders.
What unfolded next was a full-blown shouting match during which King appeared to be trying to explain the importance of defending the Second Amendment instead of condemning Trump.
"You're deflecting, Peter," Brzezinski charged King. "You're deflecting."
"Yeah, you're deflecting," Scarborough concurred.
"What he said was wrong!" King asserted. "I'm saying that what he said was wrong, but you cannot say that he intentionally wanted to have people kill Hillary Clinton — that's ridiculous!"
"I'm not saying that," Brzezinski said. "I'm saying that this guy's not fit to be president. He's proved it time and time again. And I can tell you this, Peter, unequivocally: He will prove it again to you tomorrow. He will prove it again to you next week. He will prove it again to you all the way down the line."
King said that he is "not a Trump apologist," but noted that the hosts were taking their accusations too far.
Watch:
Following King's "Morning Joe" appearance, folks took to Twitter to slam the congressman for suggesting that despite Trump's controversial language, he is still better qualified for the presidency than Clinton.
Rep. King (NY) tries to defend #DonaldTrump assassination gaffe pivots to attacking #BlackLivesMatter. Seriously a sick jackass. #MorningJoe

— scottwalkerwatch (@scottwalkerwtch) August 10, 2016
Holy Crap @RepPeteKing delete your career.#morningjoe

— Amy Hunter (@amy10506) August 10, 2016
#morningjoe Isn't there any way that Ryan has the guts to kick KKK and Neo Nazis out of party -- let P. King go too https://t.co/BUbgljcuaW

— T3achk1ds (@T3achk1ds) August 10, 2016
Peter King running his mouth defending Trump w/ a whole lot of "but Hillary..." and BLM urging killing of cops [no, they don't] #morningjoe

— ceut (@ceut) August 10, 2016
King is in denial. #morningjoe

— Tori Harrison (@Tazworks) August 10, 2016
No, cut Peter King's mic. This is the type of rhetoric that got us to our current predicament. This is painful #morningjoe

— Rashona (@Rashona) August 10, 2016