A Getty photographer captured an unusual photo of Jamaican sprinter Usain Bolt prior to winning a gold medal at the Olympics on Sunday evening.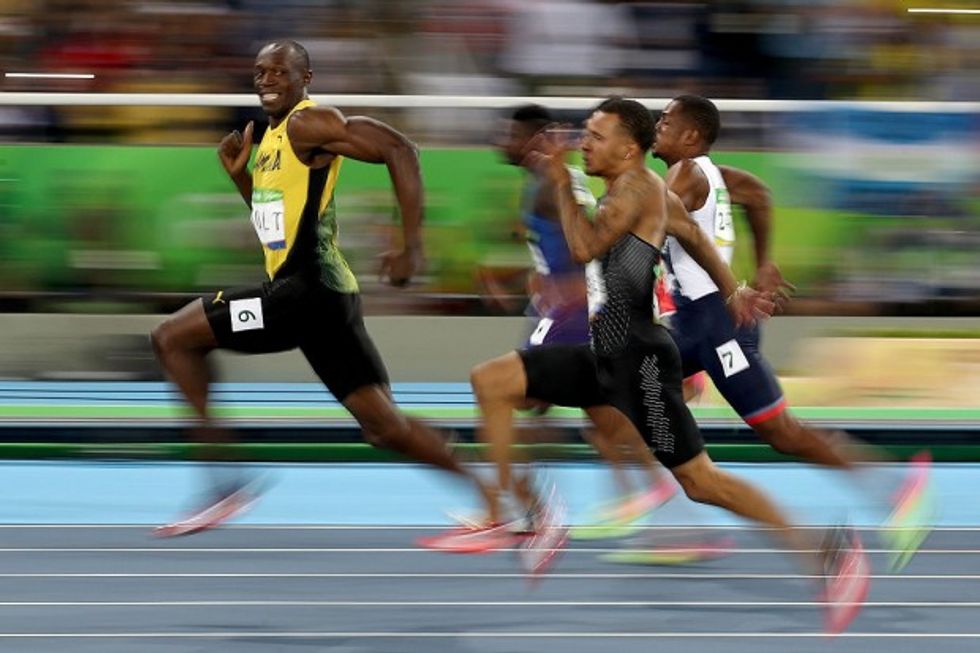 Usain Bolt of Jamaica competes in the men's 100-meter race Sunday at the Rio 2016 Olympic Games in Rio de Janeiro. (Cameron Spencer/Getty Images)
The photo of Bolt smiling at the camera as he sprinted quickly gained attention online.
The Getty photographer of this photo you'll see a billion times forever is Cameron Spencer (@cjspencois). pic.twitter.com/ypsZGsJUpS

— Mitch Goldich (@mitchgoldich) August 15, 2016
when your mom keeps bugging you about grandkids and you're like what was that mom I couldn't hear you over the crowd pic.twitter.com/TKzOfp9h58

— Erin Burr, sir (@erinscafe) August 15, 2016
If #UsainBolt played #PokemonGo it would be Game Over for the Planet.
We'd never catch anything:)@DNR_CREW
@Pokémon pic.twitter.com/OIxr9sGEm1

— Kal Dragon (@KalDragonGaming) August 15, 2016
Making my way downtown walking fast pic.twitter.com/VscYmx0Lyy

— Hayes Brown (@HayesBrown) August 15, 2016
How does Usain Bolt stay so relaxed in that atmosphere? pic.twitter.com/qbBBp5RBbB

— Mike Tunison (@xmasape) August 15, 2016
when you write a provocative tweet and then sign off pic.twitter.com/8dz0XOfcIf

— Mina Kimes (@minakimes) August 15, 2016
Running away from my responsibilities like #UsainBolt pic.twitter.com/FVjl80nU8J

— Radass Badass (@RadassBadass) August 15, 2016
This man is so fast he has enough time to stop and cheese for the camera before crossing the finish line. #Bolt pic.twitter.com/UOxZzAQWR3

— John Haltiwanger (@jchaltiwanger) August 15, 2016
*Record scratch*

*Freeze frame*

Yup, that's me. You're probably wondering how I ended up in this situation. pic.twitter.com/TXU6T6iM3B

— ben/lil boat fanboy (@a7xweeman) August 15, 2016
Life's all about staying ahead of the game while keeping a smile on your face. #UsainBolt pic.twitter.com/lYOvnCBRJv

— BRANDEN JAMES (@BrandenJMusic) August 15, 2016
August 15, 2016
bae: "come over"
bolt: "can't, gotta run the 100"
bae: "my parents aren't home" pic.twitter.com/Q6N4CXHPO2

— RUSS BENGT$ON (@russbengtson) August 15, 2016
According to the Associated Press, with his Sunday victory, Bolt became the first person to win three straight 100-meter Olympic titles.
Jamaica Stand Up!!!
This for you my people

— Usain St. Leo Bolt (@usainbolt) August 15, 2016
Thanks for all the support my peeps #blessed #TeamBolt #TeamJamaica #Rio2016 pic.twitter.com/rGFaLH8hP9

— Usain St. Leo Bolt (@usainbolt) August 15, 2016
—
Follow the author of this story on Twitter and Facebook: