A black teenager's video message to rioters in Milwaukee, Wisconsin, has gained attention online after she criticized them as "thugs, criminals and animals."
The girl in the video, who said she is 13 years old, added, "There are some other names there too, but I can't say them."
She said to the protesters "I saw what you all did last night, and you have awoken the beast."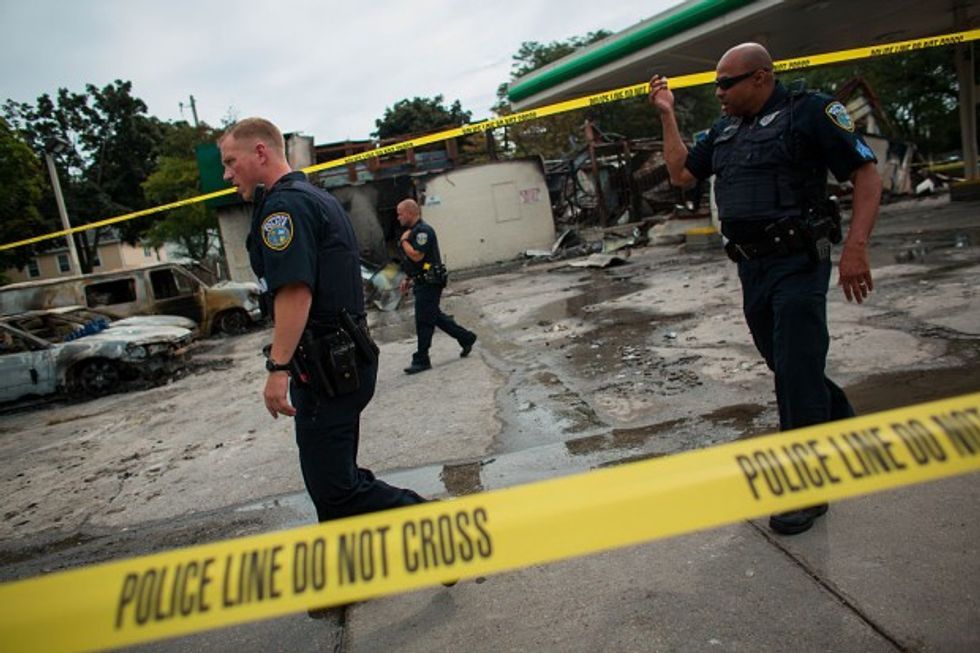 Police officers patrol the BP gas station following a shooting death by police August 15, 2016 in Milwaukee, Wisconsin. Hundreds of angry people confronted police after an officer shot and killed August 13 a fleeing man police say was armed. Demonstrators clashed with the Milwaukee police for a second night last night. (Darren Hauck/Getty Images)
Violent protests took place in Milwaukee after a police officer fatally shot Sylville Smith, a 23-year-old black man. According to the Milwaukee Police Department, Smith was armed during the incident. Milwaukee police have not yet identified the officer who shot Smith but have revealed that the officer is also black.
In a video titled "Milwaukee... We Need To Talk," she said that "black folk decided to ruin their own neighborhood on behalf of a criminal."
"Assuming that this is all true, of course, of course, I'm also going to wait for all the facts to come out," she said, citing reports that there was "a working body camera" on the officer involved in the shooting
She went on to condemn rioters who destroyed property and assaulted police officers.
"You know what makes it worse?" She said. "On Twitter, there were actually people justifying these actions."
She also said that the use of the phrase "black power" by rioters has made her feel that it is "synonymous with chaos and destruction," and she continued to make the case that the city's many Democratic mayors "ain't done nothing for you," yet the citizens of the city keep electing the same party to represent them.
"Straight Einsteins there, huh?" she said.
She said that most people are trying to figure out how to heal racial divisions, but the rioters "want problems" because they "jump to conclusions."
"In America, [we are] innocent until proven guilty," she said. "On behalf of the officer — all right — he is innocent until proven guilty. ... This is one of the foundations and pillars of America — one of the things that makes America great — that we don't jump to conclusions or at least we shouldn't."
She said that she is "flabbergasted" so many people will gather to riot and loot but not to "fix up the same neighborhoods you're complaining about."
"You guys are a disgrace, honestly," she said, adding, "It's a mess, and it needs to be fixed."
This post has been updated.
—
Follow the author of this story on Twitter and Facebook: