Videos purportedly recorded during racially charged riots in Milwaukee, Wisconsin, over the weekend appear to show rioters targeting "white" people for beatings.
"Hey, they beating up every white person!" one rioter can be heard screaming.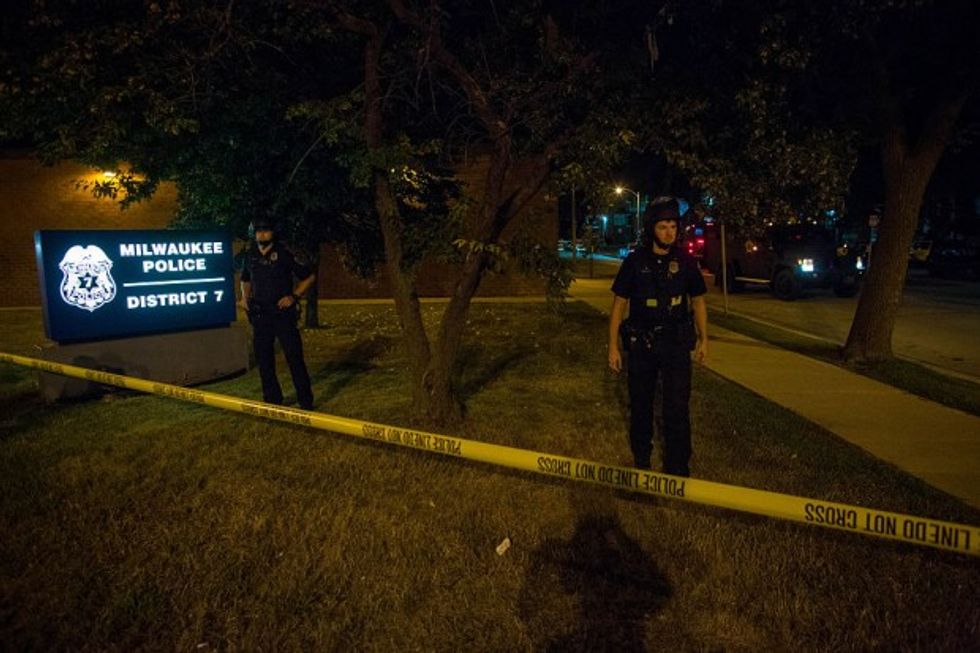 Police officers stand guard at the District 7 police station as angry crowds took to the streets Sunday for a second night to protest an officer-involved killing in Milwaukee. (Darren Hauck/Getty Images)
The rioters can also be heard yelling, "Yeah, they white, get their ass," and, "He white, beat his head, bitch!"
The protests in Milwaukee were sparked when an police officer fatally shot Sylville Smith, a 23-year-old black man. According to the Milwaukee Police Department, Smith was armed at the time of the incident. Milwaukee police have yet to identify the officer who shot Smith but have revealed that the officer is also black.
Wisconsin Gov. Scott Walker (R) activated the National Guard after Saturday night's unrest in the city and called for "continued peace and prayer."
A collection of the videos was uploaded to LiveLeak. Watch below (Content warning: Strong language):
(H/T: Daily Caller)
—
Follow the author of this story on Twitter and Facebook: