Sherelle Smith, sister of the armed black man who was killed by Milwaukee police Saturday, says her family was familiar with the cop who shot her brother Sylville Smith.
Speaking exclusively to local station WITI-TV Monday, Smith detailed her late brother's connection to the officer, whose name is not being released in order to protect his safety amid the pending investigation.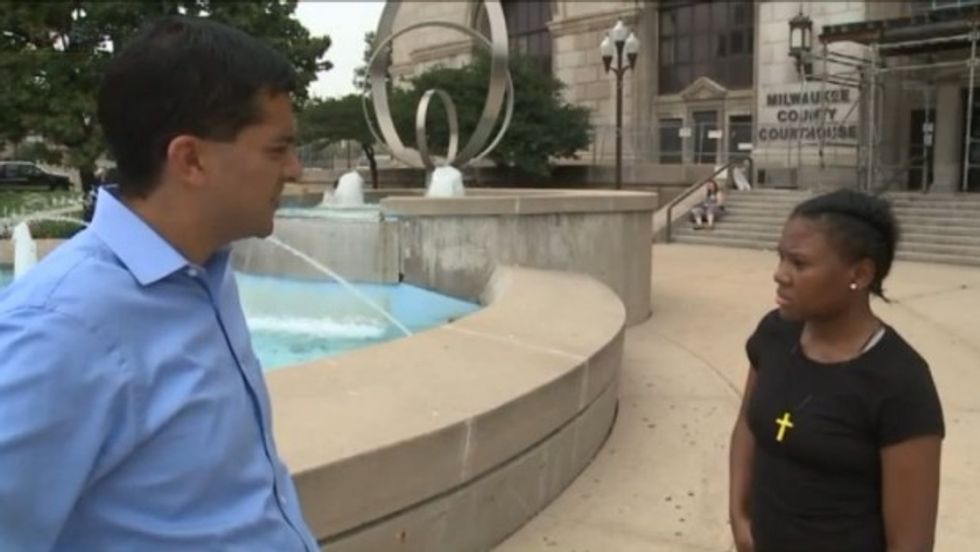 Sherelle Smith speaks with WITI-TV (Image source: WITI-TV)
"The boy knew my brother personally from high school. They knew each other. You knew exactly how my brother was and you shot and killed him," Smith said.
She told WITI that she is skeptical of the investigation into her brother's death, noting that even if body camera footage proves that her brother was armed, she still will not believe the officer was justified in firing his weapon.
"If my brother did have his gun in his hand, why he didn't shoot back? If he's gonna go out, why not go out with a fight? Why not go out with a big bang?" Smith wondered.
With regard to the weekend of violent protesting that erupted following the fatal shooting, Smith said that violence is not the answer.
"Violence is never the key, though, I'm not saying that. I don't want anyone to be violent," she said.
Smith and her sister, Kimberly Neal, made similar comments when speaking to the press Sunday evening following a vigil held in their brother's honor. But Smith prompted concern when she suggested that rioters take their burning and looting "to the suburbs."
Smith seemed to backtrack again on her anti-violence stance Monday: "If we don't have answers, we're gonna find them and we're gonna find them our way," she told WITI. "We're not find them y'all way no more. We're not gonna compromise no more."
But the comments that followed called for unity.
"I invite any color, any gender, any race, any age to come have fun with us. Come to our parades or come support our barbecues or our rallies or our stop-the-violence things, you know. It seems like we're so segregated. And it's for nothing. It's for nothing," Smith said.
A Milwaukee police source confirmed to WITI that the officer who shot Sylville Smith did attend Pulaski High School with the 23-year-old.
The Wisconsin Department of Justice has yet to decide whether it will release body camera footage from the Aug. 13 shooting to the public.