Sherelle Smith, sister of the armed black man fatally shot by Milwaukee police, spoke to the press Sunday following hours of violent rioting prompted by Sylville Smith's death.
Addressing multiple news outlets near a park not far from the BP gas station that protesters set ablaze Saturday night, Smith's sisters spoke passionately about the about the grief and rage felt by the community.
"I lost my brother. I can't get him back. Never. Never. That's pain. I can't look him in the eye no more," Sherelle said of 23-year-old Sylville, according to WITI-TV.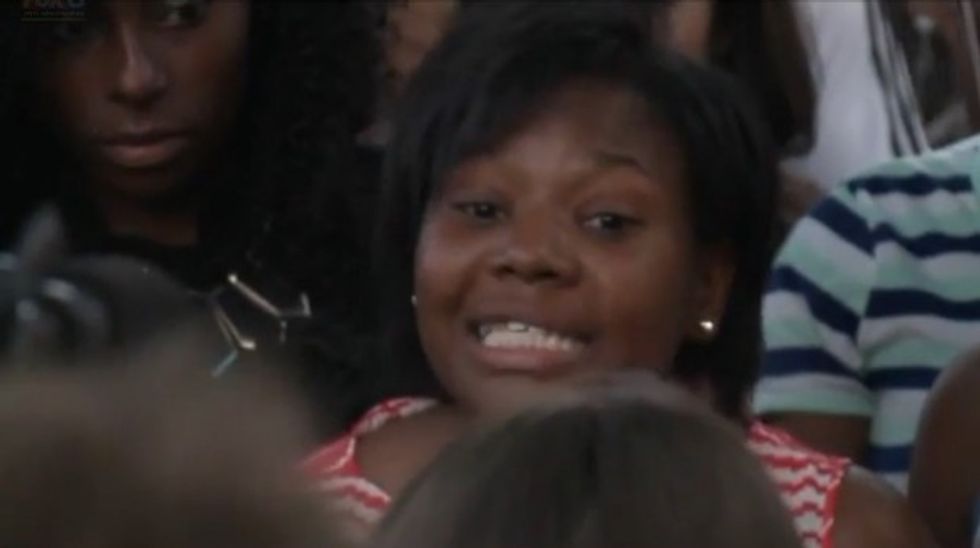 Sherelle Smith (Image source: WITI-TV)
Kimberly Neal, Smith's other sister, made a plea for peace.
"At the end of the day, acting out ain't gonna solve it. Ain't gonna solve nothing for Sylville. The city went crazy (Saturrday) night over Syville. We tired of it. We tired," she said.
But with cameras still rolling, Sherelle posed her own solution for what to do moving forward (Content warning: Strong language):
Sylville Smith's sister Sherelle encourages "protestors" to burn the suburbs @Cernovich @CassandraRules @rooshv pic.twitter.com/prxR2prcUV

— DeeconX (@DeeconX) August 15, 2016
"Burning down s**t ain't gonna help nothin'!" she yelled, referring to the rioting that ended with six businesses being burned down and the summoning of the National Guard. "You're burning down s**t we need in our community. Take that s**t to the suburbs! Burn that s**t down!"
Police said one person was shot during Sunday evening's protests, and officers had to use an armored vehicle to retrieve the injured victim, but there was no repeat of widespread destruction of property.