Ride-sharing service Uber has announced that riders in Pittsburgh will be able to hail a "self-driving car" within the next few weeks, according to the Associated Press.
The autonomous cars will be supervised by a human "safety driver" in the driver's seat, Bloomberg reported.
Customers in Pittsburgh will be able to request a ride in a self-driving car via Uber's app, according to Bloomberg. The cars will transport passengers just like normal Uber vehicles, but trips will be free for a short time.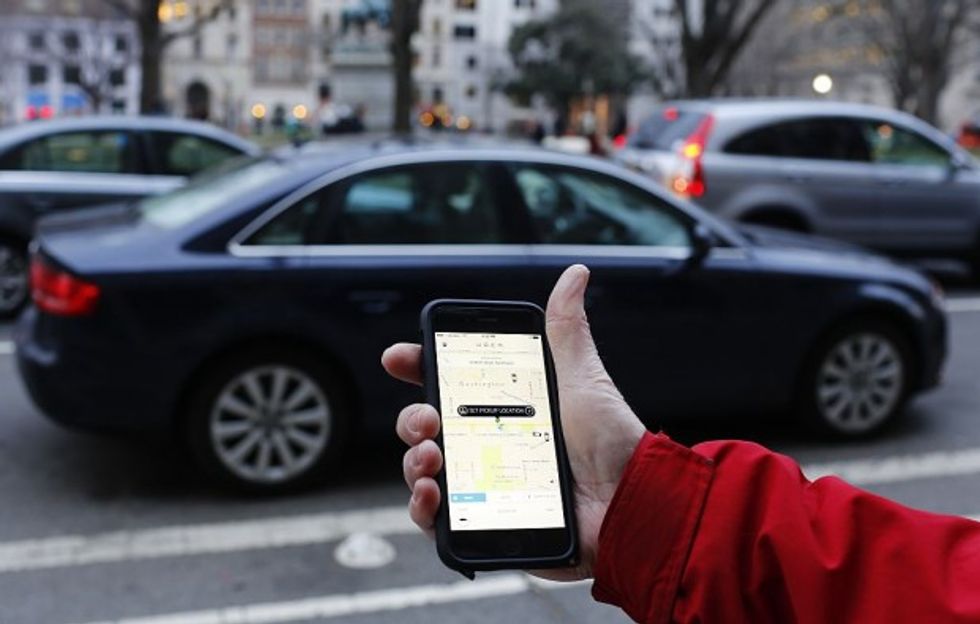 An Uber application is shown as cars drive by in Washington, D.C. (Andrew Caballero-Reynolds/AFP/Getty Images)
In a blog post on the company's website, Travis Kalanick, the CEO and co-founder of Uber, wrote that ride-sharing has changed transportation "for the better":
Ridesharing helps cut drunk driving. It complements public transit, getting people to places that other means of transportation don't reach, replacing the need to own a car over time. Most important of all, the smartphone has made mass carpooling a reality. By getting more people into fewer cars, we can reduce congestion and pollution in our cities.

Of course, this is just the start, especially when it comes to safety. Over one million people die on the world's roads every year and 90 percent of these accidents are due to human error. In the US, traffic accidents are a leading cause of death for people under 25. This is a tragedy that self-driving technology can help solve.
According to Bloomberg, true self-driving cars "are years or decades away," but the company is studying the technology at a research lab in Pittsburgh.
—
Follow the author of this story on Twitter and Facebook: