The city of Seattle is offering courses to help white people to learn about their "white fragility" — and the class is sold out.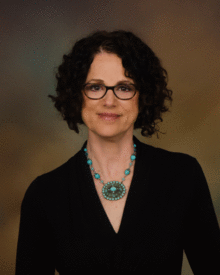 Dr. Robin DiAngelo (City of Seattle)
Robin DiAngelo is teaching the course through the Emerald City's Office of Arts and Culture. The class costs $60 per student and addresses "white fragility," which is described as "the inability for white people to tolerate racial stress."
According to the course's website, the class is intended to teach participants three things:
● Acknowledge the historic and current power differentials between people based on the racial groups to which they belong

● Address the patterns of interaction that develop due to the dynamics of racial socialization

● Provide the perspectives and skills for white people to create more racially just norms and practices.
"White people in the U.S. live in a racially insular social environment. Because these racial perspectives are so rarely challenged within this environment, white people have not had to develop the stamina needed to tolerate racial stress," the website reads. The description continues:
When white people are challenged in cross-racial interactions, White Fragility triggers a range of defensive moves including: argumentation, invalidation, silence, withdrawal and claims of being attacked and unsafe. While these moves are effective at blocking the challenge and regaining a perception of racial equilibrium, they are also damaging to people of color and prevent white people from developing the skills needed to create a racially just society.
The registration page on the website is said Thursday that the course is "sold out." A note on the page said the city might offer the course again "if there is sufficient interest."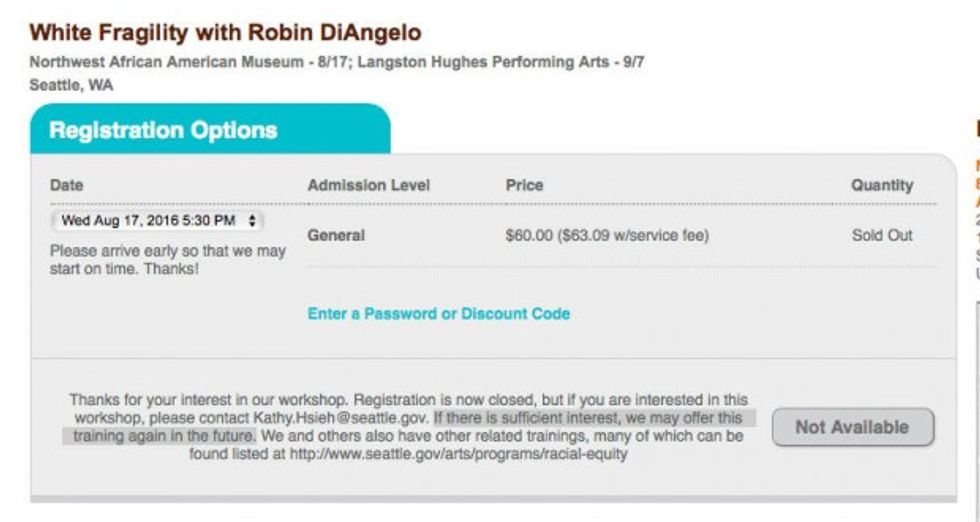 Image source: City of Seattle
But while the course did sell out, others took to the comments section on the registration page to share that they aren't so excited by the offering.
"60 dollars to be told how I'm terrible for being white? SIGN ME UP," one person commented.
"All these talks do is incite racial hatred against people of European Heritage," another said. "I've seen these events, blacks simply cannot handle the rhetoric and arguments Ms DiAngelo uses, it's very triggering and will eventually lead to violence against European-Americans, if it hasn't already. Very irresponsible."
Robin DiAngelo has written at least two books related to race. One is titled "What Does It Mean To Be White? Developing White Racial Literacy." The other is called "Is Everyone Really Equal? An Introduction to Key Concepts in Critical Social Justice Education."
(H/T: Daily Mail)
—
Follow the author of this story on Twitter and Facebook: