Donald Trump's newest campaign manager wasn't always on board for the Republican presidential nominee.
Prior to her high-level role with Trump's campaign, GOP strategist and pollster Kellyanne Conway headed a super PAC dedicated to helping Trump's Republican presidential rival, Texas Sen. Ted Cruz. And as the Keep the Promise 1 PAC ran attack ads against Trump, Conway herself appeared on cable television to criticize the Manhattan real estate tycoon as well.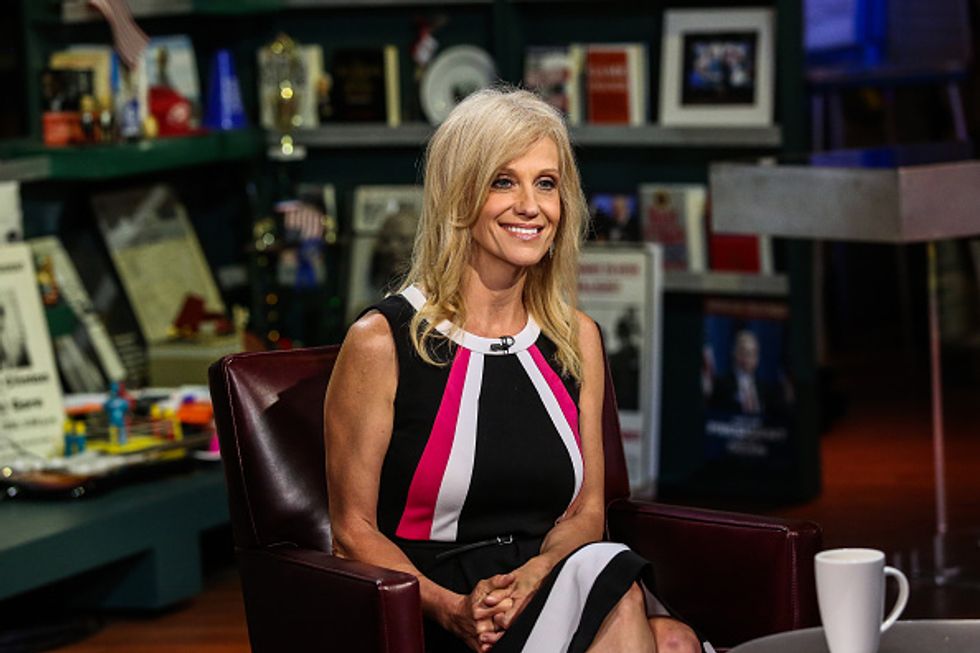 Kellyanne Conway smiles during an interview on "With All Due Respect" in New York. (Getty Images/Chris Goodney)
As seen in clips compiled by Media Matters, Conway praised anti-Trump messaging in March for getting better as it resulted in talks "about victims of Trump University, victims of Trump in Atlantic City."
"Before that, it was his conservative apostasies. Now it's actually, 'You're for the little guy, but you've built your business on the backs of the little guy,'" Conway told CNN then as she said that Trump's debates would be "fraught with peril."
In April, Conway contended on CNN that Trump was acting "fairly unpresidential" with his nickname of "Lyin' Ted" for Cruz and jokes about how Ohio Gov. John Kasich (R) eats his food.
In the same interview, she called for Trump to be more transparent and urged him to finally release his tax returns. (Trump has still not done so, claiming he cannot provide them due to an IRS audit.)
Furthermore, in a half dozen other interviews compiled by Media Matters, Conway slammed Trump for suggesting that women who had abortions should be punished, criticized him for levying "personal insults" at Cruz's wife following a primary loss and contended that the Trump campaign was getting "cozy with the establishment" especially with the hire of former Trump campaign chairman Paul Manafort.
Conway also maxed out her campaign donations to Cruz, having donated $5,400 to his presidential bid. Her husband did the same, according to Law Newz.
Conway's hire was announced Wednesday along with that of Breitbart News Executive Chairman Steve Bannon, who was appointed the campaign's chief executive. The shake-up among campaign staff was seen as a slight to Manafort who resigned Friday.
(H/T: Media Matters)
—
Follow Kaitlyn Schallhorn (@K_Schallhorn) on Twitter