American swimmer Ryan Lochte sat in front of NBC's Matt Lauer on Saturday and admitted he "over-exaggerated" his tale about getting robbed in Rio and took "full responsibility" for the embarrassing "mess" that tarnished an otherwise stellar Summer Olympics for Team USA.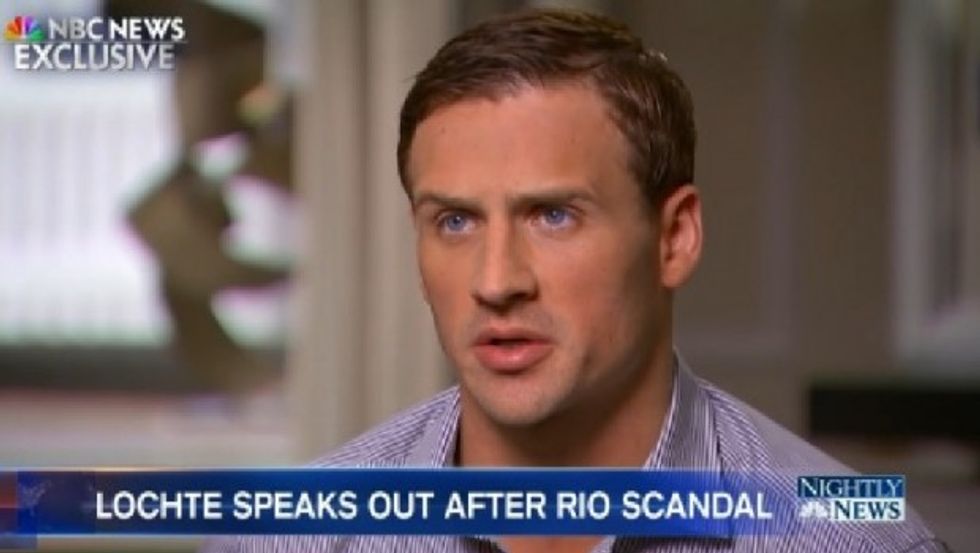 Image source: NBC News
More from NBC News:
Lochte told Brazilian authorities — as well as Lauer — that he and fellow teammates Gunnar Bentz, Jack Conger and James Feigen had been robbed at gunpoint at a Rio gas station after a night of celebrating. As inconsistencies emerged in the account, skepticism grew.

Rio police refuted his story altogether earlier this week. Citing surveillance video and witness testimony, they said the swimmers had vandalized the gas station restroom, then had been confronted by security guards, who took out their weapons and told them to pay for the damage before leaving the gas station.

But Rio Police Chief Fernando Veloso denied the guards had used excessive force against the athletes.
In fact, Veloso said this week that "they fabricated a story."
Lauer asked Lochte for an explanation and a reaction to chief's declaration that they were "vandals" rather than "victims."
"It's how you want to make it look like," Lochte replied to Lauer. "Whether you call it a robbery, whether you call it extortion, or us paying just for the damages, like, we don't know. All we know is that there was a gun pointed in our direction, and we were demanded to give money."
Lauer asked Lochte if he understood their option at that point was to pay for the damages right then and there or the police would be called. Lochte said he did: "So then we had to give the money."
"We were all frightened," Lochte added. "And we wanted to get out of there as quick as possible. And the only way we knew is ... this guy saying, 'You have to give him money.' So we gave him money, and we got out."
At that point Lauer got slightly stern with Lochte, pressing him to acknowledge how drastically his story had changed.
"What I'm trying to get at is the first version of the story you told, Ryan, was much more about the mean streets of Rio," Lauer said to Lochte. "And the version we're hearing now is much more about a negotiated settlement to cover up some dumb behavior."
"And that's why I'm taking full responsibility for it," the 32-year-old medalist replied, adding that "I over-exaggerated that story. And if I had never done that, we wouldn't be in this mess ... None of this would have happened. And it was my immature behavior."