Orlando Health and Florida Hospital will write off an estimated $5.5 million in out-of-pocket medical expenses as part of a decision by both hospitals to pay the bills for all the victims of the Orlando Pulse nightclub terror attack earlier this summer.
"The pulse shooting was a horrendous tragedy for the victims, their families and our entire community," the Orlando Health President and CEO David Strong told the Orlando Sentinel Wednesday. "During this very trying time, many organizations, individuals and charities have reached out to Orlando Health to show their support. This is simply our way of paying that kindness forward."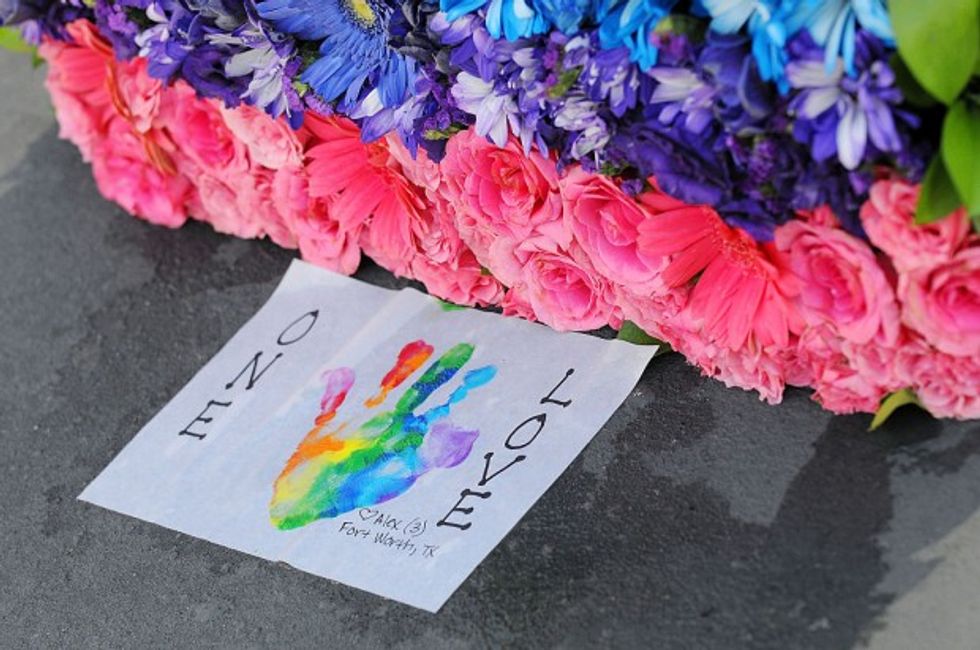 Flowers for the victims of the Pulse Nightclub shooting lie at the front of the nightclub on June 21, 2016 in Orlando, Florida. (Gerardo Mora/Getty Images)
Orlando Regional Medical Center, Orlando Health's primary hospital, treated 44 of the more than 50 victims who needed medical treatment after the June 12 shooting that left 49 dead. Shortly after arriving at ORMC, nine of the victims died. Their families will also not be billed, hospital officials said.
Orlando Health will send bills to the insurance companies of victims who have coverage, but the hospital will absorb the costs of whatever patients' coverage does not pay, spokeswoman Kena Lewis told the Sentinel.
As for Florida Hospital, which treated 12 of the wounded victims, officials said they will not even bill the patients' insurance companies for the care, nor will they charge for any follow-up procedures or surgeries the survivors may need.
"It was incredible to see how our community came together in the wake of the senseless Pulse shooting," Florida Hospital President and CEO Daryl Tol said. "We hope this gesture can add to the heart and goodwill that defines Orlando."
The news about the decision was, of course, received very well by survivors of the deadly attack.
"I was so worried because I can't afford any of that, 34-year-old Mario Lopez said. "I just went out for a fun night with friends. No one expected this to happen. My life was turned upside down, and then I had to worry about how I was going to pay back the hospital."
The uninsured man, according to the Sentinel, was visiting from Miami when he went to the club after a friend's housewarming party and was grazed by a bullet and had fragments explode into his left side when the gunman opened fire on club-goers. His elbow was also split on a shard of glass when he fell after being hit. In all, Lopez's seven-hour hospital visit came with a potential $20,000 bill.
He said it's a "huge relief" to know he won't have to pay the large fee.
Lewis of Orlando Health said the hospital plans to work with victims future needs, too.
"We can't predict the future needs of these patients, their financial situations or what the state or federal governments may require us to do for charity policies," she said. "While we can't assume the answer is free care forever, we will use our very generous charity and financial assistance policies to assess the best way [to help]."
In total, Orlando Health is expecting to pay around $5 million while Florida Hospital is planning to absorb $525,000 worth of medical fees.
—
Follow the author of this story on Twitter: