A former Huffington Post contributor claims he was banned from the site after posting two articles over the weekend that mentioned Democratic presidential nominee Hillary Clinton's health.
David Seaman, in a nearly six-minute YouTube monologue Sunday night, said he's written "hundreds of stories" for the left-leaning media outlet. But the two Clinton health articles he posted over the weekend were deleted the same night he sounded off online. In addition, Seaman claimed that his publishing access was revoked without any notice.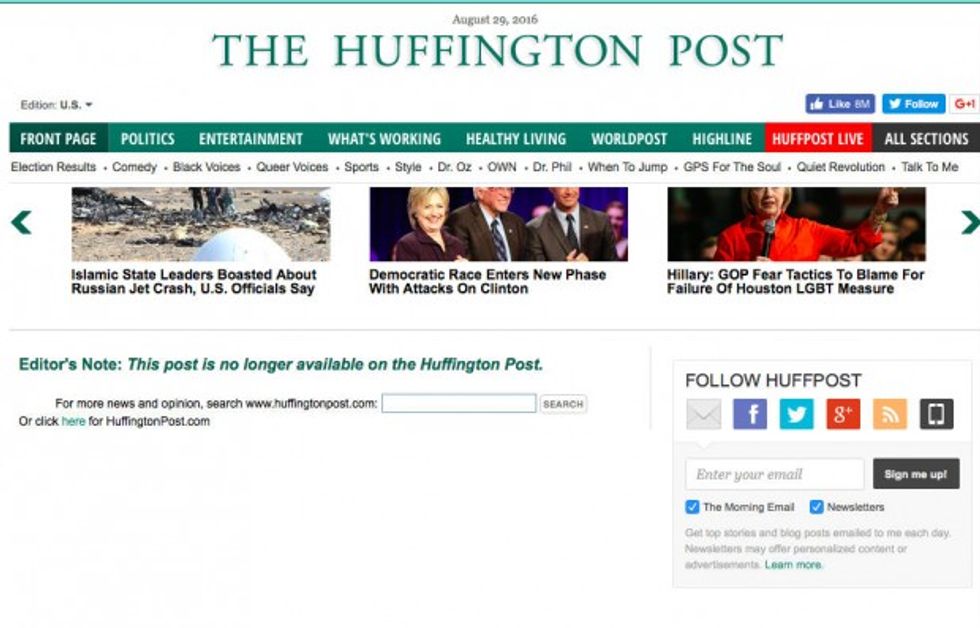 Image source: Huffington Post
"I've honestly never seen anything like this," Seaman said. "It's frankly chilling. You know, I'm a little scared."
Seaman went on to accuse the media for its biased campaign coverage, saying he's "never seen anything like it."
"It's kind of scary how they're not even booking guests to give opposing views. It's just these non-stop propaganda segments against Trump talking about how he's so racist and these emotional knee-jerk points over and over again that he's racist and he's sexist and he's this and he's that," Seaman said.
"For Huffington Post to delete these posts without any notice, that is Orwellian. That is something that I've read about happening in mainland China," he added.
There is no evidence so far to suggest Clinton is not physically and mentally fit to be president, although some right-wing commentators, most notably Sean Hannity, have repeatedly pushed conspiracy theories based on unsubstantiated photos and videos. Clinton's Republican rival, Donald Trump, on Monday reignited the controversy between the two candidates by calling on Clinton to release her medical records.
The Clinton campaign has called theories and negative suggestions about her health "fake" and "deranged," as TheBlaze previously reported.
Clinton's physician has said that the 68-year-old is in "excellent health."
A representative for the Huffington Post did not immediately respond to a request for comment.
—
Follow the author of this story on Twitter and Facebook: