Rep. Raul Grijalva (D-Ariz.) said Tuesday that Democratic presidential nominee Hillary Clinton should "cut off" her ties to the the Clinton Foundation, a stance that puts him at odds with many other Democrats.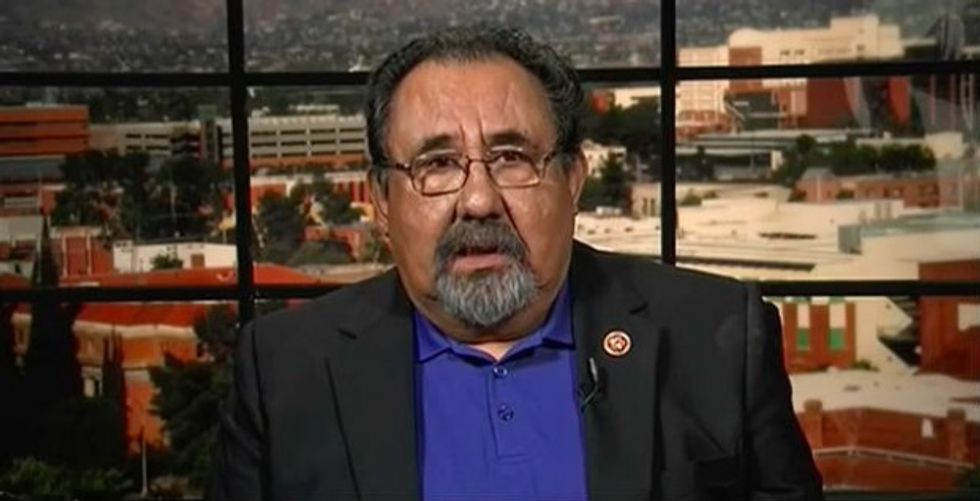 Arizona Democratic Rep. Raul Grijalva (Image source: YouTube)
When MSBNC's Tamron Hall asked Grijalva about a New York Times editorial published that day that called for Clinton to "cut" ties to the foundation, the congressman replied, "We've got to get rid of extraneous issues."
"And if this foundation is an extraneous issue that goes to the heart of whether it's trust or transparency, then get rid of it because there is so much on the table right now for the American people and for the future of this nation tat extraneous issues, such as a foundation — if that is something that should be cut off, then it should be cut off," Grijalva added.
According to the Times editorial:
Simply closing the foundation, as even some Democrats recommend, could kill programs helping tens of thousands of people. While that's unwarranted, the foundation could do much more to distance itself from the foreign and corporate money that risks tainting Mrs. Clinton's campaign. Its plans to restrict its funding sources only after the election will likely dog Mrs. Clinton.

A wiser course would be to ban contributions from foreign and corporate entities now. If Mrs. Clinton wins, Bill and Chelsea Clinton should both end their operational involvement in the foundation and its affiliates for the duration of her presidency, relinquishing any control over spending, hiring and board appointments.
Hall called the congressman's comment a "big statement," noting that there have been "very few" Clinton supporters who share his position.
—
Follow the author of this story on Twitter and Facebook: