Secretary of State John Kerry argued Monday during a press conference in Bangladesh that the press corps could "do us all a service" if they stopped covering terrorism "quite as much."
"No country is immune from terrorism," Kerry told journalists in Dhaka. "It's easy to terrorize. Government and law enforcement have to be correct 24 hours a day, seven days a week, 365 days a year. But if you decide one day you're going to be a terrorist and you're willing to kill yourself, you can go out and kill some people. You can make some noise."
"Perhaps the media would do us all a service if they didn't cover it quite as much," he added. "People wouldn't know what's going on."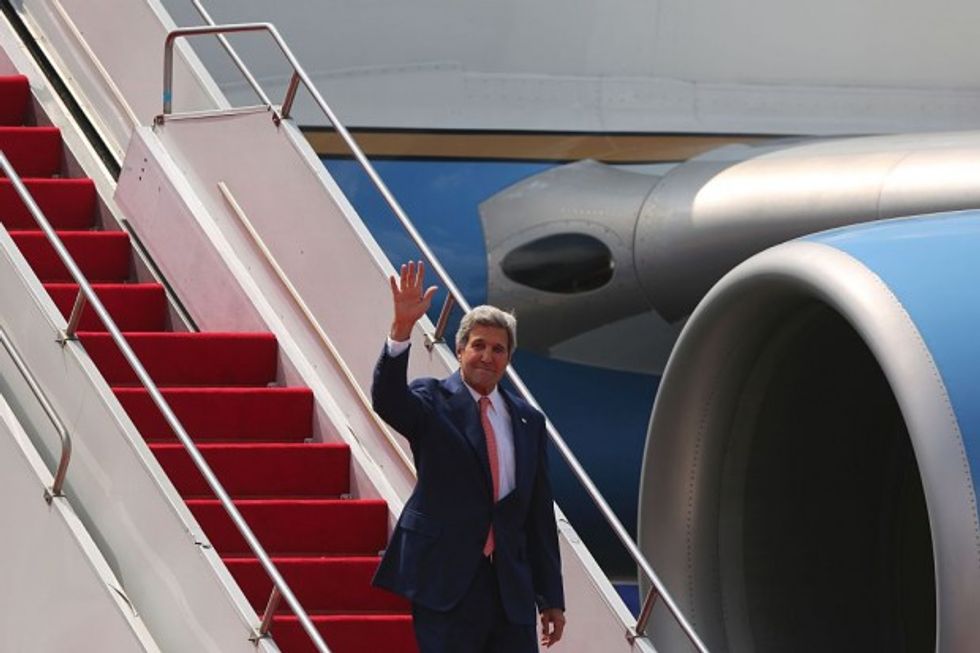 Secretary of State John Kerry (Syed Zakir Hossain/AFP/Getty Images)
Ironically, Kerry's remarks, which received applause, were delivered in the Edward M. Kennedy Center, a joint project between Bangladeshi Liberation War Museum and the U.S. Embassy. The center, as National Review noted, is "committed to open dialogue, informed action, individual and artistic expression, and personal and professional development."
Kerry also referred to a July 1 attack Holey Artisan Bakery in Dhaka, describing the assault as "an outrage clearly designed to divide Bangladesh, designed to try to cut off this welcoming society from the outside world."
"Dozens of smaller-scale attacks have been carried out during the past several years, often directed at members of religious minorities, foreigners, bloggers, and security officials, and the reason for this is obviously they want to divide you," he said. "They want to push people apart. They want to create internal strife."
The secretary of state related the attack to the fight against the Islamic State, or Daesh, as it is often called.
"In Iraq, Daesh kills people because of who they are. It kills Yezidis because they are Yezidis. It kills Shia because they are Shia. It kills Christian because they are Christian," Kerry said. "It kills people because they aren't who they are and who they want you and will force you to be."
He said the Islamic State, and groups like it, "attack culture" and "attack history," adding that the U.S. and its allies are "defeating" the radical terror organization and will ultimately "defeat" it.
–
Follow the author of this story on Twitter: